This is sooooo predictable.
An unbylined Associated Press item on today's Tea Party Express tour wrap-up in Washington uses a word that the wire service almost never (if not absolutely never) applies to truly violent leftist groups.
The Google page carrying the AP report also has an interesting lead "Related article."
Here's the brief AP item (produced in full for fair use and discussion purposes), whose headline seems to want to twist the event into an act of hypocrisy simply because of where it's being held: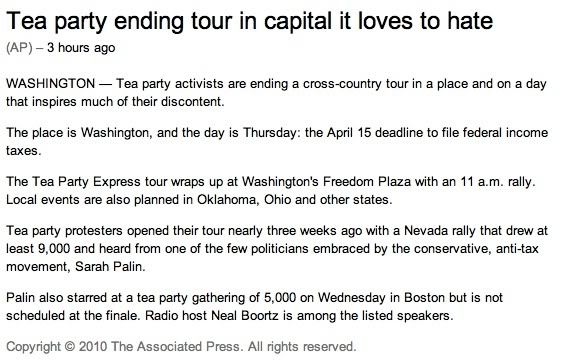 For the record, hundreds of Tea Party events are taking place today throughout the USA. Just two states, North Carolina (29) and Virginia ("at least a dozen"), are having over 40 of them.
Also for the record, there are plenty of sensible conservative, constitution-loving politicians who are being "embraced" by the Tea Party. AP's pretense that it is otherwise is a pathetic attempt to characterize a mainstream grass-roots movement as being on the fringe. It's not. On April 5, Gallup reported that "Tea Partiers Are Fairly Mainstream in Their Demographics; Skew right politically, but have typical profile by age, education, and employment." Fringe, schminge.
Oh, and here's the "Related article" that "somehow" rose to the top at the Google page carrying the AP story (no, I'm not linking):

Zheesh.
Cross-posted at BizzyBlog.com.