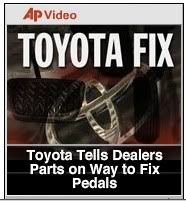 Why are the Associated Press's video people piling on Toyota?
Moments ago, in going to business-related stories at hosted.ap.org (example here), I found that the rotation of video teases the AP is presenting to readers has 12 items. Six of them, presented consecutively, relate to Toyota. Each is negative.
No doubt the situations in which the company is involved are newsworthy, but is one company's misfortune half of everything that's going on in the business world?
Here's the lineup as of 4:45 p.m. ET on Monday:

- Toyota Tell Dealers Parts on Way to Fix Pedals
- AP Source: Govt. Clears Toyota Gas Pedal Fix
- Toyota Admits Design Problems with its Brakes
- Toyota Probe Deepens Amid Confusion Over Risk
- Trans. Secy: Don't Drive Recalled Toyotas
- Toyota Sales Drop 16 Percent in January
- Small Businesses Aim for Loan Growth
- Econony Grew in Fourth Quarter; Jobs Still Sparse
- Bernanke Wins Confirmation to Second Term
- Ford returns to Profitability after 4 Years
- Obama: "We All Hated Bank Bailout"
- Charges Filed Against Bank of America, Frmr. CEO
It's hard to understand why the "Don't Drive Recalled Toyotas" story is still there, when Transportation Secretary LaHood has clarified those remarks (the link is to, ahem, an AP story), and why today's news about unemployment claims hasn't made the rotation.
To the extent the government is leaning hard on the company, somebody in the press should be questioning whether the motivations are purely related to safety or whether they also involve generating as much negative publicity as possible about the principal foreign-based competitor of government-controlled General Motors and Chrysler. AP's saturation coverage in the rotation also begs the question of whether it would be as rough on those two wards of the state in similar circumstance, or whether it would be looking over its shoulder to avoid getting White House pressure as Reuters experienced when it pulled Terri Cullen's tax column earlier this week. Cullen had the nerve to point out that there are some middle-class tax hits in President Obama's budget.
I believe I'm also correct in asserting that AP's journalists are mostly unionized, while I know that Toyota's workers are mostly if entirely not.
Cross-posted at BizzyBlog.com.