The Washington Post proved on Tuesday that it will promote "Occupy DC" protests as real "news events" no matter how poor the turnout. "About 50 protesters took to the streets waving signs, chanting and singing," wrote the Post's Annie Gowen. "They were trailed by a large cadre of D.C. police, in vans, on foot and on Segways, who obligingly shut down streets for them."

And the Post obligingly awarded the protest with three splashy color photos, two on the front page of Metro, and a large 5-by-8-inch photo on the section's back page. The paper's headline was "Occupy D.C. plans to stage its Act 2." And it didn't matter if this "stage" is sparsely attended, and only 30 people show up for events: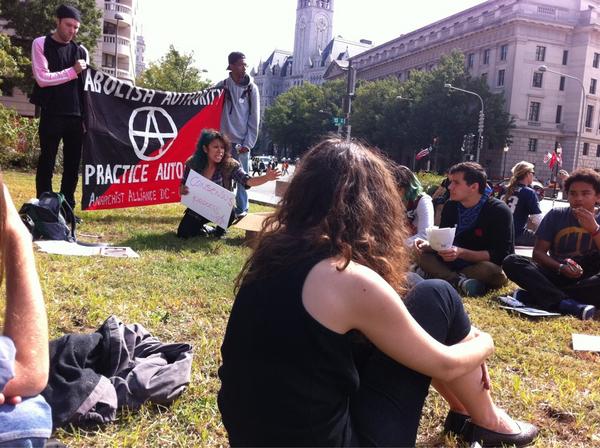 In the evening, about 30 people congregated in Freedom Plaza with plans of marching to commemorate the anniversary. But a lack of organization, sore feet and a pulse from a DJ turntable delayed the planned march for more than a half-hour. Instead, the group swirled in hula hoops and chatted while the DJ played Prince's "1999."

Lacy MacAuley, 33, who lives in Adams Morgan, said she was at Freedom Plaza last October when the movement started. She returned because she's "still fed up with inequality."

The small group didn't dissuade her.

"This is a movement that has a long story with different flashpoints," she said. "It's not an entrepreneurial business model. Our movement isn't grow or die."
As usual, no one unsympathetic to Occupiers was quoted in the story, no one to tell the Occupiers their moment has passed. Instead, Gowen just sort of marched alongside, letting them delude themselves:
The national movement's place in the spotlight has faded, along with public support. A recent Washington Post poll showed that fewer Americans are concerned about issues of economic inequality and the gap between rich and poor, even as it continues to widen.

That's one reason the local Occupiers say it's important to continue their activism.

"A march is a show of strength," said Robby Diesu, 24, of the District, who works at a nonprofit organization. "[Occupy] is not dead, it's just evolving."
That nonprofit group would apparently be the Center for Progressive Leadership, which explained "Robby currently sits on the board of directors for the Washington Peace Center and the advisory council for Peace of the Action and is an organizer with Wal-Mart Free DC."
And what about Lacy MacAuley? The Post didn't explain that a Google search shows she is the "media relations manaager" for the Institute for Policy Studies, a radical-left think tank -- and she also sits on the board of the Washington Peace Center.