The Huffington Post reported "An anti-abortion group behind a controversial New York billboard targeting African Americans is now taking its message to the South Side of Chicago, in a billboard targeting supporters of President Obama." Next to Obama's face is the words "Every 21 minutes, our next possible leader is aborted." The group Life Always will unveil the billboards on Tuesday.
"Our future leaders are being aborted at an alarming rate. These are babies who could grow to be the future Presidents of the United States, or the next Oprah Winfrey, Denzel Washington or Maya Angelou," said Life Always Board Member Reverend Derek McCoy.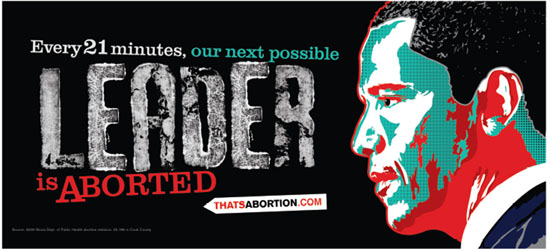 The billboard states: "Every 21 minutes, our next possible leader is aborted." The image of President Obama faces the capitalized word "leader," and readers are directed to visit thatsabortion.com. 
Over 30 billboards will be placed in South Chicago to encourage reflection on the disproportionate number of abortions among African Americans. Census and CDC reports state that African Americans comprise less than 13 percent of the population and about 36 percent of the country's abortions. 
The Illinois Department of Public Health reported 25,196 abortions in Cook County, Illinois in 2009.  
According to Life Always, 30 billboards featuring President Obama and the anti-choice message will be placed on the South Side of Chicago in coming weeks. Some local black leaders will be on hand Tuesday for the first billboard's unveiling, including former 2nd Congressional district GOP candidate Rev. Isaac Hayes.