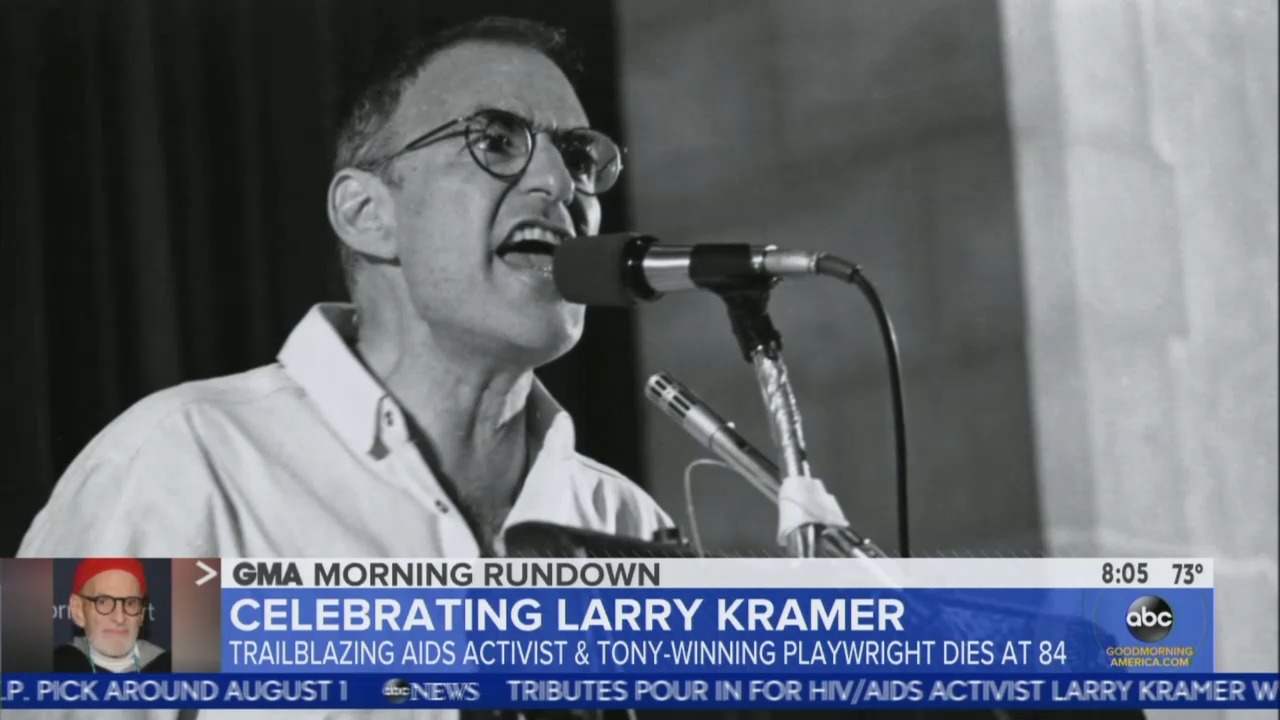 When an important conservative dies, journalists make sure to note that he angered liberals. In 2016, The Washington Post marked the death of Antonin Scalia with this angry front-page headline: "Supreme Court Conservative Dismayed Liberals."
Yet the networks on Thursday offered little to indicate that far-left gay activist Larry Kramer was controversial. Instead, ABC, CBS and NBC "celebrated" the man who compared Ronald Reagan to Hitler as a "monumental" hero who will "echo for generations."
On ABC's Good Morning America there was no debate about Kramer's greatness. Whit Johnson told his audience, "We are celebrating the life of Larry Kramer, the author and Tony award-winning playwright of The Normal Heart." The journalist cheered, "Kramer is being remembered on social media as a tenacious trailblazer."
On NBC's Today, Joe Fryer described Kramer in historic terms: "A raucous voice that could not be silenced and would echo for generations to come." He only vaguely hinted at controversies, saying that Kramer's ACT UP was "a group known for dramatic in-your-face protests and at times he alienated even his own allies." You mean like protesting at St. Patrick's Cathedral in New York? Even The New York Times in 1990 called this an "invasion." 
CBS This Morning also couldn't be bothered to find Kramer controversial. Journalist Vladimir Duthiers hailed, "We are honoring the life of trailblazing AIDS activist, playwright and author Larry Kramer."  He marveled, "What a way to live. What a monumental life. A consequential figure."
Citing another liberal, co-host Anthony Mason agreed, "Susan Sontag once called him one of America's most valuable troublemakers. I loved that." Not mentioned by any of the networks was Kramer's foaming hatred for Reagan, saying in an April 12, 2007 letter to The New York Times that the man who won 49 states was like Hitler. 
Ronald Reagan may have done laudable things but he was also a monster and, in my estimation, responsible for more deaths than Adolf Hitler. He is one of the persons most responsible for allowing the plague of AIDS to grow from 41 cases in 1981 to over 70 million today.
When Reagan died, Kramer spewed, "Our murderer is dead. The man who murdered more gay people than anyone in the entire history of the world, is dead. More people than Hitler even."
As for Kramer's claim that Reagan didn't do anything to combat AIDS, that's simply false. MRC President Brent Bozell explained on May 30, 2014:
The real Reagan record on AIDS is different than the seemingly never-ending mud-slinging. His HHS Secretary called it a "top priority" in 1983, when the disease was so new that few people even understood what was happening.  AIDS funding skyrocketed in the 1980s, almost doubling each year beginning in 1983 -- when the media started blaring headlines -- from $44 million to $103 million, $205 million, $508 million, $922 million, and then $1.6 billion in 1988.
How much did Kramer hate conservatives and the half the country that elects them? Again, even the liberal New York Times found it a bit much. On October 21, 1988, here's how the paper reviewed Kramer's mocking play Just Say No: 
Does the play indulge in poor taste? Imagine the worst possible taste, then take it several steps further. The author might suggest that all the targets deserve the debasement, but there is such a thing as overkill, and less than guilty parties are caught up in the crossfire.
But don't tell that to the networks. They don't find Kramer controversial. 
Full and partial transcripts of the segments are below. Click "expand" to read more. 
Today

5/28/2020

8:12 AM ET

SAVANNAH GUTHRIE: This morning, writer and activist Larry Kramer is being remembered for using provocative words and actions to call attention to the AIDS crisis. He died of pneumonia yesterday. He was 84. NBC's Joe Fryer now with a look at his life and legacy.

JOE FRYER: To find the worlds to describe Larry Kramer, perhaps it's wise to listen to how we characterized himself.

LARRY KRAMER: Loud mouth, trouble-maker.

FRYER: That's what it took, he says, to change the public policy about AIDS.

KRAMER: The first couple of years almost everybody I knew died and I'm not joking. It was like was were at wartime.

FRYER: In the early '80s Kramer helped invent the gay mans crisis and he appeared on Today to raise awareness.

KRAMER: We feel like a disenfranchised community. We can't get the National Institute of Health to accelerate the research that's going on.

FRYER: Frustrated by government in action Kramer formed ACT UP, the AIDS coalition to unleash power.

CHANTING CROWD: Fight back, fight AIDS.

FRYER: A group known for dramatic in-your-face protests and at times he alienated even his own allies.

KRAMER: You do not get for more with honey than vinegar. That's the greatest crocks are of you know what in the world.

ANYTHONY FAUCI: He's an historic figure, I think, I really do.

KRAMER: Dr. Anthony Fauci the nation's top infectious disease expert was in the same position in the '80s. Back then Kramer called Fauci a murderer and incompetent idiot. Later they would become friends.

FAUCI: But there are some who think that Larry goes a little bit too far. He went a little bit too far with a purpose.

KRAMER: A prolific writer, Kramer received an Oscar nomination for scripting the movie Women in Love But perhaps his best known work is the Normal Heart, a largely autobiographical play that took a heartbreaking look at the impact of the AIDS crisis.

MAN: I'm trying to understand why nobody wants to hear that we're dying.

FRYER: An award-winning adaptation aired years later on HBO.

[Clip of The Normal Heart.]

FRYER: Social media is now filled with tributes to Kramer. Elton John writes, "We have lost a giant of a man who stood up for gay rights like a warrior." Apple CEO Tim Cook says Kramer was "an American original who got loud, acted up and saved many LGBTQ lives."  A raucous voice that could not be silenced and would echo for generations to come. For Today, Joe Fryer, NBC News.

 

CBS This Morning

5/28/2020

7:49 a.m. ET

VLADIMIR DUTHIERS: Also this morning, we are honoring the life of trailblazing AIDS activist, playwright and author Larry Kramer. He died yesterday of pneumonia at the age of 84. Kramer was on the front lines of a pandemic that got much less attention initially than the one we face right now. He co-founded Gay Mens Health Crisis and organizations that helped shift national HIV policy in the 1980s.

(….)

DUTHIERS: What a way to live. What a monumental life. A consequential figure, Anthony.

ANTHONY MASON: Yeah. Susan ontag once called him one of America's most valuable troublemakers. I loved that.

 

Good Morning America 

5/28/202

8:05 AM ET

WHIT JOHNSON: Also this morning, we are celebrating the life of Larry Kramer, the author and Tony award-winning playwright of The Normal Heart left his mark as an activist for gay rights and AIDS treatment. He was a founder of act up whose street actions put the urgent need for AIDS research on the front pages around the country. Kramer is being remembered on social media as a tenacious trailblazer. Elton John writing, "We have lost a giant of a man who stood up for gay rights like a warrior." Larry Kramer passed away from pneumonia. He was 84 years old.