With just one week to go before the 2018 midterm elections, the broadcast networks are heavily spinning their campaign coverage against the Republicans, even as President Trump's campaign activities have received more airtime than all of the individual Senate, House, and gubernatorial contests combined.
Not only was network coverage of Republicans far more hostile (88% negative) than that meted out to Democrats (53% negative), but we found nearly ten times more negative statements about Republicans and President Trump (97) than all of the Democratic candidates combined (10).
In fact, coverage of the entire field of Democratic candidates would have been 67 percent positive if it hadn't been for negative comments in stories about Massachusetts Senator Elizabeth Warren's DNA test.
For this report, MRC analysts looked at all stories that mentioned the midterm elections on the ABC, CBS and NBC evening newscasts from September 1 through October 26. During those eight weeks, the networks generated 130 minutes of midterm coverage, most of which (78 minutes, or 60%) has aired in the final two weeks of our study (October 13-26).
Our analysts found a combined 132 stories that either focused on the midterms or mentioned them as part of story on another topic (such as the Kavanaugh confirmation battle). Four years ago, when Republicans were poised to take full control of Congress, those same networks aired barely one-fourth as many stories (35) during a similar time period.
This year, coverage has focused on President Trump and a handful of key races. Nearly half (62 minutes, or 48%) of the midterm coverage on the evening newscasts has focused on the President's campaign activities, vs. 47 minutes (37%) for all of the individual House, Senate and gubernatorial election contests combined. (Note that this statistic only includes coverage of Trump in a campaign context, not all of the coverage he has received as President during these eight weeks.)
Also eclipsing the individual election contests: Suggestions of foreign interference in this year's campaign, which drew nearly 15 minutes of airtime, more than any individual race in the country. Most of this coverage (84%) focused on potential shenanigans by Russia. The President's statement at the United Nations that China was interfering in the campaign drew two minutes of airtime, while the networks spent 16 seconds acknowledging attempts by Iran to meddle as well.
Among specific races, the Texas Senate showdown drew the most coverage (13 minutes, 42 seconds), despite the fact that the polling averages calculated by RealClearPolitics shows six much closer Senate races, including four Democratic-held seats. The only other contests receiving more than three minutes of airtime this fall were the Missouri Senate race, the Georgia governor's race, the Arizona Senate race, and the close contest in the 7th Congressional District in Texas — which was the focus of a single three and a half minute report on the October 22 CBS Evening News.
In all, the networks spent roughly 31 minutes covering ten Senate races, about eight minutes on the same number of House races, plus another eight minutes on four gubernatorial contests.
The spin of this coverage was lopsidedly anti-Republican and anti-Trump. We calculated spin by tallying all clearly positive and negative statements from non-partisan sources (in other words, reporters, anchors, voters and other unaffiliated sources). This excludes coverage that merely reflects the partisan back-and-forth of the campaign, in order to isolate the spin being imparted by the networks themselves. It also excludes "horse race assessments" about the candidate's prospects for winning or losing.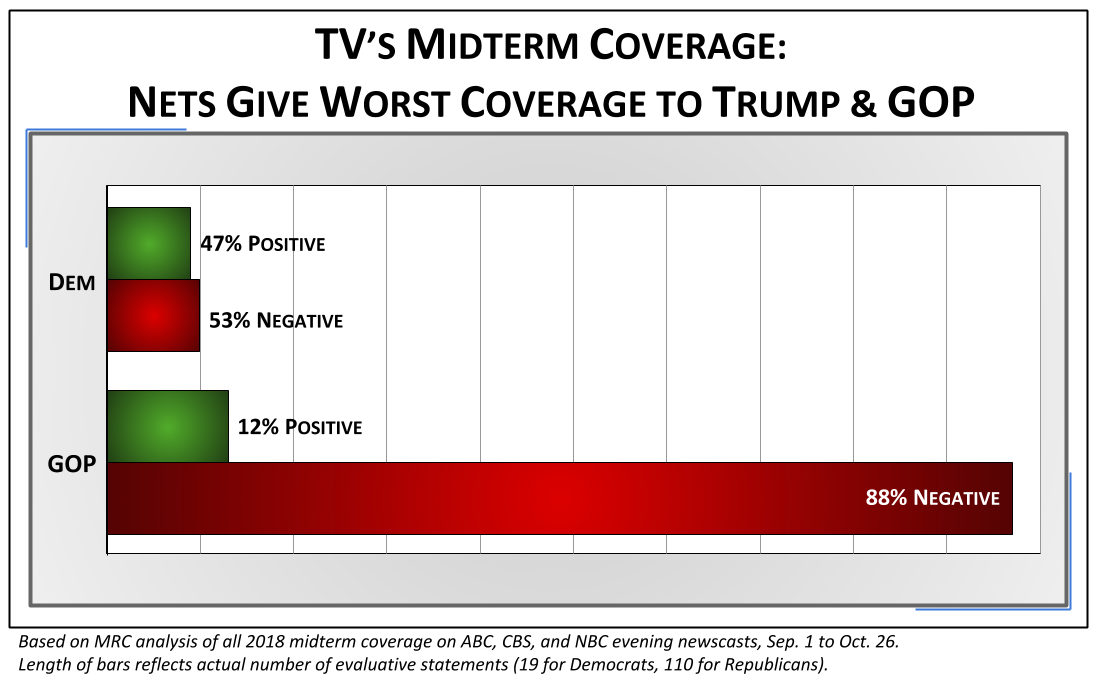 Using this measure, we found 110 statements about Republicans: 13 positive assessments vs. 97 (88%) which were negative. More than half of these statements (63) focused on President Trump, who actually fared slightly better than his party, with 86% negative coverage (nine positive statements vs. 54 negative ones), vs. 92% negative coverage for all of the Republican candidates (just four positive statements, vs. 43 negative statements).
Examples:
■ All three networks aired nearly identical reports blaming the Republican gubernatorial candidate, Secretary of State Brian Kemp, for alleged voter suppression in Georgia. (The reports on CBS and NBC even used the same individual voter, Marsha Appling-Nunez, to criticize Kemp.)
    
■ ABC and NBC both aired extremely similar stories claiming Republican candidates were hypocrites for opposing ObamaCare while saying on the stump that they would protect coverage for those with pre-existing conditions.
    
■ And all of the networks repeatedly criticized President Trump's rhetoric on the stump. On October 23, for instance, ABC's Jonathan Karl flatly declared that "as he makes the final push, the President is unleashing a torrent of exaggerations and claims that just aren't true."
The various Democratic candidates were never burdened by such coverage. Only Elizabeth Warren, as noted above, received any significant criticism, with 86% negative coverage following her DNA test. The only other Democrat to draw more than a single evaluative comment was Texas Congressman Beto O'Rourke, who enjoyed 100% positive coverage — a massive contrast to the 86% negative spin given his opponent, Texas Senator Ted Cruz.
Campaigns ought to be a time when journalists step back, present both sides of a debate, and let voters decide. But two years ago, the networks chose to be activists, pounding then-candidate Donald Trump with coverage that was ferociously (91%) negative.
The massive tilt in this year's coverage shows that the aggressive bias of 2016 was no one-time fluke, but just more proof that the media have utterly discarded objectivity in favor of activism.