Before Hillary Clinton receives the Democratic presidential nomination on July 27, NewsBusters is showcasing the incredibly glowing media coverage that has fueled her career over the past 25 years. On Wednesday, we detailed media quotes celebrating Clinton as the "successful," "remarkable," "fabulous," "sexy" and "pious" "icon of American womanhood."
Today, we highlight quotes demonstrating how, when Hillary faced tough questions or scrutiny over her scandals, members of her media fan club cast her critics as motivated by sexism and antagonism to her feminist achievements. Over the next two weeks, we'll post more quotes showing the media's longtime admiration for the former First Lady. (Links to rest of report added below.)
(Thanks to MRC's Mike Ciandella for tracking down the available TV clips; the full set of quotes follows the video compilation.)
■ "Do you think the American people are not ready for a woman who is as accomplished and career-oriented as Hillary Clinton?"
— Today co-host Katie Couric interviewing Hillary Clinton, August 24, 1992.
■ "When you hear yourself held up, as you were at the Republican convention — some people have used the word 'demonized' — does it make you hurt, or make you mad?... What was the worst thing you've heard said about you?...What was the grossest distortion of your record?"
— Jane Pauley's questions to Hillary Clinton, September 8, 1992 Dateline NBC.
■ "She's a cultural pioneer, and there are a lot of people who are very nervous about the fact that she has open power in this White House and doesn't just wield it in secret the way Nancy Reagan did."
— Newsweek's Eleanor Clift, March 12, 1994 McLaughlin Group.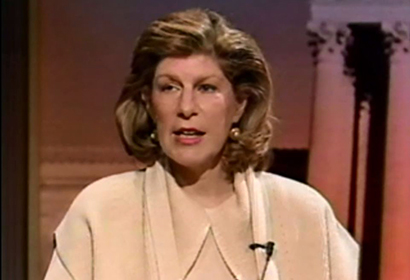 ■ "There is a lot of gleeful sexist reaction to her difficulties, a lot of piling on, a lot of men who never stood up for a woman's right to do anything, who would be completely content to have her whispering sweet nothings to him in bed and manipulating him that way, and are simply terrorized by the thought that she might have real, formal, out-front power."
— NPR's Nina Totenberg on Inside Washington, March 12, 1994.
■ "She and her staff would be the first to admit that her role in health care wasn't perfect, that she made mistakes. I think the amount of hatred and criticism of her should make everyone in this country question our attitudes toward women, and whether they've changed very much."
— ABC News White House producer Mark Halperin on C-SPAN's Sunday Journal, September 11, 1994.
■ "Our pathological fear of Hillary and any other uppity woman, whatever her politics, is a form of foot-binding, as well as a species of hate radio."
— CBS's John Leonard on Sunday Morning, September 1, 1996.
■ "The world I graduated from college into was certainly a man's world. That has changed. And one of the people who was an agent of that change was Hillary Clinton and her generation. And it's very difficult for the world to accept people who have been revolutionaries."
— ABC's Cokie Roberts on This Week with David Brinkley, August 25, 1996.
■ "Is Hillary Clinton's predicament worse because she is a woman? Probably so. From Primary Colors to Rush Limbaugh to Saturday Night Live, the hostile stereotype of Hillary is the domineering ice-woman, the one person who scares the Most Powerful Man in the World. Bill Clinton has suffered when judged on the age-old standard of masculinity: military service. But female observers, from Camille Paglia to Maureen Dowd, have judged Hillary with a catty ferocity they would not apply to men."
— U.S. News & World Report Editor James Fallows in an essay titled "She's Lois Lane" in the September/October 1996 Mirabella magazine.
■ "But were you surprised at the backlash? The really vitriolic, violent backlash against you in many ways? Do you think it was good old-fashioned sexism?"
— Katie Couric on Today, June 10, 2003, asking Clinton about her White House years.
■ "Sen. Hillary Clinton is facing an onslaught of open misogynistic expression. Step lightly through that thickly settled province of the Web you could call anti-Hillaryland and you are soon knee-deep in 'bitch,' 'slut,' 'skank,' 'whore' and, ultimately, what may be the most toxic four-letter word in the English language....The word beginning with C? No single term for a man reduces him to his genitals to such devastating effect."
— Newhouse News Service reporter Jonathan Tilove in a news story published November 29, 2007 in the Seattle Times.
■ "One of the great lessons of that campaign is the continued and accepted role of sexism in American life, particularly in the media. Many women have made the point that if Senator Obama had to confront the racist equivalent of an 'Iron My Shirt' poster at campaign rallies, or a Hillary nutcracker sold at airports, or mainstream pundits saying they instinctively cross their legs at the mention of her name, the outrage would not be a footnote. It would be front-page news."
— CBS Evening News anchor Katie Couric, in a June 10, 2008 CBSNews.com online video commentary.
Links to other installments:
Part One: A NewsBusters Special Report: Hillary Clinton's Media Fan Club
Part Three: Hating Hillary's Enemies in the Vast Right-Wing Conspiracy
Part Four: Journalists Saluting Hillary's 'Dazzling Political Mastery'
Part Five: TV Reporters' Top 10 Softball Questions for Hillary
Part Six: Journalists Help Hillary Overcome Her Many Scandals
Part Seven: Journalists Lead the Cheers for Hillary for President
Part Eight: Hollywood Celebrities Shake Their Pom-Poms for Hillary