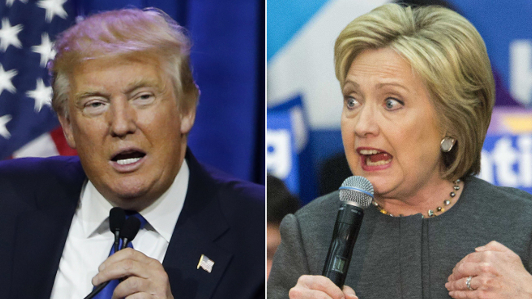 As this year's presidential campaign moves ever closer to the first debate on Monday, September 26, at Hofstra University in Long Island, New York, Hillary Clinton's team is facing a difficult challenge: finding a person who can stand in as Donald Trump during mock debates and launch personal attacks on the former secretary of state that will make the real Republican candidate look tame by comparison. The liberal Politico sympathized with Clinton on this. 
In an article posted on Tuesday by Annie Karni, a politics reporter for the website, the person "picked to be Hillary Clinton's sparring partner in her upcoming debate prep sessions is expected to confront her" about "out-Trumping Trump," which "is an inherently awkward enterprise, one which is expected to unfold only in front of a small group of trusted aides."
"Rep. Joe Crowley, a New Yorker with a large presence, could perhaps more accurately channel Trump's Queens heritage," Clinton allies told Karni.
The reporter added:
Other potential Trump stand-ins discussed include: James Carville, a naturally irreverent character who is trusted by the Clintons; (Minnesota) Senator Al Franken, a longtime Clinton ally with an actor's rearing; and Ron Klain, the former (Vice President Joe) Biden aide who is helping to run Clinton's general election debate prep and is already part of her leak-free inner circle.
However, "one of the key components of that preparation" -- Democratic strategist Bob Shrum said -- "is finding a person who is naturally smart, glib and utterly irreverent. You can't learn to be utterly irreverent."
Still, "it's one of the most uncomfortable and important jobs in Democratic politics," Karni noted, "trying to embarrass the woman who could be the next president."
According to Karni, one of those controversies is expected to be the death of Vincent Foster (a deputy White House counsel whose body was found on July 20, 1993, in the federal Fort Marcy Park in nearby Virginia holding a gun with gunshot residue on one hand).
Another charge could "label her as a rapist's enabler and invoke the personally painful memories of Monica Lewinsky and Gennifer Flowers," both of whom had sexual relations with her husband, former President Bill Clinton.
"You can't put it beyond Trump that Monica Lewinsky will play a role in this debate," said Greg Craig, President Obama's former White House counsel.
"Hillary Clinton must be prepared to deal with the Foundation and Wall Street and superPACs and all of that," Craig added. Clinton and her staff "need to be less focused on dealing with his policy proposals and more on dealing with the unexpected" because Trump is going to be "in attack mode, probably the whole time."
"This year in particular," Karni stated, "it's a job that nobody close to Clinton is particularly eager to take on. … Nobody who is a friend of hers is going to want to say that in debate prep."
However, challenging Clinton to prepare her for Trump is also one of the most crucial roles in the general election," the reporter noted before stating: "The first debate is widely expected to overshadow the conventions, the Olympics and the Super Bowl in terms of television ratings."
"Playing the opponent requires hours of studying game tape of every response Trump has given in a debate or an interview in order to anticipate exactly what he will say," Karni added. "That has been easier in past elections, depending on the candidate."
"It's a complicated debate prep," agreed Shrum. "The Clinton challenge is to prepare for the crazy Trump who will probably show up, some kind of toned-down Trump and the somewhere-in-between Trump."
The GOP candidate "could spend 90 minutes berating Clinton for helping to found ISIS (the Islamic State of Iraq and Syria)," Democrats said, "or he could turn on the moderator and the media so that Clinton simply becomes a bystander rather than a participant."
Karni added:
If Trump remains on message, Clinton allies expect him to attack her personal email use at the State Department, the overlapping orbits of the Clinton Foundation and the Clinton-led State Department and for President Obama's foreign policy legacy.

They expect him to call her "crooked" and focus on her gaffe that she "short-circuited" when she recently made misleading statements about her email use.
"But even when aides have successfully anticipated for the candidate 90 percent of the action that unfolds on the debate stage," the reporter noted, "it's the one unplanned exchange that can derail an otherwise flawless performance."
"Clinton may be very successful at presenting her economic plan or talking about how we destroy ISIS," Craig asserted, "but if there's one mistake or one exchange that is in some respect embarrassing, it could dominate all of the coverage."