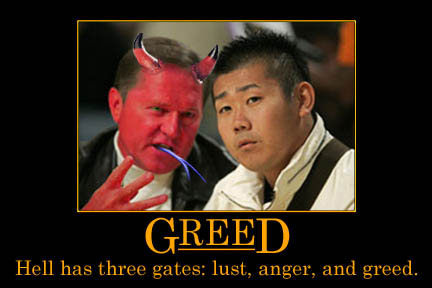 While the Obama administration and its media minions castigate financial industry executives for their so-called greedy ways, a couple of inconvenient truths are going largely un- or under-reported: one bank being criticized for a lavish convention in Las Vegas was forced to take TARP money in October, while another is trying to pay back the funds to regain its autonomy.
As the press had a field day with Tuesday's revelation that Wells Fargo was going to hold its annual sales conference in Las Vegas despite having received $25 billion from TARP last October, the fact the bank was FORCED to accept these funds seemed completely irrelevant to those looking to point fingers.
This was how the Associated Press first reported the story:
Bailed-out banking giant Wells Fargo is planning more than a week of corporate junkets at Las Vegas casinos.

Wells Fargo, which received $25 billion in taxpayer money, has booked 12 nights at the Wynn and Encore hotels starting Friday. Some of that is for a company conference honoring the top mortgage lenders.

The sales conference is a Wells Fargo tradition. Previous events have included horseback riding in Puerto Rico and a private Jimmy Buffet performance in the Bahamas.

At the end of the month, the company's insurance division has scheduled a meeting at the Mandalay Bay Hotel in Las Vegas.

Company spokeswoman Melissa Murray says recognizing employees remains part of the Wells Fargo culture. She says it's very important that employees know they're valued.
As anyone that has ever participated in such sales conferences knows, these events are scheduled far in advance. In fact, it is a metaphysical certitude that all of these reservations and deposits were made months before the financial crisis began last September.
Yet, what the media feeding frenzy conveniently ignored was that Wells Fargo was forced to accept bailout funds as the Wall Street Journal reported on October 15:
It was Monday afternoon at 3 p.m. at the Treasury headquarters. Messrs. Paulson and Bernanke had called one of the most important gatherings of bankers in American history. For an hour, the nine executives drank coffee and water and listened to the two men paint a dire portrait of the U.S. economy and the unfolding financial crisis. As the meeting neared a close, each banker was handed a term sheet detailing how the government would take stakes valued at a combined $125 billion in their banks, and impose new restrictions on executive pay and dividend policies.

The participants, among the nation's best deal makers, were in a peculiar position. They weren't allowed to negotiate. Mr. Paulson requested that each of them sign. It was for their own good and the good of the country, he said, according to a person in the room.

During the discussion, the most animated response came from Wells Fargo Chairman Richard Kovacevich, say people present. Why was this necessary? he asked. Why did the government need to buy stakes in these banks? [...]

After Mr. Kovacevich voiced his concerns, Mr. Paulson described the deal starkly. He told the Wells Fargo chairman he could accept the government's money or risk going without the infusion. If the company found it needed capital later and Mr. Kovacevich couldn't raise money privately, Mr. Paulson promised the government wouldn't be so generous the second time around.
Add it all up and Wells was forced to take these funds. Yet, after the AP revealed details of the sales conference, press outlet after press outlet attacked the bank's party plans without sharing this fact with the public.
Caving into the pressure, Wells announced the following day that it would cancel the festivities. However, as the AP reported, it may not save much money by doing so:
Wells Fargo & Co. is likely on the hook for hefty cancellation fees after abruptly scrapping its upcoming retreats to Las Vegas casinos. [...]

"Typically there would be some sort of cancellation clause in the contract," said Jeremy Handel, a spokesman for the Las Vegas Convention and Visitors Authority.

That often means losing a big deposit or paying a cancellation penalty, he said.

Wells Fargo suggested that canceling the event would cost about as much as holding it.
In the end, Wells Fargo, which neither solicited nor wanted TARP funds, was forced to cancel a sales conference it had likely booked many months before the financial crisis occurred, and will save little money by doing so.
Isn't that special?
At the same time, Goldman Sachs announced Wednesday that it wants to pay back its share of TARP funds in order to regain its autonomy. As reported by Bloomberg:
Goldman Sachs Group Inc. wants to repay the $10 billion it got from the U.S. Treasury last year to signal the firm is healthy and to escape limitations that were imposed with the money, Chief Financial Officer David Viniar said.
"Operating our business without the government capital would be an easier thing to do," Viniar said today at a conference hosted by Credit Suisse Group AG in Naples, Florida. "We'd be under less scrutiny and under less pressure." He added, "It would send a very good signal" if the firm could repay the money.
There's the money quote: Operating our business without the government capital would be an easier thing to do.
Makes sense, doesn't it -- unless of course you're a Democrat or liberal media member cheerleading the advancement of socialism.
Hip hip hooray!