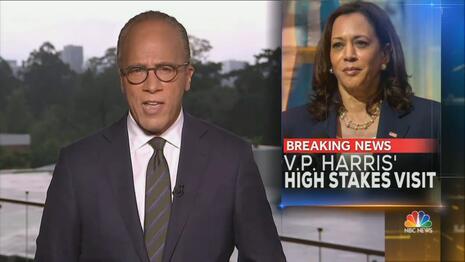 Back in March, President Biden appointed Vice President Kamala Harris to be the point person to handle the illegal immigration crisis on the U.S.-Mexico border. It's now June and Harris is in Guatemala and has refused to visit the crisis zone and witness it firsthand. But she had little to worry about as NBC was playing defense on her behalf. And during the Monday newscast of NBC Nightly News, anchor Lester "fairness is overrated" Holt decided to boast about Harris's abdication and help her slam her critics.
Holt was broadcasting live from Guatemala where he bragged about scoring an interview with Harris later that evening. But right at the top of the program, he immediately played a soundbite of Harris telling off her critics while at a press conference with the Guatemalan president:
HOLT: Tonight, Vice President Kamala Harris on her first foreign trip as VP; on the ground here meeting officials and searching for ways to attack the roots of the crisis that is overwhelming the United States border, and facing questions as to why she is here and not there.

[Cuts to video]

HARRIS: This is one of our highest priorities, and I came here to be here on the ground to speak with the leader of this nation around what we can do in a way that is significant. [Transition] And I will continue to be focused on that kind of work as opposed to grand gestures.
"The Vice President, who I'll speak with later this evening, declaring once again America's borders are closed. A warning that may ring hollow to some, though," he added.
As NewsBusters reported last week, with correspondent Kate Snow filling in for Holt, NBC Nightly News finally admitted that there was a "crisis" on the border and that the administration was not telling the truth about the border being closed and who was allowed to stay.
But with Holt back at the helm, they returned to denying the reality and dancing on the margins with terms designed to downplay the problem. And he also touted how Harris was nowhere near the U.S.-Mexico border:
With the White House immigration strategy being tested every day by a crush of arriving migrants, Vice President Kamala Harris tonight is 1,500 miles from the border, in central America, wanting to slow the tide of U.S.-bound migrants where it starts.
Holt also took to lauding how Harris was advocating for special programs for Guatemalan women, and they was supposedly special because Harris herself was a woman. "That push to help women here as Vice President Harris kicks off her historic first foreign trip as the first female vice president," Holt noted.
Meanwhile, NBC and the other broadcast networks (ABC and CBS) ignored a unanimous (9-0) Supreme Court ruling that found illegal immigrants were not eligible to receive green cards.
"The U.S. Supreme Court has ruled unanimously that thousands of people living in the U.S. for humanitarian reasons are ineligible to apply to become permanent residents. That means people who entered the country illegally now have temporary protected status cannot seek green cards to remain in the country permanently," reported Fox News Channel anchor Bret Baier on Special Report.
Lester Holt's ridiculous defense of Vice President Harris's abdication of her duty to visit the border was made possible because of lucrative sponsorships from Aleve and Fidelity. Their contact information is linked so you can tell them about the biased news they fund.
The transcript is below, click "expand" to read:
NBC Nightly News
June 7, 2021
7:01:34 p.m. Eastern

LESTER HOLT: Good evening from Guatemala, a small country having an enormous impact on the United States, a starting point in a long and dangerous journey to the U.S. border by so many who have hit the brick walls of poverty, violence, malnutrition, and disease that plague this region of Central America. Families in many cases sending their children ahead without them.

Tonight, Vice President Kamala Harris on her first foreign trip as VP on the ground here meeting officials and searching for ways to attack the roots of the crisis that is overwhelming the United States border, and facing questions as to why she is here and not there.

[Cuts to video]

VP KAMALA HARRIS: This is one of our highest priorities, and I came here to be here on the ground to speak with the leader of this nation around what we can do in a way that is significant. [Transition] And I will continue to be focused on that kind of work as opposed to grand gestures.

[Cuts back to live]

HOLT: The Vice President, who I'll speak with later this evening, declaring once again America's borders are closed. A warning that may ring hollow to some, though.

[Cuts to video]

With the White House immigration strategy being tested every day by a crush of arriving migrants, Vice President Kamala Harris tonight is 1,500 miles from the border, in central America, wanting to slow the tide of U.S.-bound migrants where it starts.

(…)