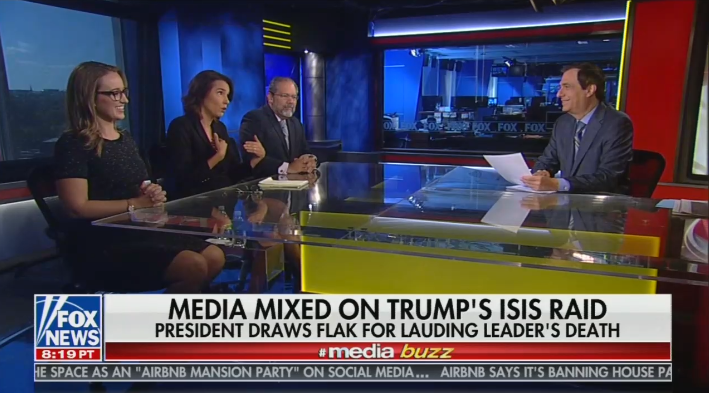 Following a week of the liberal media trying desperately to discredit America and President Trump's win with the elimination of ISIS founder and leader Abu Bakr al-Baghdadi, the panel on Fox News's MediaBuzz took them to task for being "stupid," trying to make it a "glass-half-empty" situation, and hyperventilating about a meme.
Host Howard Kurtz began the segment of his Sunday show by playing clips of liberal media folks losing it over how graphic Trump was in describing the raid during a press conference last Sunday.
"They used it as basically a way to find some negative in the story," explained Federalist culture editor Emily Jashinsky. She felt it was "a case study in the media's intense bias against Donald Trump;" pointing out how "they turned what should have been a day of coverage, especially that day in particular, glass-half-full into glass-half-empty."
Referring to clips Kurtz played of disapproving MSNBC hosts, (including Joe Scarborough suggesting Trump "sounded like Saddam Hussein after torturing people") Jashinsky decried their reaction as "atrociously over the top." She didn't feel that Trump's press conference "was beyond any line, anything like that." "So, the coverage of this was particularly disgusting," she added.
Moving on, Kurtz sort of shrugged at the liberal media's pearl-clutching over Trump's graphic portrayal of al-Baghdadi's demise. "It's an in your face style, and I believe the press has never gotten used to and therefore will take any opportunity to criticize," he said, teeing up former PBS News correspondent Ray Suarez.
"We're years into this, and really we haven't been able to calibrate as a profession how to cover this guy," Suarez lamented. He proceeded to criticize The New York Times for the number of resources they threw at trying to discredit Trump's claim that al-Baghdadi was "crying" and "whimpering" in his final moments.
Adding: "Whether or not he was whimpering or screaming or crying, you have to decide what in this novel, weird world of presidential news conferences are we going to be cover and what are we just going to leave alone."
Then came the criticism of the liberal media's ridiculous reaction to Trump sharing a meme of him awarding the Medal of Honor to Conan, the dog who cornered al-Baghdadi. "The coverage of the dog was, as you were saying, a real symptom of this incredible bias against the President," argued Washington Examiner chief congressional correspondent Susan Ferrechio. She then mocked them for fact-checking the obviously photoshopped meme (click "expand"):
FERRECHIO: To go and have people fact checking, and if you looked at the headlines, first they were blaming the President saying he photoshopped -- when they figured out it wasn't real, which took a while – that he photoshopped it himself and--

KURTZ: A picture of the dog getting a medal.

FERRECHIO: -- somehow put down the Medal of Honor winner, who they then went and found and interviewed him. And he said, 'I don't see anything wrong with this, I think the dog's a real hero.'
"They made themselves, I just have to say, look so stupid," she said.
Bringing it back around to the graphic nature of Trump's press conference, Jashinsky tried to remind folks in the media that "as gross as it may seem to media or as unusual as it may seem to the media, what he was saying about the death of a terrorist probably resonated with a lot of American people watching that," because they wanted to feel "proud" want their American victory over ISIS.
Being proud of America in the age of Trump was something the liberal media refuse to be a part of.
The transcript is below, click "expand" to read:
Fox News Channel's MediaBuzz
November 3, 2019
11:16:18 a.m. Eastern

HOWARD KURTZ: It was an absolute clear cut victory in the war on terror, a special operations raid that led to death of ISIS leader Abu Bakr al-Baghdadi. President Trump announced the outcome in a solemn speech, then drew mixed reviews for a free-wheeling 40-minute news conference.

(…)

JOE SCARBOROUGH: He sounded not like a president of the United States, he actually sounded like Saddam Hussein after torturing people.

CHRIS MATTHEWS: He's turned it into a weird kind of torture, like he enjoyed the guy's demise and how some sort of street fight has been won by the good guys and how poor and chicken the guy was who died.

(…)

KURTZ: Emily, look, killing al-Baghdadi, a major blow in the war on terror. And yet, many in the media were fixated on the press conference. And look, most presidents would have stopped with the speech and not taking questions and the humiliating language that Trump used.

EMILY JASHINSKY: Yeah, absolutely. They used it as basically a way to find some negative in the story, and I think this is a case study in the media's intense bias against Donald Trump; in that they turned the what should have been a day of coverage, especially that day in particular, glass half full into glass half empty.

And I think those clips you just played from Joe Scarborough and Chris Matthews, just atrociously over the top reactions to what happened. I don't think Donald Trump went beyond -- maybe it was unusual presidential behavior, I don't think it was beyond any line, anything like that. So, the coverage of this was particularly disgusting, I thought.

(…)

KURTZ: So Ray, look, it was unusual to see the President's sort of emotional, rambling account of how al-Baghdadi died, but that's his style. It's an in your face style, and I believe the press has never gotten used to and therefore will take any opportunity to criticize.

RAY SUAREZ: We're years into this, and really we haven't been able to calibrate as a profession how to cover this guy. I'm not in the morning meetings that are making some of these decisions, but I don't know if I would have launched two reporters to fact-check whether the President could have heard the whimpering and the screaming.

In the midst of the chaos in northern Syria that's happening right now with the movement of the Russians and the Turks into Kurdish areas, there's so much chaos in that part of the world. If you get al-Baghdadi, good on you. It goes on your balance sheet, absolutely.

KURTZ: Absolutely.

SUAREZ: Whether or not he was whimpering or screaming or crying, you have to decide what in this novel, weird world of presidential news conferences are we going to be cover and what are we just going to leave alone.

KURTZ: Absolutely. Now, The New York Times, Susan, while raising legitimate questions about whether the troop pullout in Syria may have complicated or sped up the raid, said that this Delta Force operation succeeded in spite of rather than because of Trump. And then you had the President saying Conan the dog got more publicity than me. Of course, it was the President who made Conan famous.

SUSAN FERRECHIO: Yeah. And, you know, the President would do himself a favor by avoiding that kind of petty argument on Twitter that he's not getting enough credit for something like that. He can just talk about it the way he did, a big victory for America, and then the larger issue -- which is an important issue -- is what's going on in Syria right now because of our decision to move those troops.

KURTZ: What about the coverage of the dog?

FERRECHIO: The coverage of the dog was, as you were saying, a real symptom of this incredible bias against the President. To go and have people fact checking, and if you looked at the headlines, first they were blaming the President saying he photoshopped -- when they figured out it wasn't real, which took a while – that he photoshopped it himself and--

KURTZ: A picture of the dog getting a medal.

FERRECHIO: -- somehow put down the Medal of Honor winner, who they then went and found and interviewed him. And he said, 'I don't see anything wrong with this, I think the dog's a real hero.'

They made themselves, I just have to say, look so stupid. I was reading through these Twitter feeds where everyone is attacking the President, The New York Times, The Washington Post, and all I could say was, you've got to be kidding me.

KURTZ: Well, Slate ran a piece, "why does Donald Trump hate dogs?" I just couldn't believe it.

In less than 24 hours, the media began to pivot back to impeachment, and it was almost like they couldn't wait to get off al-Baghdadi and back to their preferred narrative.

JASHINSKY: Oh, absolutely. I noticed that right away, because it's something that makes the President look good. And his press conference is something -- As gross as it may seem to media or as unusual as it may seem to the media, what he was saying about the death of a terrorist probably resonated with a lot of American people watching that, proud of their military, and proud of their country, and proud of their President.

KURTZ: Everybody should be proud of the military and the incredible they did, including the dog.

(…)