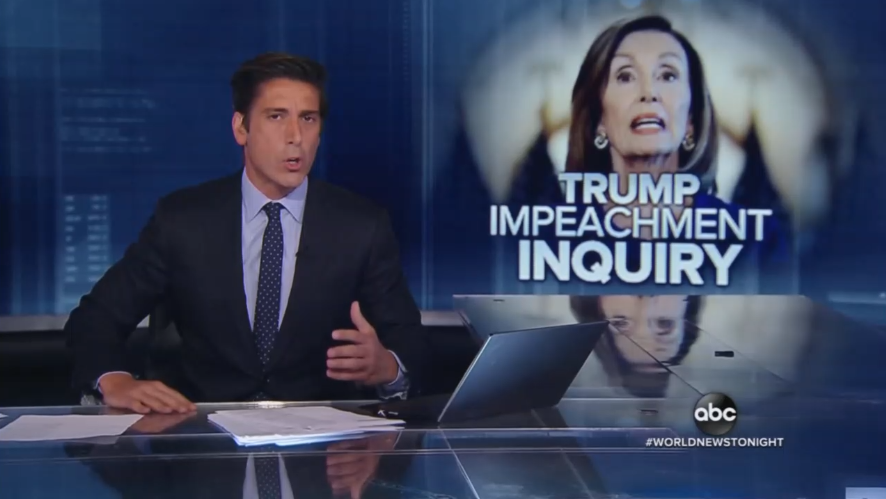 In contrast to CNN sprinting to bestow the mantle of "historic" onto Speaker Nancy Pelosi's Tuesday announcement that House Democrats would be starting official impeachment inquiries, there was only one network evening newscast that used the term to glorify the move: ABC's World News Tonight. Neither the CBS Evening News nor NBC Nightly News used that term, with the former cautioning about the harm impeachment would have on the country.
"Good evening and it's great to have you with us on a Tuesday night. And we begin tonight with the rare and historic move in Washington late today," proclaimed sensationalist anchor David Muir at the top of the program.
He then touted how Pelosi was finally ready to chase impeachment after months of not moving on the issue and holding her caucus back:
House Speaker Nancy Pelosi, after months of urging caution, telling fellow Democrats to follow the facts, she was before the cameras a short time ago, saying President Trump has, quote, "seriously violated the constitution." Speaker Pelosi saying no one is above the law, announcing an official impeachment inquiry will now move forward.
Senior congressional correspondent Mary Bruce had similar praise for the Speaker: "She's resisted for months, but tonight, Speaker Nancy Pelosi finally made her move." Later adding: "Capitol Hill was a flurry of activity. In the past 24 hours, a wave of Democrats declaring now is the time to impeach."
A few minutes later, Muir looked to senior national correspondent Terry Moran for an explanation of the impeachment process. "Well, David, this is an historic day, no doubt about it," Moran began. "A momentous step by Speaker Pelosi. But we're a long way from any kind of vote to impeach President Trump or remove him from office."
Moran, once more, called Pelosi's decision a "momentous step" and assured viewers that she was "proceeding cautiously" because she needed the public on her side. But, of course, Moran (and the rest of the broadcast networks for that matter) refused to mention that impeachment was still highly unpopular by a majority of Americans.
While ABC was touting the "historic" nature of these new impeachment inquiries, CBS chief Washington correspondent Major Garrett cautioned their viewers of the harm impeachment could bring. "Well, I covered the Clinton impeachment, and impeachments cast a long shadow," he told fill-in anchor Margaret Brennan as he explained how they can hurt the country:
In my experience, they deepen partisan divisions. Let's look at Richard Nixon, first. The House didn't even vote on articles of impeachment but, he resigned anyway, leaving a raft of reformist laws and less trust in government in its wake.

The House did impeach Bill Clinton, but he survived the Senate trial. But Clinton's presidency lost energy, Al Gore was a political casualty in 2000, and nearly two decades of simmering Republican anger rose again in 2016 against Hillary Clinton.
"Impeachment is the most serious action taken against a president, and no president -- and for that matter no, Congress -- emerges unscathed," he grimly concluded.
The transcripts are below, click "expand" to read:
CBS Evening News
September 24, 2019
6:37:33 p.m. Eastern

(…)

MARGARET BRENNAN: And only two U.S. presidents have ever been impeached before. This doesn't necessarily remove the President from office. But what impact does the fight itself have on the country?

MAJOR GARRETT: Well, I covered the Clinton impeachment, and impeachments cast a long shadow. In my experience, they deepen partisan divisions. Let's look at Richard Nixon, first. The House didn't even vote on articles of impeachment but, he resigned anyway, leaving a raft of reformist laws and less trust in government in its wake.

The House did impeach Bill Clinton, but he survived the Senate trial. But Clinton's presidency lost energy, Al Gore was a political casualty in 2000, and nearly two decades of simmering Republican anger rose again in 2016 against Hillary Clinton.

Impeachment is the most serious action taken against a president, and no president-- and for that matter no, Congress-- emerges unscathed.

(…)
ABC's World News Tonight
September 24, 2019
6:31:51 p.m. Eastern

DAVID MUIR: Good evening and it's great to have you with us on a Tuesday night. And we begin tonight with the rare and historic move in Washington late today.

House Speaker Nancy Pelosi, after months of urging caution, telling fellow Democrats to follow the facts, she was before the cameras a short time ago, saying President Trump has, quote, "seriously violated the constitution." Speaker Pelosi saying no one is above the law, announcing an official impeachment inquiry will now move forward.

It comes after the President acknowledged he brought up Joe Biden in a phone call with Ukraine's new president, and just today talking about why hundreds of millions of dollars in U.S. military aid to Ukraine was being held back.

So, tonight here, what comes next? What has Speaker Pelosi now set into motion after declaring the President "must be held accountable?" And this evening, the President calling this a "witch hunt." What he says he will now release. ABC's Mary Bruce leads us off from the hill tonight.

[Cut to video]

MARY BRUCE: She's resisted for months, but tonight, Speaker Nancy Pelosi finally made her move.

(…)

BRUCE: Capitol Hill was a flurry of activity. In the past 24 hours, a wave of Democrats declaring now is the time to impeach.

(…)

6:38:13 p.m. Eastern

MUIR: And all of you at home know this official impeachment inquiry is a very rare move, and the decision does not mean the House will ultimately vote to charge the President with high crimes and misdemeanors. So, let's bring in ABC's senior national correspondent Terry Moran, who's live in Washington. He covered the last impeachment involved Bill Clinton, and Terry, still so many unknowns here, but take us through this. What happens next?

TERRY MORAN: Well, David, this is an historic day, no doubt about it. A momentous step by Speaker Pelosi. But we're a long way from any kind of vote to impeach President Trump or remove him from office.

Here's how it will go down: facts and evidence. Speaker Pelosi has instructed the six committees that are already investigating President Trump to, quote, "proceed under that umbrella of an impeachment inquiry." Depending on the facts and evidence they develop, articles of impeachment could be drafted then. On bribery or high crimes and misdemeanors, that sort of thing. And then perhaps voted on.

As I say, we're a long way from that. This is a momentous step, but it's clear that Nancy Pelosi would not have taken it were she not prepared to take that step. She does know one thing, however, any impeachment requires the support of the American public in a very big way, and she's proceeding cautiously because of that.

(…)