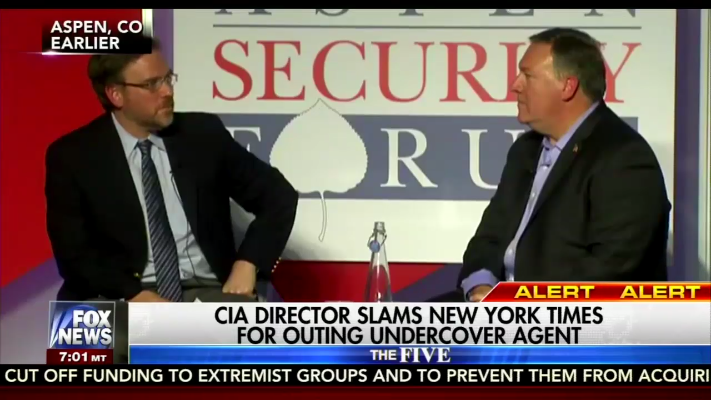 At roughly nine o'clock Eastern Time Fox News Channel's Ed Henry broke in with breaking news from the Aspen Security Forum in Colorado. At the forum, CIA Director Mike Pompeo took to the stage slammed The New York Times for putting the life of an officer at risk. "We had a publication, you work for Bret, that published the name of an undercover officer at the Central Intelligence Agency. I find that unconscionable," he angrily declared to the thunderous applause of the audience.
"What he was particularly angry about, the President's CIA Director is the fact that The New York Times back in early June published an account of the new chief of Iran operations at the Central Intelligence Agency," Henry announced as he began his report.
According to Henry, Fox News was refusing to share the officer's name because they still worked undercover:
[The Times] noted that officials who commented on the identity of this person who's running Iran operations at the CIA spoke on the condition of anonymity because he is still working on a clandestine basis and this could, obviously, put his life in jeopardy if the Iranians figured out, if other officials around the world figure it out.
And for the same reason, this blog won't mention their name or link to the offending article published by The New York Times. Notes of "[redacted]" are edits by this blog's author.
"The C.I.A. declined to comment on [redacted]'s role, saying it does not discuss the identities or work of clandestine officials," The Times wrote without a care. "The officials spoke only on the condition of anonymity because [redacted] remains undercover, as do many senior officials based at the agency's headquarters in Langley, Va."
The Times claimed one of the reasons they published the name was because it had appeared in other articles. Their second reason was that Donald Trump was the president. "[Redacted] is leading an important new administration initiative against Iran," they said.
"It justified to The New York Times publishing, at least in their eyes, the name of this clandestine official because they wanted to tell the public about the Trump administration's approach to Iran and how it was going to be more aggressive than the Obama administration," Henry explained.
In The Times report, the authors gave a description of where the officer lived, their spouse, work ethic, regions they operated in, and a detailed overview of their career and a few operations they were a part of.
It's common practice in reporting to leave out the names of undercover officials to protect their identity and their life. But by their own admission, The New York Times published the name of the official partly due to the fact that Donald Trump was president. That is a disturbing diversion from standard protocol for largely a political reason.
Transcript below:
FNC
The Five
July 20, 2017
9:00:17 PM Eastern

DANA PERINO: This is a Fox News alert, earlier this evening CIA director Mike Pompeo slammed The New York Times for outing an undercover CIA officer. Let's bring in Fox News' Ed Henry for more on this story. Ed.

ED HENRY: Dana, good to see you. A dramatic development tonight. This is happening at the Aspen Security Forum, this is an annual event out in Colorado where every summer these various security officials, military leaders get together and talk about the top issues of the day.

Russian interference, by the way, in the last presidential election was also a major topic. We'll get into that because [Mike] Pompeo the CIA Director also got frustrated by a series of questions from reporters and panelists about that.

But what he was particularly angry about, the President's CIA Director, is the fact that The New York Times back in early June published an account of the new chief of Iran operations at the Central Intelligence Agency. And they basically named this official even though he's a clandestine official and his identity is supposed to be secret. The CIA Director teed off on The New York Times for publishing his name.

MIKE POMPEO: We had a publication, you work for Bret, that published the name of an undercover officer at the Central Intelligence Agency. I find that unconscionable. [Applause]

HENRY: Now, Fox News is also withholding the identity of the CIA official because The New York Times in their own account in June did say he was still working as a clandestine official. They noted that officials who commented on the identity of this person who's running Iran operations at the CIA spoke on the condition of anonymity because he is still working on a clandestine basis and this could, obviously, put his life in jeopardy if the Iranians figured out, if other officials around the world figure it out.

The New York Times, by the way, in their June account justified publishing the name by saying: Number one, his identity had been previously named in other news accounts. And they also fell back on the notion that since he is running Iran operations for President Trump, who is pushing a more muscular approach toward Tehran. It justified to The New York Times publishing, at least in their eyes, the name of this clandestine official because they wanted to tell the public about the Trump administration's approach to Iran and how it was going to be more aggressive than the Obama administration, and potentially even include attempts to overthrow the Iranian government.

So, this is a dramatic development tonight, the CIA Director is saying that this could put this official in jeopardy and that the name should never have been published.

(…)