CNN pressed Senators John McCain and Joe Biden about their campaigns' respective tax plans on Tuesday's American Morning during back-to-back interviews. Co-host Kiran Chetry questioned McCain from the left, citing the supposedly "non-partisan" Tax Policy Center run by two liberal organizations, the Brookings Institution and the Urban Institute, while her colleague John Roberts asked Biden about the "income redistribution" that is part of the Obama/Biden campaign's tax proposal.
Chetry interviewed McCain first, starting 24 minutes into the 7 am Eastern hour of the CNN program, and first asked the Arizona senator to explain what he meant by saying that "the fundamentals of the economy are strong" and about regulation of businesses. She then brought up the issue of taxes: "I want to ask you about this, though, when it comes to tax policy -- the non-partisan Tax Policy Center calculated the middle class would actually save significantly more under Barack Obama's tax plan than yours. How will your tax cuts, as it breaks down on income level, benefit the working class and the middle class?"
McCain didn't submit to the premise of the question, and answered that Obama actually wants to raise taxes and that he "has plans for increasing government spending dramatically." The CNN co-host then followed-up by citing that "most of our independent economists say that Barack Obama is actually cutting taxes for about 90 percent of Americans. Do you agree with that?"
Obama plans to cut the taxes for about 90 percent of Americans? That figure sounds remarkably similar to the 95 percent figure Fox News Channel host Brit Hume shot down on Sunday's Fox News Sunday program: "Obama goes around claiming he's going to cut the taxes of 95 percent of the public, which is literally impossible" since "40 percent of American taxpayers don't pay any income tax."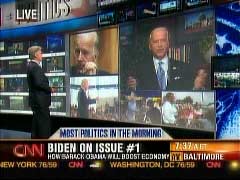 During his interview of Biden, Roberts, after asking the Delaware senator what he would to in response to the current financial trouble, asked about his campaign's proposed tax hikes on those who make more than $250,000. Biden first denied that this was the case, but when Roberts brought up the figure again, and Biden corrected himself.
The CNN co-host then pressed Biden on the timing of such a raise: "With the economy the way it is right now, is this anytime to be raising taxes on anyone?" Biden answered, "We are transferring the tax cut. We're raising the tax on them by letting this tax expire and flipping that tax and giving it to the people who need it." Roberts shot back, "Right, and some people would say that's income redistribution." The senator replied, "Well, I don't care what you call it -- the middle class is dying. John talks about the strength of the American worker. The American worker's been left out in the cold."