Hours after Vice President Joe Biden decided that he would not launch a presidential campaign, the major broadcast networks of ABC, CBS, and NBC largely welcomed on Wednesday night Biden's decision as it stands to benefit Democratic candidate Hillary Clinton one day before her testimony to the House Select Committee on Benghazi.
On NBC Nightly News, Clinton correspondent and MSNBC host Andrea Mitchell exprssed relief that "the Democratic race officially becomes a two-person showdown between Hillary Clinton and Bernie Sanders" with it being "good news for Clinton."
Touting Clinton's increase in previous polls whenever Biden was not offered as a choice, Mitchell gushed that it aides Clinton with courting voters in the party's base of "minorities, African-Americans and Latinos." Mitchell also worried that a Biden bid "would have split the party and the Obama White House."
With that out of her way, Mitchell explained that Clinton's Washington D.C. home had "become a war room" with a "game plan" to "stay cool and play up Republican missteps." Following Mitchell, Meet the Press moderator Chuck Todd signaled that this stretch of the first debate and Biden's announcement could be long remembered as "the period that Hillary Clinton clinched the Democratic nomination."
In the program's initial piece on Biden, White House correspondent Kristen Welker properly denoted Biden's multiple shots at Hillary Clinton along with his record of "missteps and gaffes," which included audio she played of Biden in 2006 talking about Indian-Americans being the predominant owners of 7-Elevens and Dunkin' Donuts.
Off the top of the CBS Evening News, anchor Scott Pelley commended Biden for "gracefully stepp[ing] off, bringing an end his ambitions of becoming president and a nearly 50-year political career," but hinted that going the other way would not have been advisable since it "would have been an uphill battle against Hillary Clinton."
<<<Click on the image below to help us with your tax-deductible gift>>>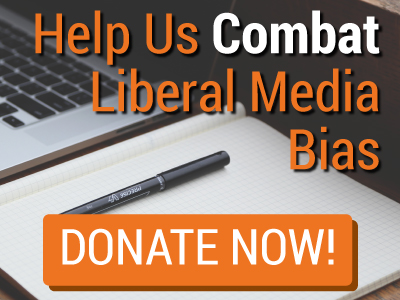 <<<Thank you for your support!>>>
In the lone network rip against Democrats, Face the Nation host John Dickerson told Pelley that "[i]t would have been interesting to see if [Biden] could have campaigned on" the need for bipartisanship and working with Republicans (as opposed to Clinton's outlook of the party) "because that was not the mood of his party right now."
However, he added this about Clinton and her "big hurdles" he claims she's now appeared to have cleared:
[S]he had a lot of big hurdles to clear in October, and there were those she could control and those she couldn't. The debate was one hurdle, and she's cleared that. Joe Biden's possible candidacy was another hurdle, which has now been cleared away for her, so tomorrow is really the last big test for her in October. Can she weather a full day's worth of testimony in front of a commit they even some Republicans have said is aiming to hurt her politically? If she can do, that she will be on stable ground after what was a pretty shaky summer.
Speaking a similar fashion that NBC's Mitchell did, ABC's World News Tonight anchor David Muir played up to chief White House correspondent Jonathan Karl the expected rise Clinton could receive in the Democratic polls with Biden not joining the race:
Jon, you know the numbers. Joe Biden's decision immediately impacting the race. Let's show everyone at home. The most recent ABC News poll showing in a three-way race, Clinton gets 54 percent, Bernie Sanders 23 percent, Joe Biden, 16, but with Biden out of the race, you see there, Clinton's numbers jump ten points to 64 percent[.]