As Congress proposes more tech-regulating bills, the head of the Internet Accountability Project said Big Tech platforms' "unchallenged growth is a threat to the conservative movement."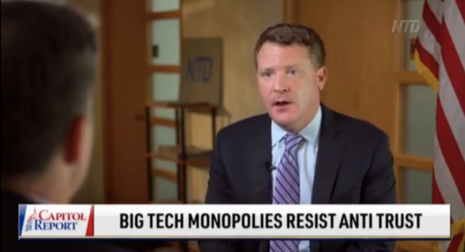 The Internet Accountability Project (IAP) aims "to lend a conservative voice to the calls for federal and state governments to rein in Big Tech before it's too late."
Congressional regulation of Big Tech became a major issue in the second half of 2021, after The Wall Street Journal revealed The Facebook Files, uncovering biased censorship and various cover-ups of Facebook. Leftist activist turned Facebook "whistleblower" Frances Haugen has been touring the world to advise lawmakers.
Mike Davis, IAP founder and president, has a message for Americans: "Conservatives must stop accepting excuses from Republican leaders and demand action."
Davis gave exclusive commentary to MRC Free Speech America. "Over the past few years, conservatives have woken up to the fact that the trillion-dollar Big Tech monopolists in Silicon Valley are not our friends. These globalists do not care about our constitutional values of free speech or free markets," Davis said. Big Tech seems to think it is above being held accountable, as Facebook showed recently by reportedly trying to divide Congress and refusing to apologize.
Davis warned, "Left unchecked, they will continue to censor conservatives, crush small businesses and stifle innovation. Their unchallenged growth is a threat to the conservative movement, the livelihoods of millions of Americans and our national security dominance in the 21st century."
He proposed a solution. "The only way to reintroduce competition into the U.S. tech marketplace is to enforce and modernize federal antitrust law. Breaking up Facebook, Apple, Google and Amazon will force them to compete for customers and users, allowing small businesses to compete on a level playing field and forcing tech companies to respect a diversity of political opinions."
Davis ended, "Thankfully, several bipartisan bills to break up Big Tech are making their way through Congress right now. We've got to act soon before it's too late. Conservatives must stop accepting excuses from Republican leaders and demand action."
Biased censorship on tech platforms is getting worse all the time. Tech platforms Google, Twitter, Facebook, and YouTube all earned an "F" for Free Speech on MRC Free Speech America's latest Big Tech report card. Amazon earned a "C" for Free Speech on the same report card.
Conservatives are under attack. Contact your representatives and demand that they hold Big Tech to account: Tech giants should afford their users nothing less than the free speech embodied in the First Amendment. If you have been censored, contact us using CensorTrack's contact form, and help us hold Big Tech accountable.