Celebrities have been protesting Donald Trump's administration regularly since the inauguration. This week, transgender issues have been the focus of their energy.
Last May, the LGBT community rejoiced when President Obama directed public schools to allow transgender students to use the restrooms of their choice. But on Wednesday, the Trump administration announced that it would roll back that policy, shifting sovereignty on the issue to the states.
Entertainers were quick to express their concerns, taking to Twitter and Instagram to voice resistance.
Star Trek original George Takei darkly hinted at protests. "The Trump administration's war on the LGBT community has begun," he declared. "Be prepared to take our fight to the streets."
Ava DuVernay, Producer of Selma and 13th, framed the directive as unjust. "Listen. Those of us who believe in justice and dignity FOR ALL will not be silenced," she tweeted. "We grow louder the more you try. #protecttranscitizens."
Actress Emmy Rossum expressed her thoughts in all caps. "THIS IS EVERYTHING WRONG WITH THIS ADMINISTRATION. @POTUS ACTS OUT OF FEAR AND HATRED OF EVERYTHING HE DOESN'T UNDERSTAND. #RESIST."
Lesbian show host Ellen DeGeneres commented that the policy change was not about politics, but rather human rights.
While actor Mark Ruffalo called the move "ugly," singer Katy Perry urged her trans friends to "reach out to @TrevorProject and @Translifeline" if they were struggling. "Equality for all!" she concluded.
Others with more personal experience weighed in.
Jackie Evancho, whose sibling Juliet is transgender, sang at Trump's inauguration.  "I am obviously disappointed in the @POTUS decision to send the #transgender bathroom issue to the states to decide. #sisterlove," the teen star tweeted.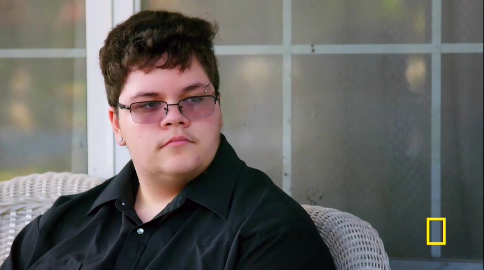 Transgender entertainers Janet Mock and Laverne Cox also weighed in. "To young trans folk: Remember this is your school too," Mock wrote on Twitter, "You deserve equal access, affirmation & education. You belong. Nothing is wrong w you."
"Trans people have a right to exist in public space with equal access," Cox posted on Instagram.
Several celebrities accompanied their tweets with the hashtag #StandWithGavin, referencing the plaintiff in a transgender bathroom case going to the Supreme Court. While introducing Lady Gaga during the Grammys, Cox told the audience to Google Gavin Grimm. "He's going to the Supreme Court in March. Hashtag stand with Gavin."
At the forefront of the resistance movement, Grimm's case will be pivotal.