Accurate coverage of Charlie Gard is "vital," especially where the story intersects with American healthcare, according to pro-life leaders.
Leaders of the pro-life movement addressed the media coverage of the terminally-ill British baby following a Washington, D.C. press conference Thursday. In exclusive interviews, MRC Culture spoke with Susan B. Anthony List's Marjorie Dannenfelser, March for Life's Jeanne Mancini, Concerned Women for America's Penny Young Nance, Family Research Council's Arina Grossu and Students for Life of America's Tina Whittington. Video below.
As an infant, Charlie was diagnosed with mitochondrial depletion syndrome. The rare genetic condition and brain damage has left Charlie deaf and blind, subject to seizures and unable to move his limbs or breathe on his own.
The 11-month old could be removed from life support any day. After his doctors suggested removing his ventilator, parents Chris Gard and Connie Yates sought to bring their baby to the U.S. for experimental therapy. But, "in Charlie's best interests," court after court sided with the London doctors. Last week, the parents lost their final legal appeal, despite raising £1.3 million for Charlie and finding an American specialist to treat him.
While America's major networks initially kept quiet on Charlie's story, that changed when President Donald Trump weighed in with a tweet – pushing the story into a national spotlight.
In an exclusive interview, MRC Culture asked Dannenfelser about the media coverage of the case.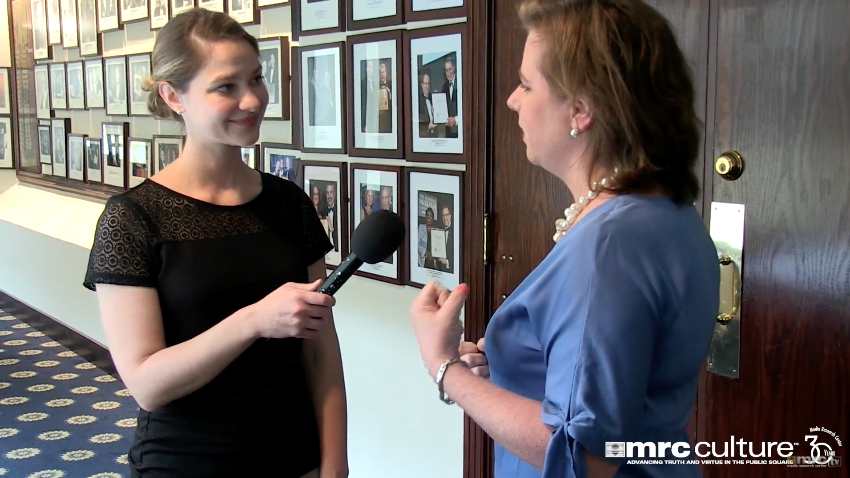 "But truly, the answer to 'has the media been covering this?' is absolutely no," she began. But, pointing to President Trump' tweets, she recognized the president's ability to "make news."
"He can make real news, not fake news," she continued. "And there's nothing more real than the power of a story where there's sort of a utilitarian authority saying, 'This life is not worth saving, and I'm not even going to let the parents get involved and try to save the life.'"
Dannenfelser pointed to the importance of media coverage in regards to American healthcare.
"The authority of an entity of the medical authorities to determine life and death versus a parent that wants to take care of their child," she outlined the "juxtaposition. "Those are mutually exclusive claims that are in conversation right now. Complete coverage of that is vital because it will determine in many ways how we design our own health care system."
Referring to the press conference, Mancini also stressed the the importance of drawing attention to little Charlie.
"I think that this is a situation where our putting a little bit of extra effort in, could be the difference between life or death," she said. "We know that there's power in numbers, and that if we can kind of collectively gather the grassroots to speak up, you know, on behalf of Charlie, to let them know that Charlie's life is worth fighting for, that maybe the hospital will have a change in the way that they're viewing this."
Mancini also commended the multiple media outlets that attended the event.
"I understand that we have here today groups like you as well as some of the major networks including Fox and CNN, so I'll be delighted to see how they do cover it after being here today," she said. "But just their presence is a positive sign."
Like Dannenfelser, Mancini also pointed to healthcare.
"The wish of the family is to keep trying, and so for the state to impose their will over the family when it's not even an issue of money, is just heartbreaking," she added. "And it's really, frankly, scary about where our health system is going to."
For her part, Young Nance was grateful to President Trump, along with Pope Francis and even celebrities, for calling attention to Charlie and his parents.
"I just need to take this opportunity to thank our president for taking this on," she said. "No one told him to do that. That was really from his heart."
Young Nance recognized the case as "precedent setting."
"Usually if the state exerts its authority, it's because the parents aren't doing enough," she stressed. "It's not this kind of situation where parents have the resources, are thoughtful, loving parents, who have very thoughtfully and prayerfully decided what they think is the best step for their child."
Also speaking with MRC Culture, Grossu commended President Trump and Pope Francis for issuing statements of support for Charlie and his parents.
"I think that once President Trump and Pope Francis covered it, it entered the world media stage," she urged. "And I think that that's what Charlie deserves and Charlie's family deserves, is that this is magnified. Because it could be anyone's child."
She added that the media should emphasize that "this is a parental rights case."
"Parents should have the right to make the decision the kind of care that their baby should receive," she said. "It is not the state or the hospital who should make the decision between a life and death for this child."
With Students for Life, Whittington elaborated on the initial lack of media coverage.
"I don't think that it got enough coverage in the beginning," she said. "I think one of the problems that we have with sensitive issues, especially when it comes to the idea of like death with dignity and even parents rights, a lot of times, is that it's quiet at first."
"But I think in all these cases, it takes one or two prominent people to recognize what's going on," she added, before pointing to the president and Pope Francis. "A lot of times, parents need a an advocate voice, someone who's recognizable, who can say something with authority and get people to pay attention."
All of the leaders made clear one point: In addition to the media, the president and Pope Francis, Charlie's parents have support from the pro-life movement. Both Dannenfelser and Grossu shared messages for Charlie's parents from the United States.
"I'd like to say to Charlie's parents and to Charlie, we are with you. We're 100 percent united in action, in prayer, that we will not stop fighting for you and for your child until we've succeeded in getting him free," Dannenfelser said. "Getting him out of there and allowing you to take care of a child."
"We are so proud of you," Grossu added. "You've been fighting, you've been so courageous. We are with you. You're not alone, you have an entire international community who supports you and is praying for you and is rooting for you, that you are able to take Charlie out of the hospital and bring him so that he can get the care he needs."