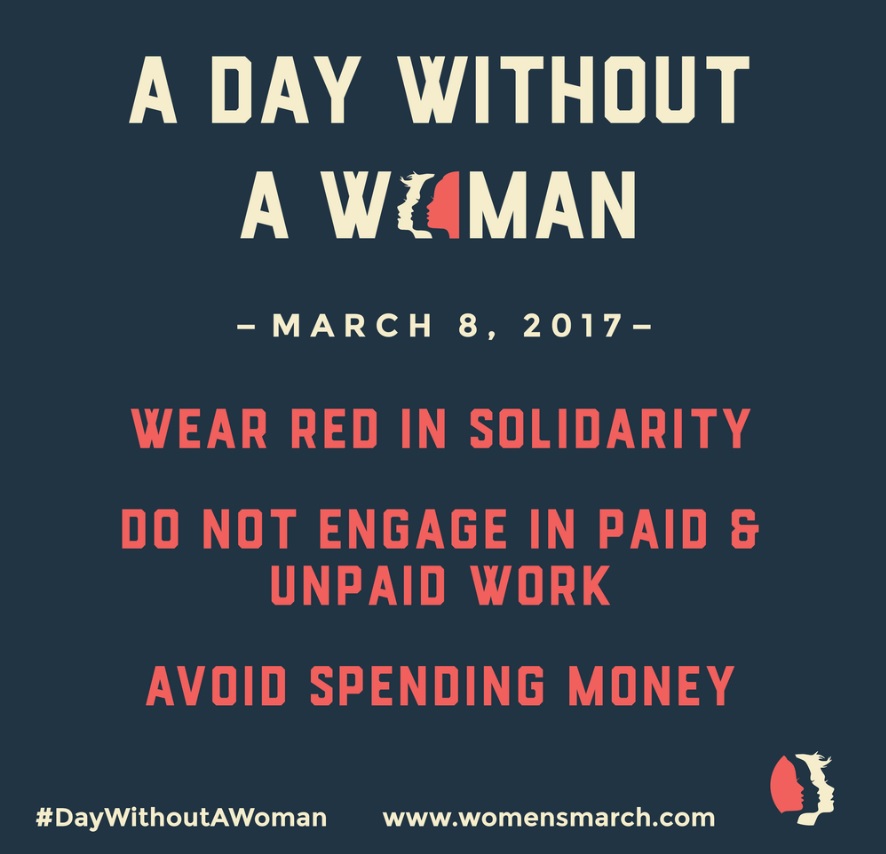 In "A Day Without a Woman" coverage, the liberal media said more by what they didn't report than by what they did report.
On Wednesday, feminist activists organized a nationwide strike to push liberal policy and "highlight the economic power" of women. Following the event, the broadcast networks praised "A Day Without a Woman" for standing up for "women's rights." But not once did ABC, CBS or NBC mention the pro-life women the event failed to represent nor the millions of women missing today because of abortion – despite an outcry by several pro-life leaders.
The March 8 strike was the latest event by the Women's March, a protest inspired by the election of President Donald Trump. While the January march claimed to represent "all" women, the organizers rejected pro-life groups as partners and dismissed pro-life women with a pro-abortion platform. (The approved partners boasted hundreds of millions in donations from liberal billionaire George Soros.)
But those are all things the network news shows kept from their viewers. Even the arrests during the strike were kept under wraps, except for one report from CBS.
On Wednesday night, NBC anchor Lester Holt began the "A Day Without a Woman" segment for Nightly News. Holt described the event as a "demonstration for women's rights" before turning to correspondent Anne Thompson for the full report.
Thompson described the women who "skipped work and shopping to demonstrate their economic clout." She classified their demands into three categories: "equal pay, protection of reproductive rights and better job opportunities."
She admitted that the strike inspired the "angering [of] some parents" after some schools cancelled classes in Maryland, Virginia and North Carolina.
In comparison with the Women's March, Thompson found the strike "much smaller," but with the same "target": President Donald Trump. She praised in her conclusion, "A day without women' with much work left to do."
For CBS, anchor Scott Pelley recognized "quite a few women" who "stayed home from work" during Evening News.
From there, correspondent Anna Werner noted the women who "walked off their jobs to protest and demand equity" – equity in the face of making "79 cents for every dollar made by men." (A statistic that's been debunked by both Harvard economists and Glassdoor's CEO.)
Werner recognized democratic lawmakers who "highlighted the inequities" as well as the "teachers in Alexandria, Virginia [who] agreed."
To her credit, Werner interviewed both sides: a "self-employed mother" happy about her son seeing "his teachers taking a stand," and a shop owner declaring, "To me the best way to demonstrate the strength of women in the workplace is to be in the workplace."
Later on in the news show, anchor Alex Wagner focused on the "fearless girl" statue, recently placed by an investment firm in front of the iconic Wall Street charging bull statue.
Pointing to the Women's March, Wagner called the statue of a little girl "part of a movement that's grown since President Trump's inauguration." While the other two networks covered the statue as well, CBS gave it the most time.
For World News, ABC anchor David Muir recognized "A Day Without a Woman" as a part of a larger report on International Women's Day with "American women marking the day in a number of ways."
"Protesters joining A Day Without a Woman in cities across the country today focusing on women's economic influence and calling for equal pay," he said.
On Thursday morning, ABC said nothing more about "A Day Without a Woman," and NBC mentioned it only briefly. Anchor Willie Geist mentioned the "thousands" participating in the "day-long demonstration in support of women's rights."
But CBS dedicated a whole segment to the event for This Morning. Alex Wagner described the event attended by "thousands" and correspondent Jamie Yuccas said it stood as a "rally for equality and demonstrate their influence in the work place."
"Yuccas' report was the only to admit that arrests took place at the demonstration in New York.
"The movement was not without criticism of President Donald Trump," she explained. Surprisingly, she also pointed to critics of the event who "say that yesterday's rallies were for privileged women, who could afford to skip work and find child care."
Pro-Life Leaders React to "A Day Without a Woman"
Several leaders in the pro-life movement called attention to the atrocity of abortion for "A Day Without a Woman" in press release statements.
March for Life President Jeanne Mancini:
While many participate in "A Day Without a Woman", it is important to remember the millions of women who are permanently absent because of abortion. Since 1973, abortion has silenced over 55 million children in the United States, and continues to oppress millions of women, both in our nation and abroad. Women around the world face forced abortions, sterilizations, and the female-targeting practice of gendercide – a gender-selective horror that accounts for the disappearance of at least 100 million girls worldwide.
Susan B. Anthony List President Marjorie Dannenfelser:
Consider the cruel irony of today's strike: the lives of millions of women have ended in the womb because of abortion, and millions more mothers have been wounded by a predatory abortion industry. Strike organizers miss the mark when they fail to stand up for smallest and most vulnerable of our sisters. When they promote a pro-abortion agenda, they confound freedom for women. They inconvenience and exclude women who want to protect unborn children under the law. They ignore women who need love and practical assistance, not abortion.
Concerned Women for America CEO Penny Nance:
Today on International Women's Day and during the "Day without a woman" strike, I can't help but think of the millions of women who have been silenced. In America alone, over 55 million children have been aborted since 1973, which means millions upon millions of women are missing from our world today. Not to mention, the women around the world have been forced to abort their children and the millions of little girls have been selectively aborted by gendercide. There are millions of women missing from our world and their voices have been silenced by abortion.
The Catholic Association Senior Fellow Ashley McGuire:
The staunch pro-choice platform of the organizers of the Day Without a Woman is a sad reminder of the millions of girls who are missing from the world because of abortion, in particular those who were targeted because they were girls. That is why millions of women like myself want nothing to do with with the dark irony of claiming to be pro-choice and celebrating a day without women. We will happily go to work today, both in caring for our families, and in fighting for an end to the anti-woman injustice of abortion.
Students for Life of America President Kristan Hawkins also challenged the "faltering" Women's March movement in a piece for the Washington Examiner.
<<< Please support MRC's NewsBusters team with a tax-deductible contribution today. >>>
Methodology: MRC Culture watched the broadcast network news shows from ABC, CBS and NBC on Wednesday evening, March 8, and Thursday morning, March 9.