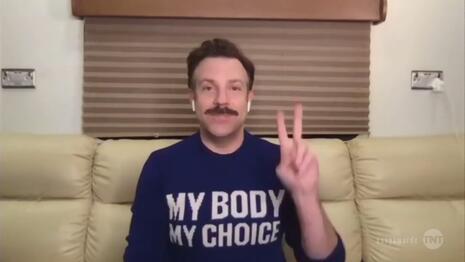 The 27th Annual Screen Actors Guild Awards was pre-taped and aired on Sunday night on TBS and TNT. The Easter night show delivered a very unappealing message by way of one award recipient's choice of wardrobe. Actor Jason Sudeikis wore a sweater with My Body My Choice printed on it.
Sudeikis currently stars in Apple TV's Ted Lasso. He won the male Actor in a Comedy Series category. The ceremony was a virtual one and he accepted via Zoom and the screen included his fellow nominees. When Sudeikis came on, at first only the top part of his message was visible – My Body. Then as he moved back from the screen, the rest was clear. Page Six reported it was a Gucci sweater that retails for $1,100.
It seems such a random and strange message worn by a male, especially since the show aired on Easter Sunday. This was a conscious decision, though, because he created quite a stir after his appearance on the Golden Globe awards. Then he wore a tie-dyed sweatshirt from his sister's line of athletic wear instead of dressing up in formal wear as the other actors did. When asked what he would wear for the SAG awards, he said he would have to put some thought into it, given the attention received after the last award show. His ex, actress Olivia Wilde, had previously promoted abortion when she was pregnant with one of his children.
Jason Sudeikis' virtual award show sweatshirts. That's it, that's the Tweet. #SAGAwards pic.twitter.com/GNyGCL8Ure

— E! News (@enews) April 5, 2021
This show was mercifully free of politics, except for this shirt. The broadcast only lasted for one hour. It sure would be nice if other award shows could continue such a short length of show and keep them politics-free.