Men's tennis star Novak Djokovic is once again in the quarterfinals of the U.S. Open after a victory last Saturday, reaching this stage of the tournament for a mind boggling 13th time (tied for second-most ever).
While the Serbian was in his Round of 16 match against Croatian Borna Gojo, New York Jets quarterback Aaron Rodgers was watching from the luxury seats. In addition to being some of the best athletes in their respective sports, both Djokovic and Rodgers faced incredible scrutiny for choosing not to take the COVID-19 vaccine. 
Evidently, not only did Rodgers respect Djokovic's greatness at his craft, but his courage to stand against vaccine tyranny. As such, when Rodgers posted on his Instagram story about his time at Arthur Ashe stadium, he made sure he reminded his followers about their commonality from standing against the vaccine mandates (a screenshot of this is below).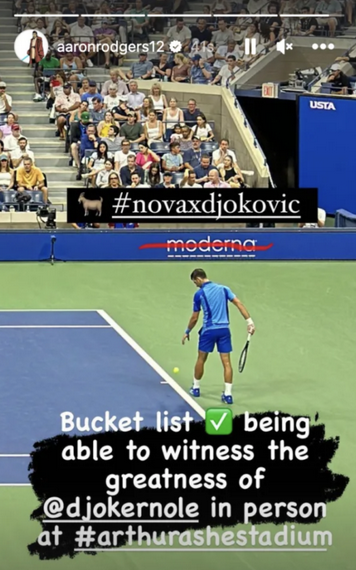 ​
The hashtag and the red line across the Moderna logo were particularly clever. 
Related: 'One Brave Woman:' Free Speech Advocates Praise Sage Steele
As you'll remember, Djokovic was prevented from entering Australia in 2022 after trying to participate in the Australian Open without being vaccinated. He would face similar troubles when trying to compete in the United States, but he stated this was a price he was willing to pay in order to have autonomy over his health choices. 
Similarly, Rodgers decided to not take the COVID vaccine despite the NFL practically forcing all of its personnel to do so. He also decided to take Ivermectin to fight COVID instead of getting the jab and used his platform to call out the absurdity of America's COVID mandates and solutions to the "pandemic."
It's unfortunate that their examples didn't inspire more people to take a similar stand. But, we know that at least two famous athletes with a capacity to think critically still exist.