Disgruntled America hater Colin Kaepernick just won't give it up. The activist who threw his football career away has accused the U.S. of targeting minorities after American forces used a drone strike to kill an Iranian terrorist responsible for many atrocities. It was "imperialism" against black and brown people, says Kaepernick in his latest caustic Tweet.
While riding in a two-vehicle convoy Friday near Baghdad International Airport, Iranian General Qassem Soleimani and Abu Mahdi al-Muhandis, the Kataeb Hezbollah chief, were killed by three missiles from an American MQ-9 Reaper Drone.
In a public statement Friday, President Donald Trump called Soleimani "the number-one terrorist anywhere in the world" and said he was plotting "imminent and sinister attacks on American diplomats and military personnel, but we caught him in the act and terminated him." Soleimani had injured and murdered hundreds of American civilians and servicemen and recent rocket strikes in Iraq killed one American and injured four U.S. servicemen very badly. Soleimani made the death of innocent people "his sick passion," the president said.
Here's Kaepernick's "sick" take on all that: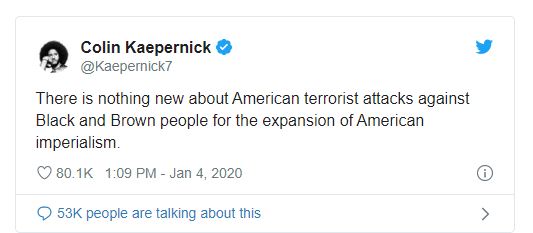 Think there's a few widows and orphans who'd beg to differ with Kaepernick's warped comments?
The former quarterback of the San Francisco 49ers (seen above in file photo), who has frequently bashed America from the cover of his Twitter account, had more to say, too. The man who became a multi-millionaire from football and a bloated Nike contract says America polices and plunders the nonwhite world:
While attending a Native American take-over of Alcatraz Island on "UnThanksgiving Day," Kaepernick accused the U.S. of stealing "over 1.5 billion acres of land from Indigenous people."
While in Ghana on July 4, 2017, Kaepernick tweeted that Americans have no independence.
Kaepernick wrote his ticket out of pro football in 2016 when he kneeled during the national anthem to protest "systemic racism" in the United States. That was his final season in the NFL and it was the final straw for the league and fans that want no part of his radical activism.
Yahoo! sports writer Jay Busbee said after Kaepernick's latest outburst that the distance between him and the NFL is probably "for the best":
"If he chooses to use it, Kaepernick has the potential platform to influence millions as a pariah, a platform he'd lose if he were to go hold a clipboard and play mop-up duty in Miami."
Busbee also writes: "Kaepernick's tweets excoriating 'American imperialism' and charging the United States with conducting 'terrorist acts' aren't designed to change minds or promote dialogue. They're there to advance a worldview and stake out territory, damn the consequences. And both tweets drew thousands of replies, many sharply criticizing Kaepernick and framing the issue in far different terms than Kaepernick's 'American imperialism.' "
Predicting Kaepernick's days as a football player are as good as over, Busbee says his time as "a flame-throwing political activist might just be getting started."