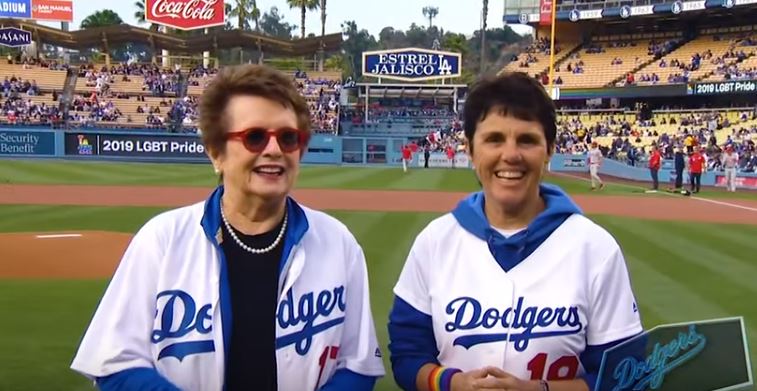 There's no LGBT wing in the National Baseball Hall of Fame. Not yet, anyway, but don't hold your breath! An LGBT advocate is targeting yet another cultural institution to infiltrate: baseball's Hall of Fame in Cooperstown, N.Y. Nobody's claiming Ted Williams and Yogi Berra were flaming (not yet), but SB Nation Outsports writer Ken Schultz is saying the Hall of Fame should add an exhibit to spotlight LGBTQ figures of baseball's past and present.
Schultz points to Hall of Fame exhibits on African Americans, Latin Americans and women in baseball and demands an addition to that group. As baseball recognizes the sins of its past and welcomes players from diverse backgrounds, another group is deserving of acknowledgement, he demands, "It's time for the Hall of Fame to add an exhibit spotlighting LGBTQ figures in baseball." Don't write him off; baseball holds numerous pride events, and the town of Cooperstown flew the rainbow flag over its Village Hall this summer.
If Schultz gets his way, an LGBT-inclusive Hall of Fame would recognize a couple former players, a couple umpires and two owners:
"An exhibit recognizing LGBTQ history in the game would become the most prominent sign of acceptance at the sport's very highest level. It would signal that baseball as a sport and MLB as an organization welcome and honor the role of the community in the game.

"Such a symbol of institutional acceptance would be another step on the path that eventually leads to an active baseball player feeling comfortable enough to publicly come out."
Much of Schultz's story focuses on Glenn Burke, an openly homosexual player who had a brief and unproductive career in the 1970s and who was "one of the most under-celebrated trailblazing figures in baseball history." He could be the centerpiece of Schultz's dream LGBT exhibit.
"This is precisely where the Hall of Fame should step in. The story of Burke's career is a very difficult one to hear but it's necessary to get a sense of what it was like to be a gay player in the MLB climate of his era," Schultz believes. "There's no better way to ensure that Burke remains a prominent figure in baseball than by making him the centerpiece of an exhibit in the most famous attraction dedicated to baseball history in the world."
Schultz trashes the Los Angeles Dodgers for trying to hide Burke's sexuality by "reportedly offering to pay for his honeymoon if he'd participate in a sham marriage to a woman." That demonstrated to "many LGBTQ people" that it would be impossible to come out of the closet.
When Burke later joined the Oakland A's, Manager Billy Martin introduced him to the team as a "faggot." Burke was out of the majors after four seasons, and it was due to his sexual orientation (not his paltry .237 career batting average), readers are told.
The story of Billy Bean would also be a star attraction of Schultz's envisioned LGBT-inclusive Hall of Fame:
"His time as a player was every bit as harrowing as Burke's, as Bean tried to compete at the highest level while expending all of his mental energy keeping himself in the closet. But by contrast, his post-playing career has turned into an example of the game reckoning with its outdated bigotry." Bean went on to serve as MLB's LGBT "cop" — as the Ambassador for Inclusion.
Former baseball umpire Dave Pallone also deserves "brutal" honesty in a Hall of Fame exhibit, he was allegedly fired by MLB in 1988 for being gay. Another umpire, Dale Scott, came out of the closet in 2014, helping baseball move away from its "disgraceful" attitudes of the past, Schultz writes.
Also, an LGBT exhibit in the Hall of Fame would include displays on Laura Ricketts, Kevin McClatchy and former tennis great Billie Jean King. Ricketts is the first known lesbian co-owner in Major League Baseball history, while McClatchy spent his entire time as owner of the Pittsburgh Pirates in the closet.
Then there is the lesbian King, a co-owner of the Dodgers along with her partner Ilana Kloss (both seen in above photo), who would be featured in the Hall, with its mission "to preserve the sport's history, honor excellence within the game and make a connection between the generations of people who enjoy baseball."
By enshrining these candidates in Cooperstown, baseball would send "a huge signal to baseball fans and players everywhere that the sport has chosen the path of inclusion and it isn't going back," Schultz argues.