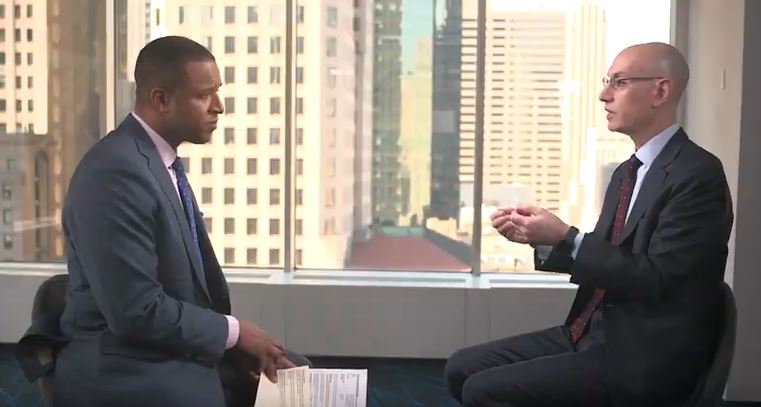 In an NBC Today Show interview and with a supportive report by Newsweek magazine, NBA Commissioner Adam Silver earlier this week boasted of the league's progressive activism. Silver expressed support for gender quotas and Black Lives Matter and directed negatives toward President Donald Trump's policies. Today Show host Craig Melvin (at left in photo) interviewed Silver (at right in photo) and Benjamin Fearnow wrote about it on Newsweek's website.
Fearnow writes, "Silver said the NBA will not 'police every tweet' and he encouraged players to have political opinions about topics like President Donald Trump's policies and Black Lives Matter 'just like every other American.'":
"If done respectfully and if a player chooses to say 'I don't support that president or particular policies of that president' that makes the player, hopefully, like every other American. What I've said about people who have said to me 'how can you let a player criticize the president?' I've always said, 'this is America.'"
The NBA commissioner said that, upon the beginning of the Trump Administration, he "maybe naively" thought the president would welcome private discussions with visiting athletes about social issues outside of "the bright lights of the media" -- "but the president has failed to do so thus far. ... This is how you're affecting us and our families and our communities. Talking is helpful and I encourage that."
Silver has long been cozy with former president Barack Obama and never expressed concern about his policies and how they affected certain communities. As the NBA's deputy commissioner in 2012, Silver donated $2,000 to the Obama presidential campaign. The NBA is also involving the ex-president/hoops junkie in an effort to create a professional basketball league in Africa. 
Melvin told Commissioner Silver that the NBA, as opposed to the NFL, has "set itself apart in allowing players to express their opinions on a wide range of issues on and off the court." Silver said that political activism is not new under him, that it's "in the DNA of the league."
"There's a history to activism in this league certainly going back to Bill Russell and that generation of players," Silver said. "Bill Russell stood on the steps of the Lincoln Memorial when Martin Luther King delivered his iconic 'I have a dream' speech. And today while we look back and players think that doesn't seem all that controversial."
Of course, Dr. Martin Luther King's famous speech calling for civil rights and humane treatment for African-Americans isn't controversial. Today's social justice warrior athletes' targeting of police officers and offending veterans, however, is highly inflammatory.
Melvin pressed Silver about gender equality and prompted talk of quotas and progressivism.
"Our goal is for 50 percent of new referees to be women," Silver said. "It makes no sense when you look back at the history of the league and all the progressive things we've done that it ends up with almost exclusively male referees. ... There is absolutely no reason women shouldn't be coaching men. ... Over time it should be 50 percent. ... "