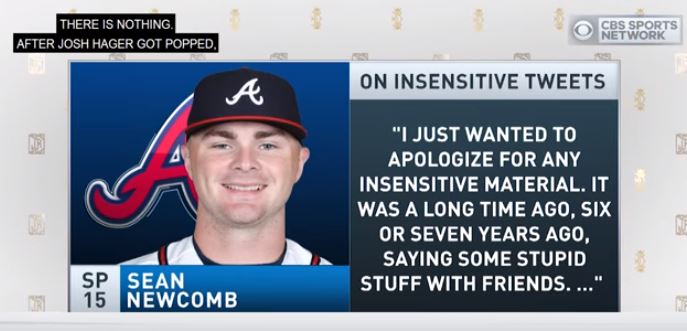 The following scene is becoming a part of the 21st century press box at professional sporting events. Bored by the actual game they're paid to cover, sports writers are only passively watching. That's because they're digging into the pitcher's social media history, looking for controversial remarks made years ago by an immature teen-ager.
Anything that's politically incorrect is followed by the "gotchya!" story. On Sunday, Atlanta Braves' pitcher Sean Newcomb (photographed above) was throwing a masterpiece, not that the social media miners in the press box were paying much attention. He came within two outs of pitching a no-hitter, a career best! What do you think USA Today Sports' Steve Gardner and a horde of other media were interested in? They busted him for inappropriate tweets penned in 2011 and 2012:
"Several troubling tweets, many of them using a homophobic slur, from Atlanta Braves pitcher Sean Newcomb surfaced Sunday -- just after Newcomb lost a no-hit bid with two outs in the ninth inning.

"Twitter user @NatsSquid reproduced three tweets from 2011 and 2012 -- when Newcomb, now 25, was an 18-year-old senior at Middleboro (Mass.) High School."
Newcomb's tweets were critical of "gay" and "black" people. After the Twitter exposed his youthful, dumb mistakes, he tweeted regrets. And left the ballpark a marked man, despite a heroic pitching performance.
An isolated incident? Gardner writes that inappropriate social media of the past is "just the tip of the iceberg." Milwaukee pitcher Josh Hader was recently exposed for "insensitive social media posts from several years ago." So was Josh Allen, a quarterback from the University of Wyoming drafted this year by the Buffalo Bills. Washington Nationals shortstop Trea Turner, now 25, also got busted for past inappropriate social media from 2011-2012. To self-righteous "I-won't-stick-to-sports" writers, it's not what you did today, but what you did years ago. Each of these athletes went through the perp press conference and apologized. They'll now be subjected to the idiocy of "sensitivity training."
This new mania is the height of hypocrisy. It's now common for media, black, white and Hispanic, to rip on white people, especially NFL owners. No questions asked.
Furthermore, reporters have no problem at all with NFL and NBA owners and athletes from both leagues swooning over racist ex-con gangsta rapper Meek Mill. The Philadephia Eagles ran onto the field for the 2018 Super Bowl to the (off)-tune of one of Mill's n-laced rap outrages. No questions asked.
Likewise, the steady stream of NFL players getting arrested is drawing less scrutiny than the formerly wayward kids' tweets. Twenty NFL players have been arrested this year, but the media are showing little interest in current offenders. Philadelphia's Michael Bennett allegedly beat up an old woman at a football game and gets little media scrutiny—because, as a social justice warrior, he's nearly immune to media criticism.
Instead of fielding questions about narrowly missing the rare feat of pitching a no-hitter, Newcomb was peppered with post-game questions from the media about the tweets. "I feel bad about it. I don't mean to offend anybody. I definitely regret it," he said. The Braves went into overdrive apologizing for his tweets, too.
Gardner wrote that Hader and Newcomb have to go through sensitivity training for what happened years ago:
"After Hader's old tweets became public, he issued an apology for his remarks immediately after the game. He was not disciplined by MLB, but will have to undergo sensitivity training.

"It is expected Newcomb will receive a similar punishment."
Eric Stephen, writer for the hard Left SBNation blog, admits to how common the Twitter excavations have become:
"Another day, another athlete exposed for terrible behavior on social media. Atlanta Braves left-hander Sean Newcomb apologized Sunday after a series of his homophobic and racist tweets were found."
NPR's Colin Dwyer confirmed that media were digging into Newcomb's social media history during the game and reminded major leaguers that "on social media, the past is never the past." He wrote:
"As the game unfolded, social media sleuths were unearthing and circulating several of his old tweets that used offensive language. Posted in 2011 and 2012 when Newcomb was in his late teens, the tweets featured racist and homophobic slurs, including the N-word and, more frequently, a certain other F-word."
When old tweets by kids can out-weigh outstanding athletic performances and crimes, you know that sports reporting has gone totally PC.