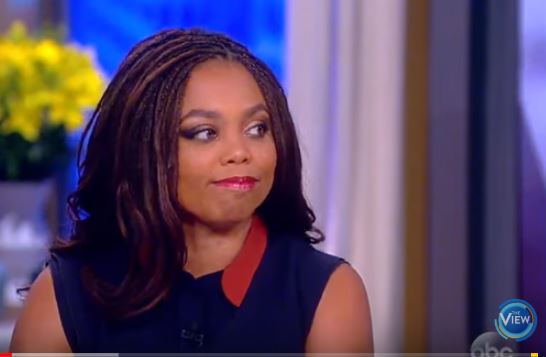 Former ESPN SportsCenter 6 co-host and ongoing race-baiter Jemele Hill (in photo) is doubling down on her tweet of last fall when she called President Donald Trump a "white supremacist." In a post on ESPN's blog, The Undefeated, she blames the president for ending Colin Kaepernick's NFL career and says it's a hollow gesture for him to invite the free agent football player to an upcoming White House series of conversations on race.
In addition to Kaepernick, President Trump has invited other athletes, Kanye West and musicians to the conversations. Pastor Darrell Scott, a Trump friend from Cleveland, said the conversations will be "unscripted, unfiltered, blunt. No topic is off the table."
Hill isn't having any of it. She says "asking Kaepernick to participate in this summit rings especially hollow." She blames the president for ending the former 49ers' quarterback's career when he said, in a March 2017 speech in Louisville, ""It was reported that NFL owners don't want to pick him up because they don't want to get a nasty tweet from Donald Trump. Do you believe that? I just saw that. I just saw that."
It was a "not-so-subtle threat to NFL owners," according to Hill, who went on to list numerous slings and arrows the president has aimed at Kaepernick:
"Even before he was president, Trump used Kaepernick and the NFL player protests like a racial chew toy, stoking his base with consistent and frequent attacks on the NFL and Kaepernick.

"There is something to say for Trump seeking greater understanding of complex racial issues, especially considering he has often come off as dismissive of the impact of racism on marginalized people and seemingly revels in encouraging intolerance."
There's too much water under the bridge, in Hill's view, for Kaepernick to accept the invitation. The president is merely offering him a "cookie." It also "can't be forgotten how much Trump seemed to take a special delight in helping to torpedo Kaepernick's NFL career."
Trump also "hijacked Kaepernick's original message — which was never about disrespecting the anthem, but rather holding this nation accountable for subjugating people of color to oppressive systems — and helped turn Kaepernick into public enemy number one." But football fans were already up in arms before Trump commented on the protests.
Hill writes that a presidential apology is in order and advised Trump "to admit how much his words have contributed to Kaepernick being seemingly blackballed by the NFL." Until that happens, she asks "how could Kaepernick and Trump even begin to have a truly open conversation about race?"
Finally conceding that an argument could be made that if Kaepernick explains to Trump the reasons behind his protests, "it could persuade Trump to either soften his criticism or stop it altogether. A meeting with Trump could also get Trump's base, many of which are NFL fans, to dial down their vitriol toward Kaepernick. And maybe that persuades an NFL owner that he can sign Kaepernick without facing intense backlash." Fat chance, says Hill (and fans who will not ease up on public shows of disrespect at sporting events).
"That's a nice theory, but it's not really rooted in reality," Hill says. "You can't blame Kaepernick or any athlete who has opposed Trump and his administration for viewing this invitation skeptically." Besides, there aren't enough "people of color" attending the conference. But don't worry, Hill says she is not going Laura Ingraham here:
"Of course, athletes and musicians have plenty to contribute to any racial discussions. My concern is that this summit is just a front to exploit the players and artists for their popularity. They'll become a talking point or a campaign strategy, used as evidence that some of the intolerance we've witnessed from this administration isn't so bad. Already, Scott is framing this summit in a divisive way, insinuating that the athletes or musicians who don't attend are scared to have an open dialogue with the president."
If there's a slight chance of racial healing, people will need to come together, Hill admits. But it's not that simple in the case of SJW superstar Kaepernick:
"Trump has spent a lot of time attacking and criticizing Kaepernick without ever acknowledging or addressing Kaepernick's concerns. Kaepernick, who recently received Amnesty International's prestigious Ambassador of Conscience Award, has done the work. Can the president say he's done the same?"
Kaepernick has done too much of that "work" from his knees during times when we stand to honor America and the veterans who fell in defense of liberty.