Former WWE wrestler and Guardians of the Galaxy star Dave Bautista has been trying to get President Trump in a Twitter chokehold for the past couple months, particularly because he's unhappy with the U.S. leader's coronavirus response.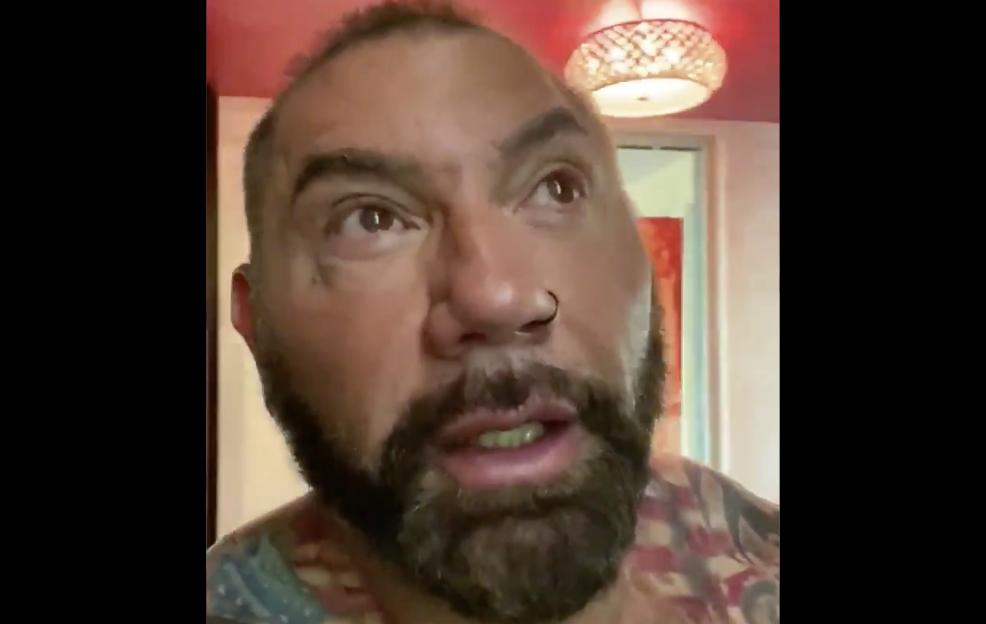 Recently, the big man posted a video of himself mocking Trump to his Twitter page. In it, the lefty entertainer pretended to be a dumb, overzealous Trump fan in an effort to make fun of Trump's failures, his supporters, his children and his looks.
"Super Duper Dave Bautista here. Sorry I'm all sweaty," he began, starting early with a dig at Trump's physique. "I just finished my morning workout because I was inspired by you, because I see what amazing shape you are [in]. It's really beautiful."
Oh, wow, how nice. Between this and House Speaker Nancy Pelosi's critique that Trump is "morbidly obese" from May 18, it seems fat jokes are the new strategy for hurting Trump. Well, if impeachment didn't work, might as well try literally anything.
Bautista continued with the sarcasm, as he filmed his tirade while walking through his house. "I just wanna say, you're doing a great job. You're doing a great job, Mr. President," he claimed with a snarky thumbs up, and pivoted to his mean-spirited lines about 90,000 virus deaths being Trump's fault.
"I know that there's almost 90,000 people dead but if it wasn't for you, it could've been, uh, like eight trillion." Of course, this was Bautista's rebuttal to claims that the Trump administration's pandemic response beat early death toll estimates of 2.2 million. And maybe they did, but brain-dead lefties like Bautista could never acknowledge that. Each death belongs to Trump.
"So, thank you, you're doing an amazing job," the wrestler-turned-actor sneered, adding, "You can ask anyone. Anyone else. Anyone will tell you you're doing an amazing job. It's really beautiful."
Bautista then mocked Trump's relentless tweets -- the recent "Obamagate" ones in particular. He said, "I can't wait to read your Twitter today and hear you blame Obama for more stuff 'cause he's bad." Apparently it was Trump's Sunday morning anti-Obama rant that inspired Bautista's latest salvo. Trump called former President Barack Obama a "grossly incompetent" President and, of course, Hollywood can't stand that. Obama was their lefty savior.
Bautista then moved to making fun of Donald Trump Jr. and Space "Corps" before ending the video. He claimed, "I heard Don Jr. say you could get a tiger for like $2000, and I just wanna know, one, where do I pick up my tiger; and b, can I borrow $2000." He then asked for a job in Space "Corps," because if "I know anything -- I know a lot about Space Corps, probably more than anybody."
He then signed off with a "Heil Trump!" Yeah, real nice.