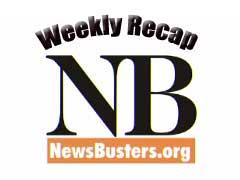 Two Liberal Thumbs Up
Barbara Walters, who sometimes plays an objective journalist on TV, chose this week to endorse "Sicko," Michael Moore's left-wing screed about the health care industry. The veteran news anchor enthused, "Everyone should see it." Conservatives shouldn't be surprised by this type of propagandizing, however. Last year, Walters endorsed Al Gore's "An Inconvenient Truth." (See blog for link.)
NBC: Nobody's Better (than) Clinton
Speaking of the "The View," an ex-host from that program, Meredith Vieira, gushed on Monday's edition of "Today" that Hillary Clinton is "unbeatable" and a "teflon candidate." Later in the week, Matt Lauer, a co-anchor on the NBC program, touted Mrs. Clinton's "Sopranos" parody. He declared it "a hit" and "clever." The other network morning shows were similarly impressed.
This week, ABC continued a long standing tradition of referring to Hamas as a organization that is "considered" a terrorist group by the U.S. government.
Because you can never get enough "Today" show bias, it must be pointed out that Meredith Vieira also hosted a segment on gas prices where she wondered if Americans would be better off if the prices "were even higher."
Not to be out done, ABC's "Good Morning America," for the third time this year, featured a segment that compared America's paid leave program to Third World countries such as Swaziland. On the other hand, we do have a slight advantage over that country in that 70 percent of America's population is not living in poverty.
Finally, perhaps in a bid to perpetuate the liberal label of PBS, host Charlie Rose threw softballs and praised the pro-democracy George Soros. He also asked Carl Bernstein if the "vast right wing conspiracy" existed.