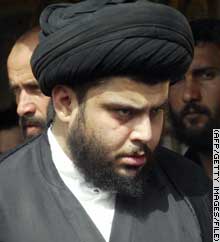 McClatchy News -- the paper chain that likes to claim they speak "truth to power" -- is pleased to show us "another side" to the Iran backed Iraqi militia leader Muqtada al Sadr and that other side is his supposed "charity work." It has been a common tactic of Muslim warlords and other terrorists to pretend at "charity" as they plan suicide bombings and targeted terror attacks among the very people they pretend to be helping with their "charity." The so-called charity is but a screen to hide their terror activities behind, a salve to keep the locals from getting too uppity. But, McClatchy had their hearts go aflutter over Sadr's "humanitarian aid" imagining it to be the "other" softer side of the terror chieftain giving Sadr a nice little bit of free positive publicity quite despite the truth of his murderous actions.
The McClatchy piece written by Shashank Bengali with the assistance of Leila Fadel and special correspondent Hussein Kadhim, detail all the wonderful works of Sadr as he helps people so brutally harmed by... you guessed it... the United States military.
When Ali Ateya was killed last month at the age of 23-- a victim of an American airstrike on a block of concrete tenements in Baghdad's Sadr City slum, according to his family -- there was no money for his burial.

Within days, two officials from Sadr City's main humanitarian organization showed up at the family home. Unsolicited, they offered to pay for Ateya's Shiite Muslim burial service and provide food for three days of ritual mourning.
Don't you love how they give legitimacy to "Sadr City's main humanitarian organization"? This is Muqtada al Sadr we are talking about here. He is 100% backed by one of our biggest enemies in the world, Iran. Yet, here is McClatchy acting as if the Sadrists are a legitimate "humanitarian aid" group.
But for the slum's 2.5 million predominantly Shiite residents, Sadr plays a different role, one of humanitarian-in-chief -- gifting money to families of the dead and injured, resettling displaced families free of charge and, every month, helping to feed tens of thousands of Sadr City's most impoverished people. Sadr offers the funds for any victim of American weapons in Sadr City.
This is shameless pandering to a murderer and terrorist.
McClatchy won't even admit that Sadr is financed by Iran.
Where Sadr's funding comes from is unclear. The U.S. military says that the Shiite government in Iran is a major backer of Sadr's movement, a charge that Iran has denied. Sadr aides say their support comes primarily from donations by wealthy Iraqi Shiites.
Sadr has little income and his people don't have an economy for Sadr to exploit. So where does McClatchy think that his cash comes from if not Iran? And, why would Iran want to give "charity" to Iraq's citizens? They wouldn't. They back Sadr because he kills people, not because he feeds the poor.
Sadr is no humanitarian. He couldn't care less about people other than how he can use them to continue his terrorist activities. Let's put it this way: if a child predator gives a child some candy, should we praise the molester for selflessly feeding the children? Obviously, the molester's motives are to rape the child, so the food is a lure not an altruistic gift! This is the same with Sadr and his henchmen. They are holding a bit of candy out so that they may further rape the people of Iraq.
But, to McClatchy, Sadr is a really good guy because of this supposed "charity work."
We might recall that McClatchy News is the service responsible for the story that lamented that less violence in Iraq was bad on Iraqi gravediggers. So obviously, McClatchy has a reputation for absurdity to live up to!
Truly shameless.
(Photo credit: CNN)