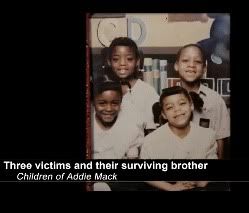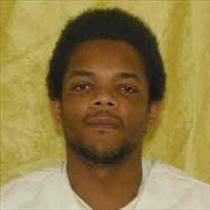 In October 2007,
I put up a BizzyBlog post
(also cross-posted at the Cleveland Plain Dealer's short-lived
Wide Open Blog
) about William Garner (pictured at right), the Ohio man who killed five children (three of them and the lone survivor also pictured at right) to cover up a burglary in 1992.
At the time, it appeared that Garner's date with the executioner had been indefinitely called off, for specious Miranda-related reasons that you have to read to believe (and even then, it will be difficult).
On Tuesday, Garner's attempts to avoid his death sentence ultimately failed. Sadly, the Associated Press's unbylined coverage of his execution by lethal injection Tuesday allowed Garner and his lawyers to put forth one final batch of half-truths and untruths that require refutation (bolds and numbered tags are mine):
An Ohio man said he was "heartily sorry" for his carelessness (1) before he was executed Tuesday for the murders of five children in a 1992 Cincinnati apartment fire he set in an attempt to destroy evidence of a burglary. William Garner, 37, died at 10:38 a.m. at the Southern Ohio Correctional Facility, 18 minutes after the lethal injection began.

As he lay on the execution table, Garner held a dreadlock of hair from a female friend and read a mostly inaudible lengthy final statement from notebook paper held by the execution team leader. He thanked several people as well as the state of Ohio. "I'm heartily sorry," he said. "God bless everyone who has been robbed in this procedure. I thought I'd never be free, but I'm free now."

Garner was sentenced to death for the Jan. 26, 1992, pre-dawn deaths of the children in the apartment of Addie Mack, who was in the emergency room of a nearby hospital. Garner had stolen keys from her purse while she received care and took a cab to the apartment to steal a television, radio, VCR and telephone. Four girls and two boys, ages 8 to 13, were at the apartment alone, and Garner knew they were there when he threw a lit match onto a couch. Garner has admitted setting the fire but said he thought the children would escape (2). Only one, 13-year-old Rod Mack, made it out alive.

... Because so many people wanted to witness the execution on behalf of the young victims, the prison opened a second viewing room, prisons spokeswoman Julie Walburn said. Six witnesses for the victims and Garner's niece and legal team were accommodated in the witness room facing the execution chamber, and another three victims' witnesses watched on closed-circuit TV in the spillover room, she said.

... Garner had said a secondary motivation for setting the fire was to draw attention to the children's squalid living conditions (3). He told police that he had noticed the bedroom "full of girls" and that one of them had asked him for water, which he provided, according to a report by the Ohio Parole Board. He also said he had been in another bedroom where the two boys slept.

His lawyers had argued that the death sentences be set aside because Garner had developmental disabilities, a limited IQ and a violent, abusive upbringing (4) that caused him to function on the level of a 14-year-old at the time of the deaths.
How is this AP story incomplete and wrong? Let's count the ways. But first, brace yourself for the horror that follows.
A Cincinnati Enquirer report that is no longer available but is excerpted at the October 2007 BizzyBlog post shows that Garner was a cold-blooded, calculating burglar who did everything he could not to leave any tracks, even if it meant killing six children who were sleeping (as noted earlier, one got out alive):
Hours before the fire, Garner slipped into University Hospital, looking for an easy mark. There, he found (apartment unit residents Marshandra) Jackson and Addie Mack, who had fallen and hurt her wrist.

Garner snatched up Mack's purse when she wasn't looking, stealing money and her apartment keys.

He took a taxi to the English Woods apartment, telling the driver to wait while he retrieved his belongings. He carted out electronic equipment, at one point waking up one of the children.

Garner spun a tale about her mother sending him to check everyone and sent her back to bed with a glass of water.

Before leaving, Garner set three fires in the apartment.

Then, he grabbed the phone and smoke detectors and left ...
Now let's get to the bolded and tagged items in the AP excerpt.
(1) - "Carelessness"? The Enquirer excerpt, which originates in Garner's original police questioning and confession, thoroughly discredits that risible claim.
(2) - He "thought the children would escape"? He set three fires, plural (i.e., earth to AP, he did a lot more than throw "a lit match on a couch"). He removed the landline phone and the smoke detectors. How were these children supposed to call for help? How were they going to escape if they weren't going to wake up until the flames were already out of control?
(3) - He wanted "to draw attention to the children's squalid living conditions"? Mr. Garner had a sick way of demonstrating his concern. The original Enquirer article gave no indication that Mr. Garner had such "noble" thoughts, and I daresay you won't find any such thoughts expressed in police or legal documents relating to the original arrest and trial.
(4) He had "developmental disabilities, a limited IQ and a violent, abusive upbringing"? Gee, he was clever enough to sneak in and out of a hospital; patient enough to wait for the right moment to snatch a purse; cool-headed enough to keep one of his victims calm, giving her a drink of water before sending her back to bed; and sufficiently forward-thinking to disconnect the children's two best defenses against getting burned alive.
Nobody had the slightest reason to believe that Garner was disabled or mentally challenged in 1992 when he was arrested and confessed, or when he was tried and convicted. There's plenty of reason to believe that his lawyers' contention while Garner was on Death Row was a fundamentally dishonest, after-the-fact concoction with no basis in fact whose only purpose was to prevent the state from carrying out its sentence.
The AP's weak coverage of Garner's heinous crime is perhaps instructive to all who read future establishment press dispatches concerning death-penalty executions. The lesson is that the true story and full circumstances of what the killer did may be much worse than what the press chooses to tell readers on Execution Day.
Cross-posted at BizzyBlog.com.