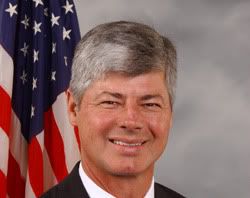 This item may not surprise those of us who have watched politicians take the safe way out at any opportunity, but it will give any voters who come across it reason to doubt any Democratic congressman who says that he or she voted no on principle against Obamacare on Sunday, March 21.
This explains why it hasn't been covered much -- and maybe not at all -- in any establishment media outlet.
On March 26, the Catholic News Agency had an exclusive interview with Michigan congressman Bart Stupak. Wait until you see some of the things he admitted to CNA (bolds are mine):
Rep. Stupak: Speaker Pelosi had extra health care votes 'in her pocket'

The health care reform bill would have passed the House without the votes of Rep. Bart Stupak's pro-life Democrats because House Speaker Nancy Pelosi "always carries a number of votes in her pocket," Stupak told CNA in a Thursday phone interview.

The Michigan Democrat explained that by opting for the executive order, pro-life Democrats believe they ensured the legislation was "somewhat restrictive" towards abortion funding.

"Speakers never bring a bill to the floor, unless they have the votes. And they always have few in reserve," Stupak revealed, describing this as a "common tactic" that was used in the defeat of the Dornan Amendment in a funding bill earlier this year.

"The Speaker always carries a number of votes in her pocket," he said, meaning that some members who voted 'no' would have voted 'yes' if needed.

"I had a number of members who thanked us after because they could vote no."

Rep. Stupak said he thought the votes available for Sunday's vote totaled 222.
Well, okay Bart, who were these Dems who didn't have the courage to vote their convictions, and instead wish to go back to their constituents and claim they didn't support the ObamaCare monstrosity? (crickets ...)
Better yet, pal, don't tell us. It would be much more convenient for November voters to presumptively assume that their no-voting Democratic congressman really was a "yes" until Bart bailed them out. That works for me, and it would work for many other like-minded Americans -- which is why the press will more than likely pretend that the CNA-Stupak interview doesn't exist.
Cross-posted at BizzyBlog.com.