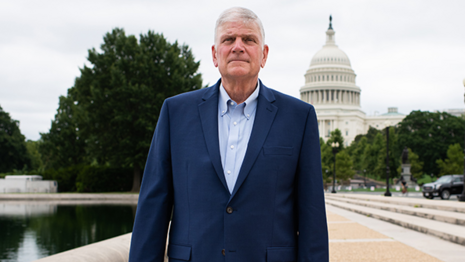 Citing the usual (liberal) curiosity of their readers, Dan McGuill of Snopes picked on a recent Franklin Graham letter on the so-called "Equality Act" and how it infringes on the independence of churches, now defined as "public accommodations" like a restaurant or hotel.
McGuill ruled Graham's letter was a "Mixture" of truth and falsehoods. Here's what was apparently "false."
However, the Equality Act would not as Graham's letter asserts neutralize an existing exemption in federal law that allows religious organizations to discriminate in favor of employees of the same religious faith or religious values; directly cause religious colleges to lose their accreditation (as opposed to jeopardizing their access to federal assistance); or force business owners and others to change their personal beliefs and attitudes regarding sexual orientation and gender identity (as opposed to their behavior).
What does that mean? How are religious Americans supposed to separate their beliefs from their behavior? McGuill elaborated:
While the Equality Act does not list churches among public accommodations, it does stipulate that an establishment subject to the non-discrimination laws in question is any individual or entity "whose operations affect commerce and who is a provider of a good, service, or program." This would clearly appear to apply to churches that lease or make available buildings for events and functions....

A restaurant owner might personally hold intensely bigoted and negative views about LGBTQ people, but would uphold the law once the owner served, seated, and charged a same-sex couple in the same way as everyone else."
The authors of this law believe, as Snopes suggests, that the Bible's view of "LGBTQ" is automatically "intensely bigoted and negative." The invocation of God's intentions for humanity is just a sorry excuse for vicious discrimination. Therefore, "religious freedom" is put in scare quotes.
Family Research Council leader Tony Perkins summarized how Christian conservatives view this:
Unfortunately, most Snopes readers probably didn't bother to scroll past the "mixed" rating on Graham's alert, or else they would have seen that the site confirmed more facts about the bill than it denied. That includes the truth about treating schools, churches, and health care groups as "public accommodations" that have to accept the government's beliefs and mandates about sexual orientation and gender identity. Snopes also agreed that the bill would force girls and women to welcome biological males in their sports, locker rooms, women's shelters, women's prisons. It will strip health care workers, doctors, nurses, and others from their conscience rights on gender surgeries and abortions. And yes, the site admitted, it will force teachers and students to "publicly pretend that a biological male is female."

The actual text of H.R. 5 makes it quite clear that the Religious Freedom Restoration Act -- the most robust protection for Americans' religious freedom rights -- would be meaningless against any lawsuit on those grounds. Specifically, it says, "The Religious Freedom Restoration Act of 1993 shall not provide a claim concerning, or a defense to a claim under, a covered title, or provide a basis for challenging the application or enforcement of a covered title."
Perkins concluded: "Joe Biden and his army of extremists have made it their goal to demand conformity on LGBT issues from everyone. And it will only be a matter of time before every American in every profession has a choice between their jobs or organizations and their beliefs."