USA Today deputy editorial page editor David Mastio stood out inside the "mainstream media" for taking exception to GQ commentator Keith Olbermann calling Secretary of Education Betsy DeVos a "motherf----r" on Twitter in the midst of Hurricane Harvey. Mastio forced an apology out of Olbermann when no one else in the media elite had written a word about the attack. He suggested the "Gentleman's Quarterly" concept in GQ had clearly vanished.
Mastio tried to get GQ editor Jim Nelson to talk, but he didn't tell readers that Nelson is such a hopeless Obama partisan that he gushed that Obama was so great that he belonged on Mount Rushmore and insisted Trump voters opposed Hillary out of a deep-seated "fear of gynarchy."
I tried to ask GQ Editor Jim Nelson about that, but he never replied. Nelson had plenty to say about Olbermann when the former MSNBC host was front-page news in The New York Times business section just weeks before President Trump's election last fall. "I missed Keith's rage," Nelson said back when Olbermann's GQ videos had only been downloaded 25 million times. "We wanted to add to our political and election coverage. … We felt that no one was meeting Trump at the temperature level that was needed."

Even a spokesperson for the Condé Nast-owned magazine didn't have anything to say about GQ's mysterious "G." She emailed me: "GQ declines to comment."
That changed when Mastio started agitating on the subject on Twitter. Suddenly, the Conde Nast folks wanted to chat off the record:
I promised I would include an important fact in anything I wrote. The important fact is that even though GQ's website and Olbermann's Twitter profile say Olbermann is a "GQ special correspondent," and his anti-Trump videos for GQ have been downloaded more than 170 million times, it is not accurate to associate Olbermann with GQ or Condé Nast because he is not a full-time employee.

Before I had time to write, I got another call from GQ telling me to keep a close eye on Olbermann's Twitter feed.
Olbermann tweeted an apology "without reservation."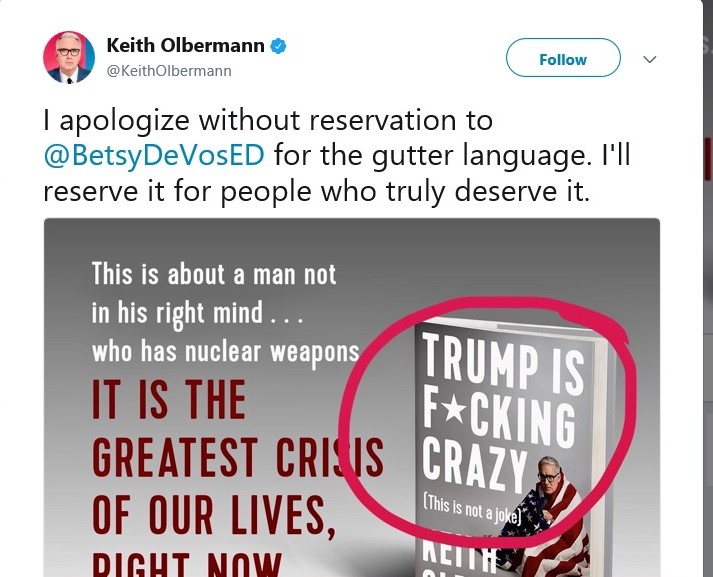 Mastio noted:
At first glance, Olbermann's words sound like a solid apology, except for three things:

-- The promo for his F-bomb-titled book is bigger than the apology.

-- Olbermann left up his post calling DeVos that word.

-- And if you read carefully, he promises to keep that gutter language coming. He'll just be more judicious.

If Donald Trump ever apologized, that's just the kind of apology he'd deliver.
Mastio concluded Olbermann and Trump are both long-serving warriors in a "corrosive reality-TV culture that puts spite and anger above thoughtfulness and decency." That's apparently too much of a "pox on both your houses" pose for the liberal partisans in the media.