Time magazine used one of the biggest basketball stars of all time to fan the flames of Ferguson. It posted an op-ed titled "The Coming Race War Won't Be About Race: Ferguson is not just about systemic racism — it's about class warfare and how America's poor are held back, says Kareem Abdul-Jabbar."

"Race war"? Is Time borrowing from conspiratorial ranters like Alex Jones? Abdul-Jabbar began by suggesting that the Ferguson rioting might end up a historical footnote because it wasn't about white people dying. Kent State is remembered from 1970, but Jackson State was not: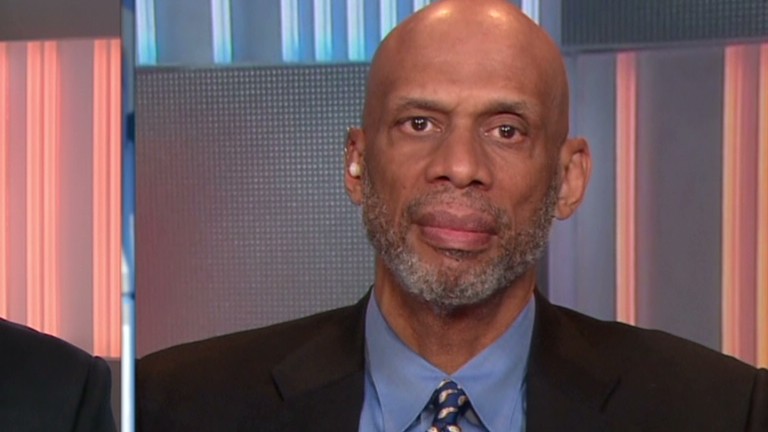 Will the recent rioting in Ferguson, Missouri, be a tipping point in the struggle against racial injustice, or will it be a minor footnote in some future grad student's thesis on Civil Unrest in the Early Twenty-First Century?...

On May 14th, 10 days after Kent State ignited the nation, at the predominantly black Jackson State University in Mississippi, police killed two black students (one a high school senior, the other the father of an 18-month-old baby) with shotguns and wounded twelve others.

There was no national outcry. The nation was not mobilized to do anything. That heartless leviathan we call History swallowed that event whole, erasing it from the national memory.

And, unless we want the Ferguson atrocity to also be swallowed and become nothing more than an intestinal irritant to history, we have to address the situation not just as another act of systemic racism, but as what else it is: class warfare.

By focusing on just the racial aspect, the discussion becomes about whether Michael Brown's death—or that of the other three unarmed black men who were killed by police in the U.S. within that month—is about discrimination or about police justification. Then we'll argue about whether there isn't just as much black-against-white racism in the U.S. as there is white-against-black. (Yes, there is. But, in general, white-against-black economically impacts the future of the black community. Black-against-white has almost no measurable social impact.)
From his throne of wealth, Abdul-Jabbar compared being poor to having the Ebola virus (!), and then suggested being black and being poor are synonymous? And if being poor and "of color" are synonymous, then how is a class war not a race war?
---
This fist-shaking of everyone's racial agenda distracts America from the larger issue that the targets of police overreaction are based less on skin color and more on an even worse Ebola-level affliction: being poor. Of course, to many in America, being a person of color is synonymous with being poor, and being poor is synonymous with being a criminal. Ironically, this misperception is true even among the poor.

And that's how the status quo wants it.

The U.S. Census Report finds that 50 million Americans are poor. Fifty million voters is a powerful block if they ever organized in an effort to pursue their common economic goals. So, it's crucial that those in the wealthiest One Percent keep the poor fractured by distracting them with emotional issues like immigration, abortion and gun control so they never stop to wonder how they got so screwed over for so long.
Abdul-Jabbar even implies that there's truth that we've had a series of cold, ruthless "porcelain" presidents favoring the rich (and thus grinding a heel into the poor people of color). Et tu, Obama?
The real reason we flock to see Donald Sutherland's porcelain portrayal in Hunger Games of a cold, ruthless president of the U.S. dedicated to preserving the rich while grinding his heel into the necks of the poor is that it rings true in a society in which the One Percent gets richer while our middle class is collapsing.

That's not hyperbole; statistics prove this to be true. According to a 2012 Pew Research Center report, just half of U.S. households are middle-income, a drop of 11 percent since the 1970s; median middle-class income has dropped by 5 percent in the last ten years, total wealth is down 28 percent. Fewer people (just 23 percent) think they will have enough money to retire. Most damning of all: fewer Americans than ever believe in the American Dream mantra that hard work will get them ahead.
This would just be another Charles Blow or Bob Herbert jeremiad if the author wasn't a famous jock.