After the long Memorial Day Weekend, ABC and CBS on Tuesday hoped you have forgotten about Joe Biden's "you ain't black" gaffe. The two networks avoided a recap of the presumptive Democratic nominee's insistence that you can't be African American and vote for Donald Trump. On the Today show, however, Andrea Mitchell gently brought the topic up, describing Biden as "rusty."
With an on-screen graphic trumpeting the apparently stunning news, "Biden Appears in Public," Mitchell conceded, "Campaigning from his basement or back porch has its drawbacks, denying Biden the retail politics he relishes and he can get rusty like this misstep with radio host host Charlemagne da god."
In the clip from Friday, Biden blurted, "If you have a problem figuring out between Biden and Trump, then you ain't black." Mitchell helpfully shifted to the Democrat's attempt to dig out of the mess: "Biden did pivot by apologizing and drawing attention to the President's record on race, including his early support for the birther movement against Barack Obama."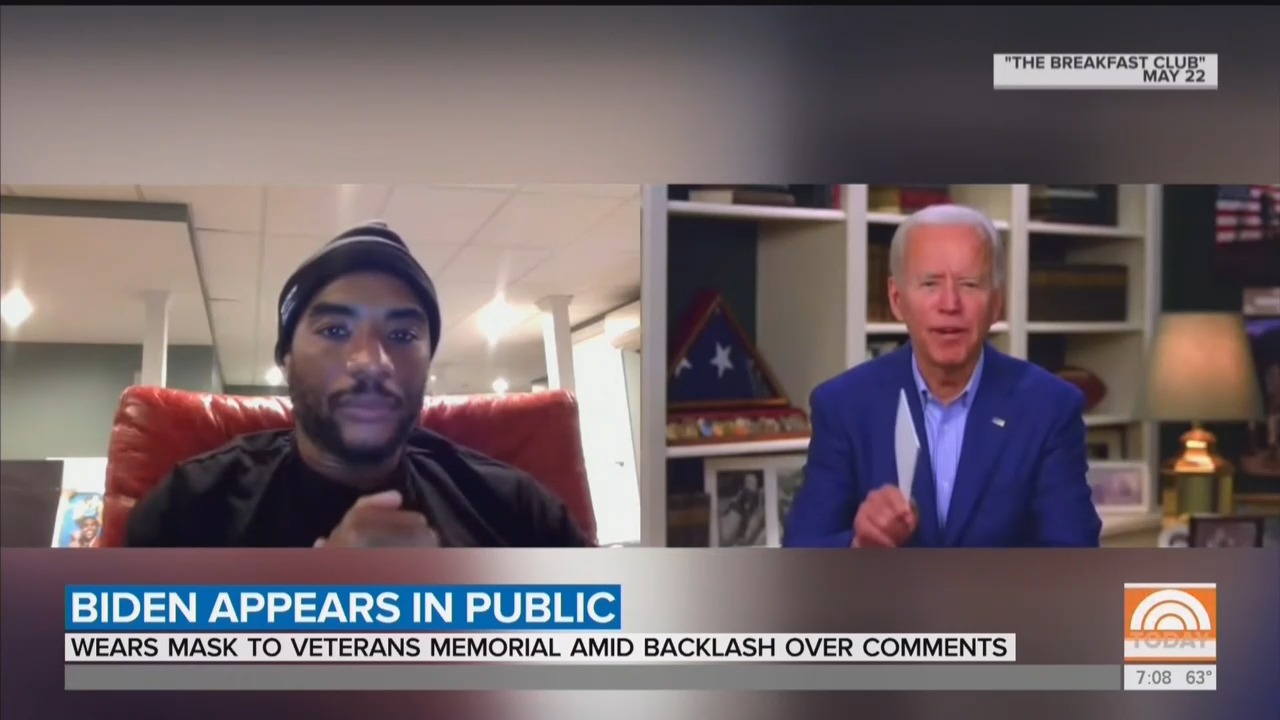 Mitchell included this Biden quote as an attempt to change the subject: "Donald Trump is the same man who called Africa an s-hole countries while also claiming there were fine people on both sides in Charlottesville."
You see? The problem isn't Biden's blunder or taking black votes for granted, it's Trump. On Friday night, the networks allowed just a scant 187 seconds to Biden's latest racial gaffe, about a minute per network.
ABC's Good Morning America didn't mention Biden's comment. CBS This Morning reporter Paula Reid avoided it too. She briefly noted the presumptive nominee left his house to go to a memorial service:
His Democratic rival Joe Biden did wear a mask as he visit ad Delaware veterans memorial on Monday. It was the first time likely Democratic presidential nominee made an appearance outside of his Delaware home in nearly two months.
A transcript of the Today segment is below. Click "expand" to read more.
Today

5/26/2020

7:07 AM ET

HODA KOTB: Memorial Day marked Joe Biden's first in-person public appearance in more than two months. An unannounced visit alongside his wife to a veterans park near their home in Delaware. NBC senior Washington correspondent Andrea Mitchell has that part of the political story. Good morning, Andrea.

NBC GRAPHIC: Biden Appears in Public

ANDREA MITCHELL: Good morning to you, Hoda. The former vice president emerged for the first time since March 15th for Memorial Day wreath-laying and in sharp contrast to the way President Trump has been responding to the pandemic. Joe Biden and his wife venturing out publicly for first time since March 15th to lay a wreath at a veterans memorial in New Castle, Delaware, an especially sad week for their family. This Saturday marking the fifth anniversary of the death of their son Beau, an Iraq War veteran from cancer.

JOE BIDEN: Thanks for your service.

MITCHELL: Notably both Bidens wearing masks and keeping a safe distance from reporters.

REPORTER: How does it feel to be out here for the first time in months?

JOE BIDEN: Feels good to be out of my house.

MITCHELL: Biden aides say consciously modeling adherence to CDC guidelines and the advice of his public health committee welcoming the contrast with President Trump who has been widely criticized by medical experts for refusing to wear a mask in public. The President mocking Biden, re-tweeting on Fox News analyst who wrote, "This might help explain why Trump doesn't like to wear a mask in public." Meantime Biden seized on the President's golf game over the Memorial Day weekend in a new digital ad. Campaigning from his basement or back porch has its drawbacks, denying Biden the retail politics he relishes and he can get rusty like this misstep with radio host host Charlemagne da god.

BIDEN: If you have a problem figuring out between Biden and Trump, then you ain't black.

MITCHELL: Biden did pivot by apologizing and drawing attention to the President's record on race, including his early support for the birther movement against Barack Obama.

BIDEN: Donald Trump is the same man who called Africa an s-hole countries while also claiming there were fine people on both sides in Charlottesville.

MITCHELL: As for more public appearances, the campaign says it will rely on what medical experts say as states reopen. But aides say Biden has not suffered from sheltering at home. The former Vice President has now widened his lead in the polls. Biden is now eight points ahead of the President in a recent Fox News poll, including a nine point poll in responding to the pandemic and a 17 point lead on health care. Hoda?