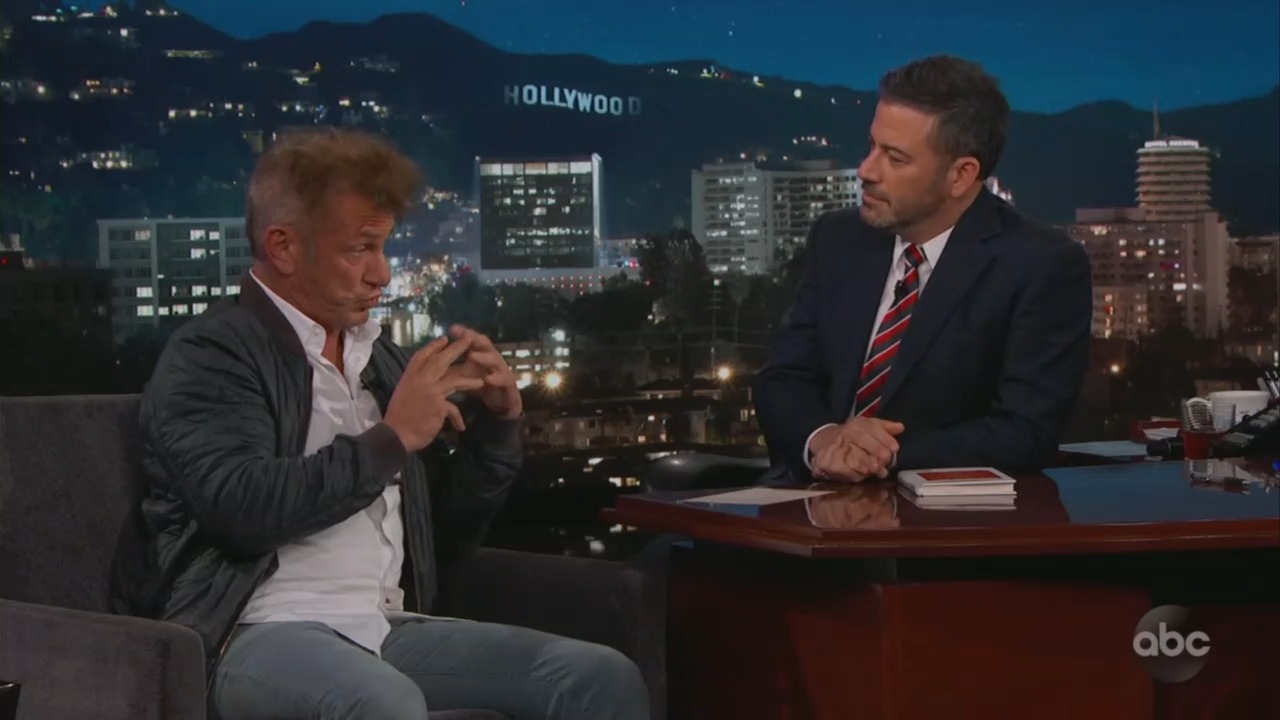 Well known liberal celebrity Sean Penn appeared on a post-debate episode of Jimmy Kimmel Live, Thursday, to lecture Americans on their choice for 2020. The actor condescended, "If people truly want to vote against their own interests, [Trump will] be the president of the United States again." 
However, "But if they are paying attention, there are talented people in the group we saw tonight." Regarding Trump's leadership, Penn saw it only going in negative directions: "And we've seen the potential of a president, for example the current president, to lead us to El Paso and to lead us to all kinds of enhanced hatred and anger and separation." 
Host Kimmel, also a liberal celebrity, prompted Penn on when he started voting. After mentioning Cater, Penn reminisced, "Yeah, that was what [author Douglas] Brinkley called an unfinished presidency. I liked Jimmy Carter a lot. I don't remember whether I voted in that election."     
Penn is known for his over-the-top political commentary. In September 2016, he said that Americans could Vote for Hillary Clinton or "masturbate our way into hell" with Trump. 
A partial transcript is below. Click "expand" to read more. 
Jimmy Kimmel Live
9/12/19
11:57

SEAN PENN: I think if we're in a country where he doesn't make the argument well enough against him then we've lost anyway. They don't need to address him. I felt it more tonight because they didn't do it. 

JIMMY KIMMEL: You think that's a given. It's like, okay, we know. 

PENN: If people truly want to vote against their own interests, he'll be the president of the United States again. But if they are paying attention, there are talented people in the group we saw tonight. And more importantly, there are talented people who are not in government that are going to, one of the things you notice while watching this is nobody is really talking about leadership other than related to how you're going to pass a bill in Congress and so on. 

And we've seen the potential of a president, for example the current president, to lead us to El Paso and to lead us to all kinds of enhanced hatred and anger and separation, but there's also this positive leadership that has to do with building coalition and supporting leaders among young people particularly in the country now, who are really, because we know it is a cultural revolution that's going to shift this stuff. And it's those people getting behind the leader once they're in office, that's going to force Congress to do the things they're going to have to do. This is the only hope we've got. 

KIMMEL: We have a tendency, I think, with young people to sometimes get behind a leader and then elect them and vote and do all the things you need to do and that's kind of it and then you wait. 

PENN: Yeah, but this generation does seem different to me, because I certainly, I'm born 1960, and I certainly would have liked to have considered myself amongst a generation that was going to demand change. 

KIMMEL: Who's the first president you voted for, do you remember? Let's see, 1960. Would you have to be 18, so there would be 1978. So that would be just after Jimmy Carter, I guess. 

PENN: Yeah, that was what Brinkley called an unfinished presidency. I liked Jimmy Carter a lot. I don't remember whether I voted in that election.