The journalists at CBS This Morning fawned over liberal comedian John Oliver, Friday. Co-host Gayle King enthused that "I love watching your take on politics." Co-host Norah O'Donnell offered him a softball on American politics: "You're a Brit. What do you think about this process we have?" 
The Last Week Tonight host sneered, "American democracy looks like a four-year-old's birthday party." Asked if he would have Donald Trump on his HBO show, a repulsed Oliver mocked, "I haven't really gotten anything to say to him....He has no internal monologue, that man. So, it's not like you're going to find the secret nugget he has been holding back." 
The host added, "He is an open book and that open book doesn't have many interesting words in it." 
At first, Oliver tried to portray himself as a non-partisan critic of the American political life, complaining simply about process: "...It's very frustrating to me. The amount of coverage of the election, years, often literally years before it happens."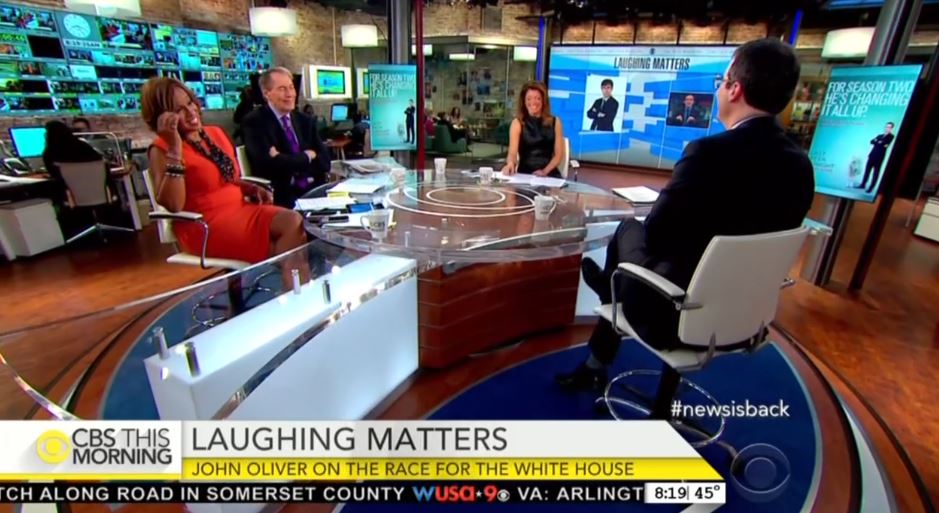 Yet, his satire is more about mocking of conservatives, regardless of where they live. On his October 18 show, Oliver blasted Conservative Canadian Prime Minister Stephen Harper as an "evil" "Islamophobe." 
On April 29, 2015, CBS's Rose awkwardly gushed to Oliver, "I have romance for you [sic]." Given the comic's liberal tilt, it's not shocking the hosts on CBS love him. 
 
A partial transcript of the October 30 segment, which aired at 8:17am ET, follows: 
8:17

GAYLE KING: So, how do you take on politics? I love watching your take on politics. 


8:19

NORAH O'DONNELL: You're a Brit. What do you think of this process we have? I mean, in terms of the debates we have had. We just had another Republican debate the other night where they —  

JOHN OLIVER: Well, it's undeniably long. No one can say that the American democratic process is not long or, indeed, way too long. 

KING: Yeah. 

CHARLIE ROSE: Compared to everywhere. 

OLIVER: Everywhere. And there's a lot of balloons involved. American democracy looks like a four-year-old's birthday party. 

ROSE: A lot of debates. 

OLIVER: A lot of debates. A lot of talking without a great deal being said. So, no, it's very frustrating to me. The amount of coverage of the election, years, often, literally, years before it happens. 

O'DONNELL: But you've endorsed Donald Trump? 

OLIVER: I have endorsed Donald Trump? I have very much not done that on any level. 

KING: I know. 

OLIVER: On any level. I don't really care about him in any capacity. 

KING: You wouldn't want to have him on your show? 

OLIVER: On my show? 

KING: Yes. 

OLIVER: No. I don't. I haven't really gotten anything to say to him. There is nothing —  He has said everything he wants to say. He has no internal monologue, that man. So, it's not like you're going to find the secret nugget he has been holding back. He is an open book and that open book doesn't have many interesting words in it.