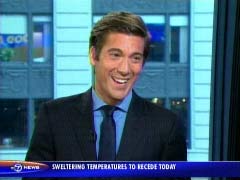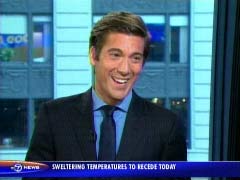 On Thursday's "Good Morning America," anchor Diane Sawyer gushed over new photos of 2008 Democratic presidential candidate John Edwards renewing his wedding vows with wife Elizabeth. Sawyer touted having "the very first pictures of a very personal backyard ceremony."
Reporter David Muir also found the pictures to be "incredibly personal," despite the fact that the Edwards campaign provided them to both People magazine and ABC News. And, of course, Sawyer couldn't resist mentioning the story, highly touted in the media, that the couple spends their wedding anniversaries at Wendy's. The GMA host enthused, "And we should say, however, they did also have their ritual anniversary Wendy's burger." This observation came only nine days after the last story on the Edwards's trip to Wendy's:
GMA co-host Robin Roberts: "It's an anniversary party of sorts at Wendy's. That, of course, presidential nominee John Edwards and his beautiful wife Elizabeth. 30 years. Their 30th anniversary."

Diane Sawyer: "30th anniversary. And when we had our town meeting, he said they would celebrate with a number of things, one of them going back to Wendy's."
Raving about the Edwards's apparent zeal for fast food is becoming quite the media cliche. During the 2004 campaign, Katie Couric, then a host of NBC's "Today" show, giddily asked the couple, "What do you say, 'One Frosty, two straws?'"
A transcript of the August 9 segment, which aired at 7:19am, follows:
7:01am tease

Diane Sawyer: "And also in the news this morning, we have the very first pictures of a very personal backyard ceremony for John Edwards and his wife. Elizabeth Edwards is talking in a new chapter for her memoirs 'Saving Graces' about her life right now and the renewal of their vows. And we'll show you those pictures, walking down the aisle again."

7:19am

Diane Sawyer: "Let's turn now to our picture of the morning. And they are new pictures and David Muir is bringing them to us. You've been covering the Edwards campaign."

[During segment, a montage of photos of the Edwards renewal of vows can be seen onscreen.]

David Muir: "Yeah and this is an incredibly personal photograph that we've now gotten a chance to see. It's the renewal of the vows, the backyard in Chapel Hill, North Carolina. The former senator and his wife Elizabeth there with their children Kate and the two little ones, Emma Claire and Jack. Apparently this was an idea that they decided to do while they were back at the doctor's office in the spring when they suspected the cancer had come back for Elizabeth. John Edwards asking her, turning to her in the doctor's office and saying, 'Will you marry me again?' And Elizabeth actually told him, she said, she asked back, 'Will you take another 30 years?' And he said, 'Absolutely.'"

Sawyer: "Bless her. And you know, she's written a new chapter as well for her book, 'Saving Graces.' And she talks a little more about talking to her children about her cancer and what she's going through. It's a beautiful moment. And we should say, however, they did also have their ritual anniversary Wendy's burger."

Muir: "Yes. The fast food. Yeah, which we all can relate to."

Sawyer: "They did that as well."

Muir: "More of the pictures in People magazine, too."

Sawyer: "Right. We thank People magazine for those photos."