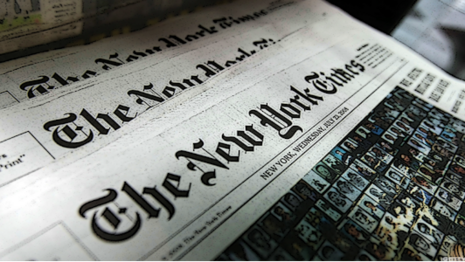 A new report from the Pew Research Center shows top establishment news outlets such as the New York Times and Washington Post have audiences which skew even further to the Left than MSNBC and CNN.
The broadcast networks ABC, CBS and NBC also have many more self-described liberals than conservatives in their audience, but at a less extreme ratio.
The data are included in a longer report about media coverage of President Biden's first 60 days in office. Pew's content analysis found that assessments of Biden were most positive at these outlets favored by liberal audiences, and most negative at outlets (such as Fox News, Newsmax and talk radio) favored by conservatives — the reverse of what they found when they studied coverage of President Trump in 2017.
The Media Research Center's own study of ABC, CBS and NBC found those networks' evening newscasts produced mostly (59%) positive coverage of President Biden during his first 80 days in office, while their coverage of President Trump four years ago was heavily (89%) negative.
Pew's survey data is based on a large panel of 12,045 randomly selected U.S. adults who completed a self-administered web questionnaire between March 8 and March 14.
Among the major news outlets where self-described liberals and/or Democrats dominated the audience by at least a 2-to-1 margin: National Public Radio, the New York Times, PBS, the Washington Post, MSNBC and CNN. Liberals also outnumbered conservatives/Republicans among NBC, ABC and CBS viewers, as well as readers of the Wall Street Journal.
On the flip side, conservatives/Republicans outnumbered liberals/Democrats among readers of the New York Post and viewers of Fox News and Newsmax. The study also included two national talk radio programs, the Mark Levin Show and Sean Hannity Show, whose audiences included almost no liberals or Democrats.
You can read the full list of 25 outlets examined here.
Pew's content analysis found that coverage of Biden was most positive at outlets with the most liberal audiences: 29% positive vs. 19% negative, or about a three-to-two tilt. In their audience survey, they found that the liberal news consumers were also most pleased with Biden's coverage, with more than 80% calling it "accurate" and "fair."