During the campaign, the liberal news media did everything they could to prevent Donald Trump's election — including 91% negative coverage from the broadcast networks — but he won anyway. Now, journalists are trashing the way Trump is handling his transition, as well as his early Cabinet picks.
But eight years ago, viewers heard a very different tone coming from the media, as journalists celebrated the election of Barack Obama, cheered the "brain power" of the "team of geniuses" he was assembling for his Cabinet, and tingled over how "cool" Obama seemed as he assumed the responsibilities of office.
With Trump, the media are touting the "continuing turmoil" in his transition, as ABC's Tom Llamas claimed on the November 16 Good Morning America. "No one really knows who's in charge," correspondent Hallie Jackson echoed that evening on NBC's Nightly News. The selection of Steve Bannon on November 13 as a top White House advisor was greeted by the broadcast networks with phrases such as "white nationalist," "white supremacist," "extremist," "racist" and "anti-Semitic."
Over on CNN, contributor David Gregory (a onetime rising star at NBC) on November 18 slapped Trump's pick for National Security advisor, General Michael Flynn, for his allegedly "short-sighted, ignorant thinking." Two days later, on NBC's Sunday Today, Bloomberg's John Heilemann said Trump's Cabinet was shaping up to be a "really, really old white group of old white men."
<<< Please support MRC's NewsBusters team with a tax-deductible contribution today. >>>
Trump's election itself was cause for mourning. New York Times columnist Tom Friedman, on HBO's Real Time on November 11, equated it with the bloodiest day in U.S. history since the Battle of Antietam: "This is a moral 9/11. Only 9/11 was done to us from the outside and we did this to ourselves."
On MSNBC the day after the election, host Lawrence O'Donnell bitterly griped: "There is the stench of the Trumpian vulgarity in the air now. Half the country is reeling under the hard to accept realization that they're going be hearing that voice every day for four years."
But when liberal icon Barack Obama was preparing to assume power, the media took a very different approach. Here are a few examples, from the archives of the Media Research Center:
Signing Up for Obama's Revolution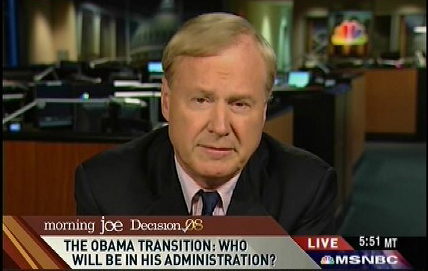 MSNBC's Chris Matthews: "You know what? I want to do everything I can to make this thing work, this new presidency work, and I think that-"
Host Joe Scarborough: "Is that your job? You just talked about being a journalist."
Matthews: "Yeah, it is my job. My job is to help this country....This country needs a successful presidency more than anything right now."
— Exchange on MSNBC's Morning Joe, November 6, 2008.
We Just Can't Wait One Minute More
"If I had my druthers right now, we would convene a special session of Congress, amend the Constitution and move up the inauguration from Jan. 20 to Thanksgiving Day....Just get me a Supreme Court justice and a Bible, and let's swear in Barack Obama right now — by choice — with the same haste we did — by necessity — with L.B.J. in the back of Air Force One. "
— New York Times columnist Tom Friedman, November 23, 2008.
Obama's Cabinet: Excellence, Brain Power, a "Team of Geniuses"
Host Keith Olbermann: "Is there going to be an overarching theme in the appointments? We discussed this last night, competency, bipartisanship, diversity, newness, where are they going?"
Newsweek's Howard Fineman: "Well, it's going to be all of those. But I think, if you had to pick one, it would be excellence."
— MSNBC's Countdown, November 5, 2008.
Co-host Robin Roberts: "Some would say it's a team of rivals, a la President Lincoln, or is a better comparison a team of geniuses as FDR did?"
ABC's George Stephanopoulos: "Well, one Obama advisor told me what they like is a combination of team of rivals and The Best and the Brightest, which is the David Halberstam book about the incoming Kennedy administration.... We have not seen this kind of combination of star power and brain power and political muscle this early in a cabinet in our lifetimes."
— ABC's Good Morning America, November 24, 2008.
"It's also a meritocracy. These are superstars, not afraid of strong personalities — Larry Summers inside the White House — but people with so much brain power, and so much education, and a combination of talents here."
— NBC's Andrea Mitchell on Obama's cabinet, December 21, 2008 Meet the Press.
...But Not a Liberal in Sight
CBS's Bob Schieffer: "A lot of people said this is going to be a very extremist President and all that, that he's a very liberal Democrat, but as we have seen in appointment after appointment, he's hewing to the center. He's picking a bunch of flaming moderates here...."
Co-host Harry Smith: "Yeah, Bob, I would guess that the only people who really feel like they have their feathers ruffled are, maybe, the liberal Democrats."
— CBS's The Early Show, December 4, 2008.
"What happened to the victory of 'change' and — I hate to use the phrase — 'the Left'?...Why do we have no lefties in this cabinet?...Why no lefties? Why nobody that talks like Barack Obama talked when he got elected?...I'm waiting for change."
— MSNBC's Chris Matthews on Hardball, December 8, 2008.
"President-elect Barack Obama wrapped up his Cabinet appointments yesterday, meeting his ambitious holiday deadline by assembling a team full of outsize personalities with overlapping jurisdictions and nominees who are known more for pragmatism than for strong leanings on the issues they will oversee....[Many of Obama's] picks reflect his apparent preference for practical-minded centrists who have straddled big policy debates rather than staking out the strongest pro-reform positions."
— The Washington Post's Alec MacGillis in a December 20, 2008 front-page article, "For Obama Cabinet, A Team of Moderates."
He's Just So Cool
"Arriving in the nation's capital, he was the President-elect in shades — the Obama cool on display, a sign of the low-key way he played his first visit to Washington after his election. But how could anyone be cool about this?"
— ABC's Terry Moran on Nightline, November 10, 2008.
"President-elect Barack Obama has been named one of GQ magazine's Men of the Year....Why was he a good choice? ...Can a guy who's cool be President of the United States?"
— CBS's Harry Smith on The Early Show, November 17, 2008.
Co-host Tracy Smith: "We're talking about being cool."
Co-host Harry Smith: "Mmm-hmm."
Tracy Smith: "I mean, you're cool, but we're actually talking about how a lot of people think that President-elect Barack Obama is the epitome of cool. Look at that guy. Everything, I mean, even in a baseball cap."
— Exchange on CBS's The Early Show, December 26, 2008.
"By now we are all accustomed to that Obi-Wan Kenobi calm....He hit the American scene like a thunderclap, upended our politics, shattered decades of conventional wisdom and overcame centuries of the social pecking order....[But] what now seems most salient about Obama is the opposite of flashy, the antithesis of rhetoric: he gets things done. He is a man about his business — a Mr. Fix It going to Washington....Spare us the dead-or-alive bravado, the gates-of-hell bluster, the melodrama of the 3 a.m. phone call. A door swung open for a candidate who would merely stand and deliver....In the land of the hapless, the competent man is king."
— Editor-at-large David von Drehle in his cover story announcing Obama as Time's "Man of the Year," December 29, 2008 issue.