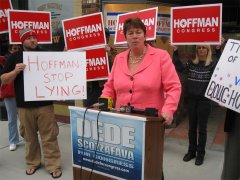 Note to Politico: If you base a story on an outdated Daily Kos poll you could end up with egg on your face. This is pretty much what has happened in the past three days.
On Saturday your humble correspondent cited a Politico story of the day before by Josh Kraushaar in which he reported on Doug Hoffman continuing to lag behind in third place in the NY 23rd CD race:
The latest poll in the New York special election shows a close race, with Democrat Bill Owens leading Republican Dede Scozzafava 35 to 30 percent, with Conservative party candidate Doug Hoffman at 23 percent.

The Daily Kos/Research 2000 poll provides some encouraging news for Scozzafava, who remains in second place – and within striking distance of Owens – despite a week of bad publicity. It shows her leading Hoffman among Republican voters, 46 to 27 percent.
So three days have passed and what happens? Dede Scozzafava plunges to third as Hoffman soars into first place according to The Club For Growth poll. And now Kraushaar is forced to change his tune:
...a new poll commissioned by the fiscally-conservative Club for Growth, which is backing Hoffman, suggests that he's actually pulled into the lead. The poll shows Hoffman winning 31 percent of the vote, Democrat Bill Owens at 27 percent and Republican Dede Scozzafava in third with 20 percent.
This Club For Growth poll was taken on October 24-25 which was after the disastrous events for Scozzafava last week took place. 
Perhaps an even stronger indication of Hoffman's surge is the fact that the campaign of Democrat Owens is now targeting him, not Scozzafava. His bizarre and childish campaign commercial has to be seen to be believed. It actually attacks Hoffman for being wealthy:
"Millionaire Doug Hoffman has a waterfront island home -- even a classic car collection."
The next shoe to drop in this campaign will probably be the Daily Kos switching its endorsement from Scozzafava whose campaign is now in free fall  to Democrat Owens. 
Meanwhile welcome to the Reality Zone, Politico. And do try not to rely on a far left site with an agenda for making an election analysis in the future.