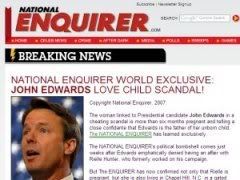 Yesterday, small cracks began emerging in the mainstream media wall of silence on the alleged John  Edwards scandal. However, early this AM one of those cracks widened to the extent that there is now a major flow of information on this topic in the form of a report  titled, "Facing questions, Edwards evades reporters,"  in Edwards own hometown newspaper, the Raleigh News & Observer (emphasis mine):
It was only three weeks ago that John Edwards was fielding media questions on his chances of filling the Democratic Party's vice presidential slot on Barack Obama's ticket or a potential Cabinet position in an Obama administration.

On Wednesday, however, the former U.S. senator and 2004 vice presidential nominee was eager to duck the press when the questions took a tabloid turn.

About a dozen reporters and photojournalists attended a speech Edwards gave to an AARP Foundation symposium on poverty and aging in Washington. Afterward, he avoided most of the waiting reporters, at least some of whom wanted to question him about recent reports in the National Enquirer that alleged an inappropriate relationship with a former campaign videographer.

Citing unnamed sources, the Enquirer published a story in October claiming that Edwards was having an affair with a woman who filmed a series of campaign videos. The story resurfaced last week in the online version of the Enquirer, which claimed that Edwards had visited the woman and their "love child" July 21 at the Beverly Hilton in Beverly Hills, Calif.

In October, the woman posted an online statement denying the first story. In December, an Edwards campaign worker claimed to be the father of the woman's then-unborn child.

On Wednesday, Edwards apparently ducked out a side area used by the kitchen staff in the fourth-floor ballroom of Washington's historic Hotel Monaco. Edwards emerged from a lower-level handicap ramp near the rear of the hotel with two men. When approached by a Charlotte Observer reporter, Edwards said, "Can't do it now, I'm sorry" and quickly walked past.

Asked what he was doing at the Beverly Hilton last week, Edwards said "sorry" and got into a waiting car with the other men.

No photographs or video of the alleged California hotel incident have been released by the Enquirer, which described in its online story its reporters' attempts to chase down Edwards. The tabloid reported he hid in a restroom to elude them.

The story has prompted some buzzing in the blogosphere but little public response from Edwards. At a July 23 speech in Houston, Edwards responded to a reporter's question about the Enquirer story by referring to it as "tabloid trash."
Wow! It sounds like Edwards is in the habit of recreating a Benny Hill chase scene whenever he appears at hotels nowadays. Perhaps the Yakety Sax music should be played over those hotel sound systems just to set the proper mood.
Meanwhile, a startlingly frank report appeared in yesterday's San Jose Mercury News as to why the major media has been avoiding this scandal. The title, "John Edwards sex scandal? Hey, you didn't hear it here," sets the theme for the story written by Jeff Thomas:
So what's all this about squeaky-clean Democrat John Edwards and a sordid sex scandal? What, you haven't heard? If that's the case, then maybe you're one of the few remaining Americans who get most of their news from those dead-trees-and-ink thingies.

Members of the so-called Main Stream Media - yes, including this one - have treated the story of an alleged Edwards affair as if it were just another space alien story out of the National Enquirer. But wait! It is indeed the Enquirer that is out in front on this story, but it appears they have slightly more to go on than a UFO sighting.

They say they caught Edwards taking a back elevator to a woman's Beverly Hilton Hotel suite at 2 a.m. last week, and when the stakeout team tried to talk to him about what he was doing there, he bolted back downstairs and hid in a bathroom for 15 minutes before security intervened. The Enquirer says it has photos (and video?) of the whole encounter.

It gets even stranger. The alleged other woman (remember, Edwards is married to Elizabeth Edwards, who is suffering from incurable cancer) is the woman that the Enquirer reported last October was pregnant with Edwards' child. The Edwards campaign's response to that was that, no, the child's father is actually a close, married, aide to Edwards. That's loyalty!

So far, there has not been a denial from either Edwards or the woman, who once produced videos for the Edwards presidential campaign, about the alleged escapade in Beverly Hills.

And if it's all a simple misunderstanding, if John Edwards was dropping by a hotel suite at 2 a.m. to say hello to a former campaign worker, then maybe someone should suggest to the politician that he come out and say that. Maybe it was his $500-a-cut hairdresser, for goodness sakes! In which case, money well spent. In any case, it doesn't seem like this is the kind of story that is going to fade into the mists of time. Especially in the slow-news days of August.
And, finally, in the cracks emerging in the MSM wall of silence category, I am pleased to report that Wikipedia has finally bowed to reality. The Wikipedia gatekeepers, after their stubborn stand to refuse to recognize that there actually is an alleged scandal, allowed their John Edwards page to be updated with this tidbit:
In July 2008, several news media outlets speculated that Edwards' chances for the vice presidency were harmed by allegations published in The National Enquirer that he had fathered a child outside his marriage, and that he had recently visited the child's mother at the Hilton Hotel in Beverly Hills, California. When questioned, Edwards responded by dismissing the allegations, stating "I've responded, consistently, to these tabloid allegations by saying I don't respond to these lies and you know that."
See, Wikipedia, it wasn't that hard to report on the fact that there is an alleged scandal causing quite a bit of commotion on the web and Benny Hill type chases in hotels. Meanwhile, your humble correspondent will be watching with great curiosity about how the MSM will try to keep the scandal report floodwaters from breaching their wall of silence.
UPDATE: In what could be seen as an indirect acknowledgement by Edwards that this alleged scandal might have destroyed his political future, comes this report titled, "Edwards ending college program," in today's Raleigh News & Observer:
Former North Carolina Sen. John Edwards is pulling the plug on a scholarship program he started at an Eastern North Carolina high school -- a program he once promised would be a model for the nation under an Edwards presidency.

Edwards' presidential hopes have evaporated. And he recently informed Greene County officials that he would end the pilot program at Greene Central High School.
To the suspicious mind of your humble correspondent, it looks like John Edwards' whole poverty tour shtick was just that...shtick. Once it looked like his scholarship program would serve him no purpose, Edwards ditched it immediately.
H/T: ricklail