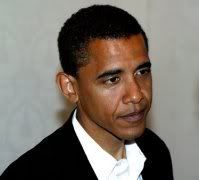 Gee, how can that be? Just last month, the Newsweek poll showed Barack Obama with a large 15 point lead over John McCain which Newsweek announced as "Barack's Bounce." However, there is now trouble in River City as you can tell by the headline of the latest Newsweek poll story, "Glow Fading?" Yes, poor Obama has taken a big tumble in the latest Newsweek poll:
A month after emerging victorious from the bruising Democratic nominating contest, some of Barack Obama's glow may be fading. In the latest NEWSWEEK Poll, the Illinois senator leads Republican nominee John McCain by just 3 percentage points, 44 percent to 41 percent. The statistical dead heat is a marked change from last month's NEWSWEEK Poll, where Obama led McCain by 15 points, 51 percent to 36 percent.
Newsweek seems to find this dramatic poll drop for Obama very puzzling (emphasis mine):
Obama's overall decline from the last NEWSWEEK Poll, published June 20, is hard to explain. Many critics questioned whether the Democrat's advantage over McCain was actually as great as the poll suggested, even though a survey taken during a similar time frame by the Los Angeles Times and Bloomberg showed a similarly large margin. Princeton Survey Research Associates, which conducted the poll for NEWSWEEK, says some of the discrepancy between the two most recent polls may be explained by sampling error.
...But perhaps most puzzling is how McCain could have gained traction in the past month. To date, direct engagement with Obama has not seemed to favor the GOP nominee. McCain has announced major initiatives on energy and the economy but failed to dominate the conversation on those issues. Last week's shake-up of the campaign's senior management did little to halt calls from Republicans for a major overhaul in McCain's message. Nor did it quell the lingering suspicion among Republicans that 2008 is simply destined to be a Democratic year. (Only 28 percent of voters in the new NEWSWEEK Poll approve of the job George W. Bush is doing as president.) McCain's biography still appears to be his greatest asset, with 55 percent of voters saying they have a favorable opinion of the Arizona senator, compared to 32 percent who have an unfavorable opinion. (Obama's favorable/unfavorable gap is virtually identical at 56 to 32.)
Newsweek might be puzzled by the new poll results but, ironically, their own story provides strong clues as to why Obama is now faring much more poorly in the polls:
...Having vanquished Hillary Clinton in early June, Obama quickly went about repositioning himself for a general-election audience--an unpleasant task for any nominee emerging from the pander-heavy primary contests and particularly for a candidate who'd slogged through a vigorous primary challenge in most every contest from January until June. Obama's reversal on FISA legislation, his support of faith-based initiatives and his decision to opt out of the campaign public-financing system left him open to charges he was a flip-flopper. In the new poll, 53 percent of voters (and 50 percent of former Hillary Clinton supporters) believe that Obama has changed his position on key issues in order to gain political advantage.

More seriously, some Obama supporters worry that the spectacle of their candidate eagerly embracing his old rival, Hillary Clinton, and traveling the country courting big donors at lavish fund-raisers, may have done lasting damage to his image as an arbiter of a new kind of politics. This is a major concern since Obama's outsider credentials, have, in the past, played a large part in his appeal to moderate, swing voters. In the new poll, McCain leads Obama among independents 41 percent to 34 percent, with 25 percent favoring neither candidate. In June's NEWSWEEK Poll, Obama bested McCain among independent voters, 48 percent to 36 percent.
My advice to Newsweek, which seems so puzzled by Obama's drop in the polls, is to read their own story. The answers are right there.