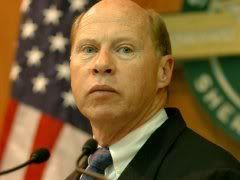 In what seems to be an almost comical pattern among South Florida newspapers, the Fort Lauderdale Sun-Sentinel has once again failed to apply the political party label to disgraced and imprisoned former Broward county sheriff Ken Jenne. Can you guess the political party to which Jenne belongs? I'll give you a hint. It is the big D. If Jenne had been a Republican, you can bet this fact would have been made known in the first paragraph of the Sun-Sentinel story yesterday about the former sheriff, convicted on corruption charges, being transferred to a more comfy prison. One feels like the late great comedian Sam Kinison screaming "Say it! SAY IT!" when reading these newspaper stories about Ken Jenne. They seem very reluctant to ever mention that (D) party label. Instead, this story about Ken Jenne has a warm and fuzzy feel about it:
Far from bustling South Florida, in a minimum-security camp tucked in the hills of rustic Virginia along Hickory Flats Road, federal prisoner 77434-004 has embarked on a new life.

Broward Sheriff Ken Jenne, serving a year and a day on federal mail fraud conspiracy and tax evasion convictions, was transferred Tuesday to U.S. Penitentiary Lee in Pennington Gap, in the Appalachian Mountains of western Virginia. Though prison officials aren't telling, it may well be where he serves the remainder of his sentence.

If so, it could have both benefits and drawbacks for the 61-year-old onetime political power broker who pleaded guilty to accepting more than $151,625 in improper payments and services from Sheriff's Office contractors.
The article concludes with a reassurance that Jenne need not suffer psychologically due to the rustic atmosphere of the camp environs:
Bogenschutz said a camp-type environment will benefit Jenne psychologically.

"You fall into a routine," he said. "Once you get into a routine, the time begins to pass."
Of course, if you somehow incur the wrath of the Sun-Sentinel, the tone of your coverage will be much harsher than that received by Ken Jenne (D). Such was the case in a recent serialized story about the Seminole tribe in which the Sun-Sentinel was "shocked" to discover that Tribal Chairman Mitchell Cypress lives in a big home.
Two dozen palm trees line a double-entrance driveway leading to Tribal Chairman Mitchell Cypress' two-story log cabin with a lush green lawn and a basketball court.
From the feigned outrage of the Sun-Sentinel, one can almost imagine Cypress living in palatial surroundings worthy of a King Louis XIV at Versailles. However, a look at an aerial shot of his home in the video provided with the story makes you wonder why the Sun-Sentinel worked themselves into such a conniption fit. The home is really not any larger than probably dozens of other residences of successful businessmen in Florida. And since the Seminole Tribe now owns the Hard Rock chain and several casinos, I am actually surprised that Mr. Cypress doesn't live in an even larger home. Perhaps he needs to add a (D) to his title to earn the sympathetic coverage the Sun-Sentinel provides for an imprisoned former sheriff.