Al Gore was nowhere to be seen at the Democratic National Convention in Charlotte earlier this month, but an email message sent out Saturday indicates he's stepping into the fray.
The Huffington Post reported moments ago that a lunch with Gore and former Speaker of the House Nancy Pelosi (D-Calif.) is being offered as a prize for new contributions to the Democratic Congressional Campaign Committee.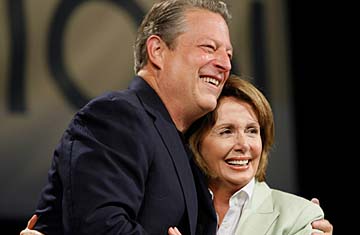 "Vice President Al Gore is joining me for lunch in New York ... Will you join us?" Pelosi wrote in the DCCC email obtained by the Post. "We'll cover hotel and travel for you and a friend. You just have to figure out who you will bring!"
The email message linked to a DCCC contribution page that read:
Win a Free Trip to New York!
Donate today and you could win a free trip to New York for a luncheon with Nancy Pelosi and Al Gore!
(Don't worry, airfare and hotel are on us!)
Lunch with Al and Nancy. Sounds like a hoot, doesn't it?
Show your friends and neighbors what you think of the liberal media.
Buy a "Journalists for Obama" T-shirt to let them know where you stand!