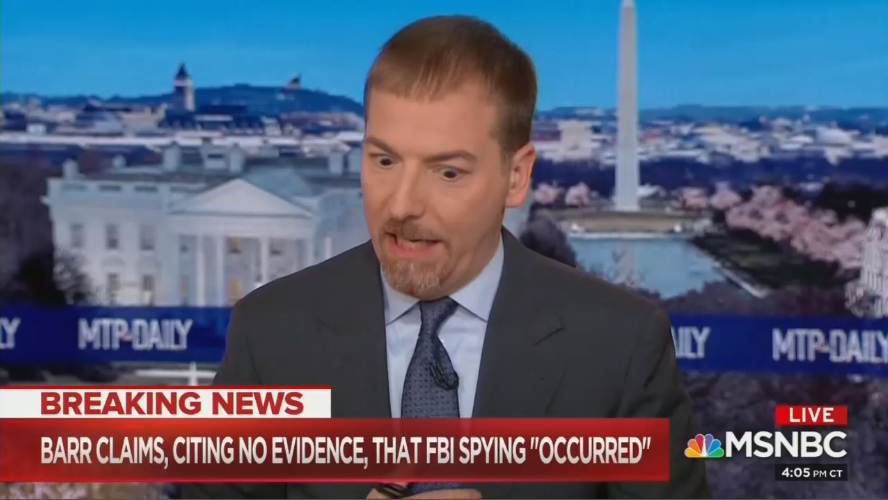 MSNBC host and self-appointed referee of American politics, Chuck Todd was visibly irritated Wednesday evening after Attorney General William Barr admitted before Congress that the Trump campaign was spied on in 2016, and he planned to investigate it. Suggesting Barr was "perpetuating" a "fact-less conspiracy theory," Todd denied known facts of the case and spun a series of falsehoods while declaring Barr had "gaslit the country."
"Using the word 'spying' plays into the President's language and argument that the Russia investigation, to him, is just a witch hunt," Todd proclaimed after the media, for two years, promised us that collusion was real. "And every time they've brought up this allegation, there has been zero factual basis for it."
Except, there was a factual basis for it. As the Daily Caller's Chuck Ross noted in his report about Barr's comments:
President Donald Trump and other Republicans have dubbed the counterintelligence probe 'Spygate,' especially regarding the FBI's use of an informant named Stefan Halper. Halper, a former Cambridge professor, made contact with at least three Trump campaign advisers, Carter Page, Sam Clovis and George Papadopoulos.
Ross is regarded as a knowledgeable voice on the origins of the Trump-Russia probe since he has investigated it for years.
Todd went on to bitterly denounce Barr's testimony: "Barr even said later in the hearing that he has no specific evidence about wrongdoing at the Justice Department. But you don't get to put the toothpaste back into the tube now, do you?" Again, the liberal media spent two years suggesting Trump was a Russian asset without a single shred of evidence.
When it came time to commiserate with his guests, Todd first went to former U.S. Attorney Greg Brower, who suggested Barr "confirmed the worst fears of his critics, which is that he's playing politics with this, and he's out to appease an audience of one." Todd agreed in addressing Washington Post White House correspondent Anne Gearan: "Barr has put himself in a position where he's now a political actor in the eyes of every Democrat and perhaps some Republicans."
Todd was also angry that Trump supporters were getting the investigation they wanted and suggested they bought into a "bizarre conspiracy theory of theirs that somehow Hillary Clinton worked with the Russians to create this conspiracy." Reality check: we've known from the beginning that the Clinton campaign paid former British spy Christopher Steele to get dirt on then-candidate Trump, and he got information from Russia sources.
In a strange lamenting to Brower a few minutes later, Todd basically made the argument for why the FBI needed to take action or spy against the Trump campaign:
Greg, what was the FBI supposed to do when you have active multiple attempts of Russians clearly trying to infiltrate the Trump campaign? Pure and simple. That is -- we are debating when the Trump campaign knew what was going on. It is indisputable the number of attempts they made to infiltrate that campaign?
Todd was completely divorced from reality.
The transcript is below, click "expand" to read:
MSNBC's MTP Daily
April 10, 2019
5:01:00 p.m. Eastern

CHUCK TODD: Attorney General Bill Barr did something extraordinary on Capitol Hill. He didn't just say what the President wanted to hear, although he did do that. And he didn't make an explosive claim of what might have led to the Russia investigation, although he did that, too. The country's chief law enforcement officer went in front of Congress today and gave credence to a fact-less conspiracy theory.

(…)

TODD: Using the word "spying" plays into the President's language and argument that the Russia investigation, to him, is just a witch hunt. And every time they've brought up this allegation, there has been zero factual basis for it. Every effort to perpetuate the spying conspiracy theory has been debunked. I'll get to that in a moment.

Barr even said later in the hearing that he has no specific evidence about wrongdoing at the Justice Department. But you don't get to put the toothpaste back into the tube now, do you?

And if Barr's assertion today sounds familiar, maybe it because President Trump was making the same accusation literally as the Attorney General was testifying before Congress.

(…)

GREG BROWER: I'm afraid that he, at best, confused things. And at worse, he, I think, confirmed the worst fears of his critics, which is that he's playing politics with this, and he's out to appease an audience of one. I'd like to think that's not the case but it's hard to argue with that watching his performance today.

(…)

TODD: You know, Anne Gearan. We know that this is spin that the President wants and all this stuff. And we know -- but it did seem as if now that Mr. Barr has put himself in a position where he's now a political actor in the eyes of every Democrat and perhaps some Republicans.

ANNE GEARAN: Yeah. I mean I think he sort of completed that course. Right. The four-page memo, being step one. And as Greg said, this will confirm the worst suspicions of his critics. But I think Barr was doing a couple of things here. I mean, first of all, he wanted to obviously get and deliberately chose an explosive word that has a lot of connotations in –

TODD: He chose his word carefully. It wasn't an accident.

(…)

TODD: It's all his own bases heard. You should see e-mails I am getting from the viewers I've accrued over the years that bought into this bizarre conspiracy theory of theirs that somehow Hillary Clinton worked with the Russians to create this conspiracy. They're like through the moon.

(…)

TODD: Greg, what was the FBI supposed to do when you have active multiple attempts of Russians clearly trying to infiltrate the Trump campaign? Pure and simple. That is -- we are debating when the Trump campaign knew what was going on. It is indisputable the number of attempts they made to infiltrate that campaign?

(…)

TODD: Alfonso, I guess the question here is, if you believe that things were started under political suspicion. Right? That's the charge from the right. Why act so politically? I mean, I'm sorry, what he ended up doing is-- two wrongs don't make a right here if you believe a wrong happened.

ALFONSO AGUILAR: I'm not saying that it was the most articulate what I to say it. Clearly, it wasn't. It wasn't the appropriate timing when the President had just --

TODD: Oh, but he chose to do it this way. They knew what they were doing. This isn't an accident.

AGUILAR: How do we know that? Do we know that for sure? We're speculating here.

(…)

TODD: But by the way, Anne. It doesn't matter what the truth is. Does it? I mean, I hate to say this now, but that's the whole point. It feels like that basically the Attorney General gaslit the country.

(…)