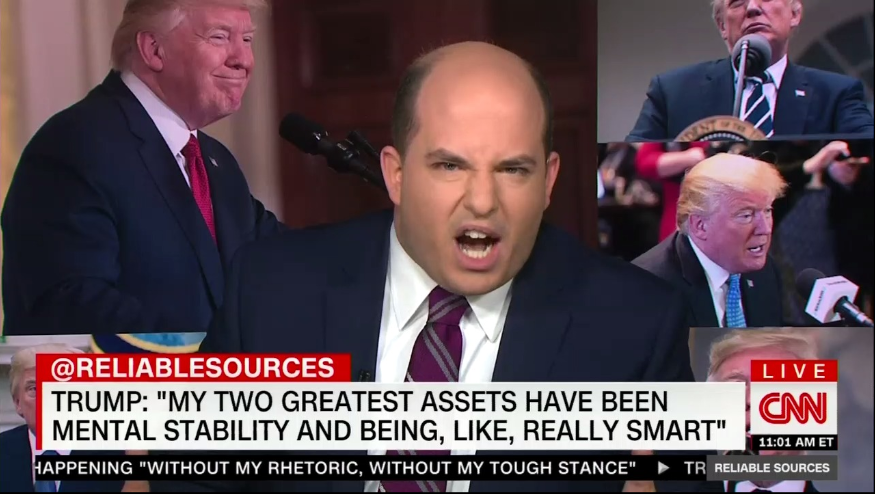 CNN's media reporter Brian Stelter got his long-awaited wish granted last week as the liberal media en mass started openly questioned President Trump's mental acuity followed the release of Fire and Fury, the dubiously sourced anti-Trump book that was light on facts but loaded with gossip. Despite his show being called "Reliable Sources," Stelter spent the entire Sunday program glorifying the book and praising those calling the President's mental stability into question.
"The tip-toeing is over! The whispers are turning into shouts! President Trump's fitness for office is now the top story in the country. Reporters and some lawmakers are openly talking about the President's mental stability, his health, his competency," Stelter bombastically declared at the start of his show.
Stelter lauded how Trump's mental health went from a fringe smear that he and other hyper-partisans peddled to a "global story." He highlighted how a UK paper owned by Rupert Murdock and a German paper were running headlines such as: "Is Donald Trump Still Sane?" "But many Americans are worried and journalists need to cover that," he opined.
"Let's be honest here, it's not just the book that is forcing this fitness issue to the forefront," Stelter chided. "When a president of the United States threatens North Korea by invoking the size of his nuclear button, it is fair to ask about his fitness." But where was the questioning of mental fitness when President Obama warned North Korea that the U.S. could utterly destroy the regime? It would send the wrong impression if the U.S. didn't respond to Kim Jung Un's flamboyant rhetoric.
In a head tuning moment, Stelter talked about how "journalists are not judges or doctors." He argued what was needed now was "not more speculating or guessing or rumor mongering but real reporting of what's going on."
While it is true that Stelter was being a massive hypocrite there, seeing as he had spent numerous months on his show pushing such partisan smears, it was meant to forward the process to remove Trump from office. He's basically saying that, for him and others on the far-left, their claims were no longer just speculation but an indisputable fact that needed to be treated as such.
To add to his argument, Stelter brought on "Carl Bernstein, a CNN political analyst, who has been –I would say-- leading these conversations, leading these questions about the President's fitness." "You and I have talked about this in recent months," he added.
"We're in a real constitutional crisis in an unprecedented place where we as a country and where we as journalists have never been before," Bernstein bloviated. "We as a country and where we as journalists have never been before in which a huge part of the citizenry of our country and the leadership of the country in Congress, privately and in public, openly questioned the fitness and stability of the president of the United States."
Bernstein was perplexed by the mystery of how "journalists" like himself should go about reporting on the President's insanity. The CNN analyst had a sudden and miraculous respect for the reporters at Fox News and claimed they were the only ones who really had a chance to get the truth out. What made their praise even more vexing was that Stelter and Bernstein have spent a lot of airtime denouncing Fox News reporters for being propagandists for Trump.
The pontificating Bernstein wanted Fox News to send an army of reporters to Capitol Hill to badger Congressional Republicans about the President's mental health. "It is incumbent upon them as leaders and us at journalists to force the question with them: What do you really think about the president of the United States and his fitness to serve and his stability and how do we deal with this? Are we in a constitutional crisis, Speaker Ryan, Leader McConnell,'" he argued.
According to Bernstein we were in such strange and trying time that a new kind reporting had to be invented: "We are not advocates here. We are not psychiatrists. We are reporters and now we have to almost invent a new kind of reporting to cover a new kind of story and reporters best in place to do that are some great reporters over at Fox News."
Whatever kind of reporting Bernstein claimed needed to be invented doesn't sound like one based on facts, logic, and reason but one based on speculation, hyperbole, and political vendettas.
Relevant portions of the transcript below:
CNN
Reliable Sources
January 7, 2018
11:00:07 AM Eastern

BRIAN STELTER: But let's begin with the top story this weekend. The tip-toeing is over. The whispers are turning into shouts. President Trump's fitness for office is now the top story in the country. Reporters and some lawmakers are openly talking about the President's mental stability, his health, his competency.

Now partly, that is because of this new Michael Wolff book. [Holds up book] You know, Wolff claims that White House aides are united in the belief that Trump is incapable of being president. He backs this up several different ways. Including by quoting Steve Bannon, saying things like: "Trump has lost it" and "He's lost his stuff."

This is now a global story. One of Rupert Murdoch's papers in the UK went with the headline: "Trump's Mental Health Questioned by a Top Aide." And the translation of the German headline in the middle asks: "Is Donald Trump Still Sane?" Trump's answer, of course, via Twitter is that two of his greatest assets are his "mental stability and being, like, really smart." I kind of got the sense that Murdoch's New York Post was making fun of him this morning. The headline says, "Don't worry, America." But many Americans are worried and journalists need to cover that.

Let's be honest here, it's not just the book that is forcing this fitness issue to the forefront. When a president of the United States threatens North Korea by invoking the size of his nuclear button, it is fair to ask about his fitness. If a leader of another country were to do the same thing, I think many commentators, many reporters will conclude that he is not well. This past year has been full of reasons to question his fitness.

President Trump promotes conspiracy theories. He shares racist videos on social media. He live-tweets Fox News shows that mislead him while he derives real reporting as fake news. He calls for the prosecution of political opponents. He insults people for fun. He says so many flat-out false things that journalists can barely keep up. The Washington Post counts nearly 2,000 false or misleading statements since Election Day.

But -- and here is the but -- journalists are not judges or doctors. This is not a court or a hospital. What this moment needs from reporters is more reporting. Not more speculating or guessing or rumor mongering but real reporting of what's going on.

(…)

We're going to get deep into that in this hour but let's begin with the one, the only, Carl Bernstein, a CNN political analyst, who has been –I would say-- leading these conversations, leading these questions about the President's fitness Carl, you and I have talked about this in recent months. Has something changed in your view this week?

CARL BERNSTEIN: Yes. We're in a real constitutional crisis in an unprecedented place where we as a country and where we as journalists have never been before in which a huge part of the citizenry of our country and the leadership of the country in Congress, privately and in public, openly questioned the fitness and stability of the president of the United States. So it raises a great question: How do we report on this reality? Meanwhile, abroad, leaders are questioning the fitness of the president of the United States and whether or not the country is in good hands. This is a reporting challenge unlike any other.

(…)

BERNSTEIN: It is incumbent upon them as leaders and us at journalists to force the question with them: What do you really think about the president of the United States and his fitness to serve and his stability and how do we deal with this? Are we in a constitutional crisis, Speaker Ryan, Leader McConnell? These are unprecedented questions in terms of how we pose them, what we do as reporters. We are not advocates here. We are not psychiatrists. We are reporters and now we have to almost invent a new kind of reporting to cover a new kind of story and reporters best in place to do that are some great reporters over at Fox News.

(…)