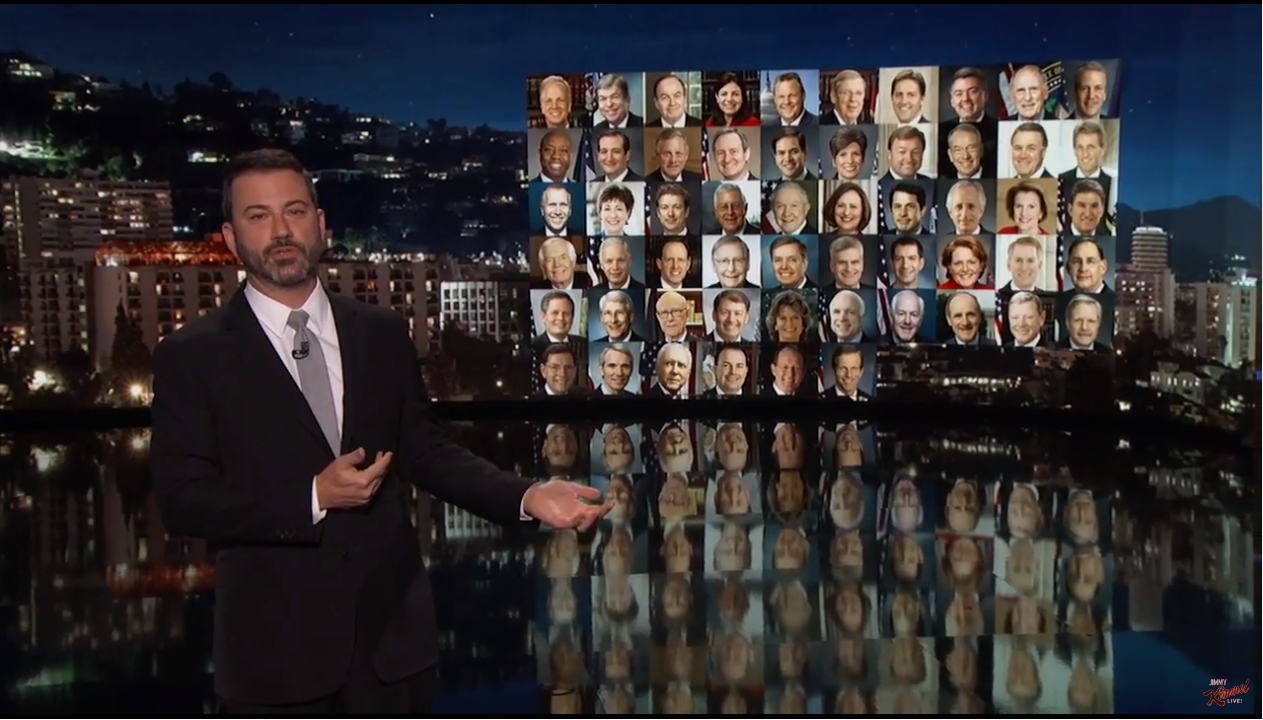 The liberal media's favorite late night shill and self-described pizza eating expert, Jimmy Kimmel used his show the day after the mass shooting in Las Vegas, Nevada to push for gun control while smearing Congressional Republicans for helping to cause the bloodshed. "They should be praying for God to forgive them for letting the gun lobby run this country because it's so crazy," the emotional Kimmel exclaimed to his audience.
"I've been reading comments from people who say this is terrible but there's nothing we can do about it. But I disagree with that intensely because, of course, there is something we can do about it. There are a lot of things we can do about it. But we don't," he began.
SPOILER ALERT: Everything he claimed would have stopped the attack either wouldn't have or was just him lying.
Kimmel claimed that the U.S. freaks out when "someone with a beard attacks us," but doesn't want to deal with mass shooting. "And Second Amendment, I guess our forefathers wanted us to have AK-47s is the argument I assume," he joked. But what went over the funny man's head, was the historical fact that our forefathers wanted us to be well armed to protect ourselves from a totalitarian government.
One of his first lies was that semi-automatic rifles were "not weapons you use for self-defense." He was either being disingenuous or don't know what he's talking about, because many owners of such rifles use them for home defense, along with sporting activities.
"You know, in February [President Trump] also signed a bill that made it easier for people with severe mental illness to buy guns legally," he later asserted.
But that was a Fake News story that had long been debunked by sensible people. "The rule would have allowed bureaucrats within one of our federal agencies to bar American citizens from exercising a constitutional right — and on the highly questionable grounds that to be incapable of managing one's finances is, by definition, to be a 'mental defective,'" wrote Charles C.W. Cooke for the National Review.
According to Kimmel's warped reality, they passed it "because the NRA has their balls in a money clip," but he failed to mention that the liberal ACLU also supported the legislation the GOP passed on civil rights grounds.
"Right now there are loopholes in the law that let people avoid background checks if they buy a fun privately from another party, they buy a gun online, or at a gun show," Kimmel continued.
Clearly, Kimmel hadn't done any actual research outside of ingesting and regurgitating Democratic Party talking points. Because if someone was buying a gun online, it would have to be sent to a federally licensed gun dealer who would run the background check. And the only people who can sell guns at gun shows are licensed dealers who are required to do a background check.
He then tried to shame all GOP Senators, saying: "These are the faces Senators who days after the shooting in Orlando voted against the bill that would have closed those loopholes. These are the 56 Senators that didn't want to do anything about that." Facts are damned for Kimmel. The Orlando nightclub shooter didn't buy his guns at a gun show, so how would that have stopped it?
The late-night comedian also pointed out that "90 percent of Democrats—I'm not talking about politicians, I'm talking about people—and 77 percent of Republicans support background checks at gun shows." Which is good, because that's what happens. "89 percent of Republicans and Democrats are in favor of restricting gun ownership for the mentally ill." Which comes up in background checks, yet he declared that the GOP Senators voted against those things. Kimmel even admitted that the Vegas shooter wouldn't have been weeded out this way because he had no criminal record.
"And by the way, the House of Representatives will be voting on a piece of legislation this week, it's a bill to legalize the sale of silencers for guns," he stated in disgust, thinking that Hollywood's depiction of suppressors was scientifically accurate. It was yet another Fake News story that was debunked by a more level-headed mind.
The ranting Kimmel brought his tirade back around to the NRA, claiming they "fought to let people on the no-fly list can buy guns. They aren't allowed to get on a plane, they're allowed to own a very dangerous gun? Who thinks that makes sense?"
But the huge problem with using the no-fly list as a metric, as Phillip Bump wrote in the liberal Washington Post:
The no-fly list is a secret list that uses secret criteria to determine who finds a home on it. So if you link banning guns to the no-fly list, the scenario presented is completely feasible: The government could theoretically add anyone it wants to the no-fly list, even broad categories of people, and thereby prevent them from owning a gun.
There's no doubt that the liberal media will hold Kimmel up as the darling sensible voice for tumultuous times. But very few, if any, will actually fact check anything he said. Kimmel clearly doesn't have a clue about the topic he's pontificating about.
Transcript below:
ABC
Jimmy Kimmel Live
October 2, 2017

(…)

JIMMY KIMMEL: I've been reading comments from people who say this is terrible but there's nothing we can do about it. But I disagree with that intensely because, of course, there is something we can do about it. There are a lot of things we can do about it. But we don't.

Because it's interesting: When someone with a beard attacks us, we tap phones, we invoke travel bans, we build walls, we take every possible precaution to make sure it doesn't happen again. But when an American buys a gun and kills other Americans then there's nothing we can do about that. And Second Amendment, I guess our forefathers wanted us to have AK-47s is the argument I assume.

Orlando, Newtown, Arora, San Bernardino every one of these shootings the murder used automatic or semi-automatic rifles, which are not weapons you use for self-defense. They are weapons designed to kill large numbers of people in the shorts amount of time.

And this guy reportedly had 10 of them in his room apparently legally, at least some of them legally. Why is that allowed? I don't know why our so-called leaders continue to allow this to happen.

(…)

[Sarah Sanders] said it was not time for political debate and—um—we have 59 people dead. It wasn't their time either, so I think now is the time for a political debate.

President Trump is visiting Las Vegas on Wednesday, he spoke this morning. He said he's praying for those who lost their lives. You know, in February he also signed a bill that made it easier for people with severe mental illness to buy guns legally. The Senate Majority Leader Mitch McConnell, Speaker of the House Paul Ryan, and a number of other law makers who won't do anything about this because the NRA has their balls in a money clip also sent their thoughts and their prayers today.

Which is good. They should be praying for God to forgive them for letting the gun lobby run this country because it's so crazy. Right now there are loopholes in the law that let people avoid background checks if they buy a fun privately from another party, they buy a gun online or at a gun show. So I want to show you something: These are the faces Senators who days after the shooting in Orlando voted against the bill that would have closed those loopholes. These are the 56 Senators that didn't want to do anything about that.

90 percent of Democrats—I'm not talking about politicians, I'm talking about people—and 77 percent of Republicans support background checks at gun shows. 89 percent of Republicans and Democrats are in favor of restricting gun ownership for the mentally ill. But not this gang. They voted against both of those things.

(…)

And by the way the House of Representatives will be voting on a piece of legislation this week, it's a bill to legalize the sale of silencers for guns. This is what they're working on. We have a major problem with gun violence in this country and I guess they don't care.

(…)

And what I'm talking about tonight, isn't about gun control it's about common sense. Common sense says "no good will ever come from allowing a person to have weapons that can take down 527 Americans at a concert. Common Sense says "you don't let those who suffer from mental illness buy guns."

You know, last year the NRA fought to let people on the no-fly list can buy guns. They aren't allowed to get on a plane, they're allowed to own a very dangerous gun. Who thinks that makes sense? Them I guess. The people who voted with the NRA.

(…)

No American citizen needs an M-16 or 10 of them.

(…)