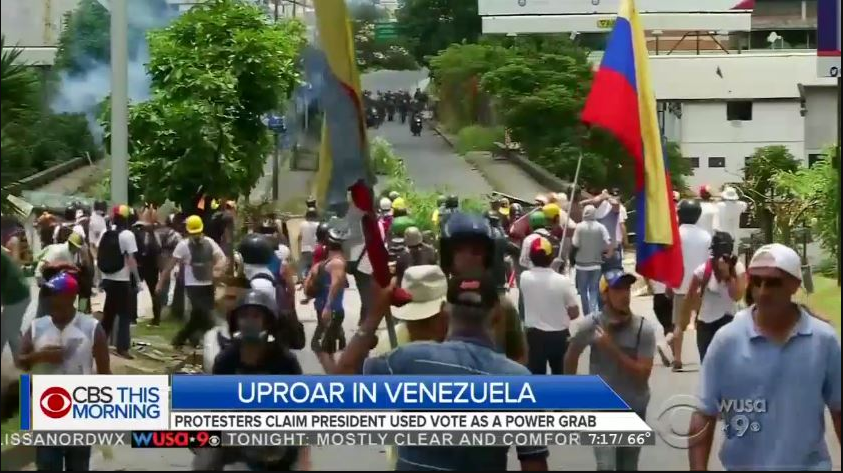 With the President's new travel ban taking effect in October, the communist rulers of Venezuela spoke of on Monday by calling it "a form of psychological and political terrorism." And in a CNN.com article published that same day, reporter Catherine Shoichet sympathized with the regime and parroted their slams of the U.S. But what went unmentioned, was CNN's previous reporting which documented how members of Venezuela's Foreign Ministry were possibly selling their passports and visas to terrorists.
"Venezuela's government fired back Monday after the Trump administration included the South American country in its latest travel ban," Shoichet began her report by hyping. She followed that up with a quote from Venezuela's Foreign Ministry claiming that "these types of lists, it is worth underlining, are incompatible with international law and constitute in themselves a form of psychological and political terrorism."
Shoichet touted Venezuelan Foreign Minister Jorge Arreaza's Trump critical speech to the United Nations General Assembly. She wrote that he said "Trump had threatened the Venezuelan people, and that US economic sanctions were illegal and intended to make people suffer and "undertake non-democratic changes in our system of government."
But despite how innocent and victimized Shoichet tried to paint Venezuela, that narrative was sunk by a CNN investigative report from back in February 2017. In it, they contended that the Venezuelan Embassy in Iraq was selling passports and visas to anyone willing to fork over the cash.
According to their report:
[Their source] says he reported what he says was a scheme to sell passports and visas for thousands of dollars out of the embassy and repeatedly turned down offers to get a cut of the money. But it was the response from his government -- which has denied his allegations -- that surprised him the most.
The investigators also reported how an intelligence document they obtained "links Venezuela's new Vice President Tareck El Aissami to 173 Venezuelan passports and ID's that were issued to individuals from the Middle East, including people connected to the terrorist group Hezbollah."
Their source told them that the ambassador himself was in on the money-making plot and once bragged to him that than envelope filled with visas was worth $1 million U.S. dollars. CNN noted, at the time, that what made the revelation even more frightening was the fact that Venezuela's passports permit "entry into 130 counties without a visa, including 26 counties in the European Union."
Contrary to Shoichet's report, which quoted Venezuela officials claiming they stand against terror, once again CNN investigators poke holes in their claims. "U.S. lawmakers heard reports about Venezuelan passport fraud during congressional hearings as far back as 2006," they wrote. "In fact, a congressional report warned, 'Venezuela is providing support, including identity documents that could prove useful to radical Islamic groups.'"
Even though the White House's new travel ban only applied to Venezuelan government officials, Catherine Shoichet's sympathizing downplayed their threat.