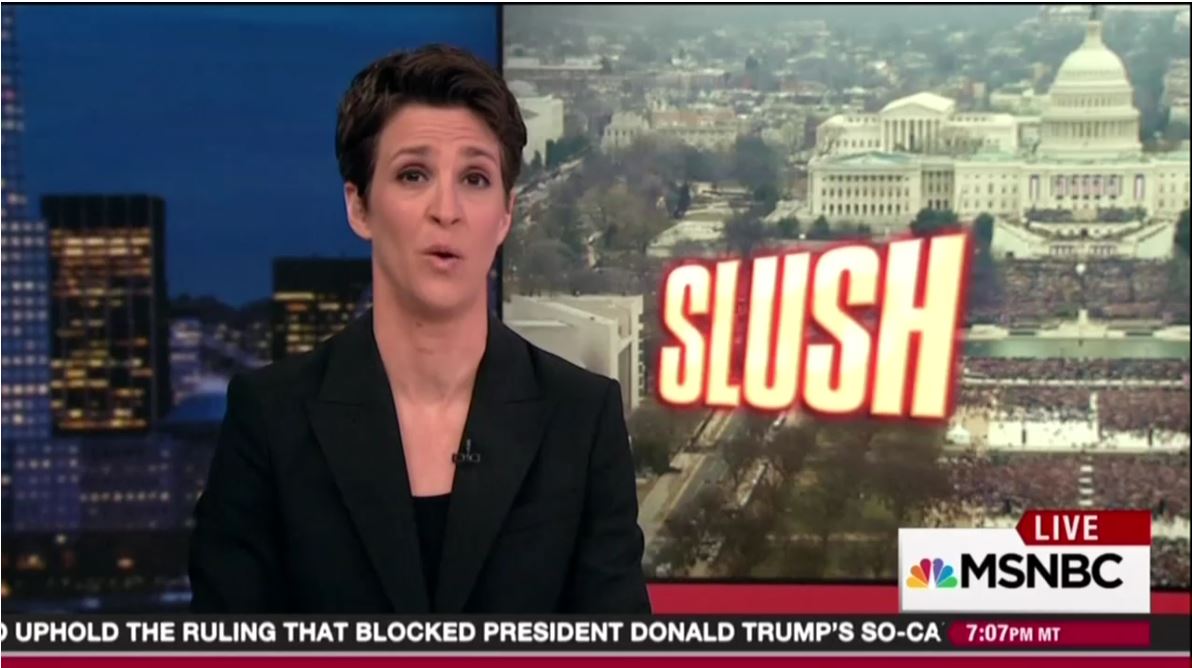 A little over a month since her overhyped non-scandal involving President Trump's tax returns, MSNBC's Rachel Maddow took to her show Thursday night to invent a controversy involving 'missing' Trump inauguration funds. "We raised a question about $107 million that appears to be sloshing around right now somewhere inside the Trump administration, with nobody accounting for it," she claimed near the top of the show. Her claim that money was "sloshing around" somewhere was based solely on her criticism of the inauguration being nowhere near as great as President Obama's.
Before slamming Trump's inauguration, Maddow glorified Obama's first inauguration in 2009:
This was the first Obama inauguration in 2009. It was immense, biggest ever inauguration, biggest ever event of any kind in the city of Washington, D.C. To pull off that inauguration, the Obama inaugural committee raised more money than had ever been raised before for an inauguration they raised tens of millions of dollars, they raised $53 million just for the inauguration. That broke all previous records for inauguration fundraising. And it broke those records by a lot.
According to Maddow, Obama's inauguration cost somewhere around $50 million. "But let me say again, that was -- that was a really big, really unusually big inauguration," she asserted. She also made fun of how small Trump's was and used innuendo to remark that "size isn't everything."
"Just as a matter of fact, it was much, much smaller than the one we saw in 2009, and it was of a different character," she mocked. She then proceeded to completely lie and misrepresent the acts that performed. "There were no mega concerts. There were no internationally known celebrity performers flying in and having hundreds of thousands of people turned out to see them," she chided, "I mean, the entertainment for the Trump inauguration was like, you know, middle school bands and baton twirlers, which is cool."
Trump's performers may not have been liberal superstars, but there were highly accomplished artists present. "The eclectic lineup ranges from rock and country stars (Toby Keith, 3 Doors Down) to rising pop and jazz vocalists (Jackie Evancho, Lexi Walker, Erin Boheme) to classic performers with enduring hits (Lee Greenwood, Sam Moore)," reported USA Today on January 19. That's not to mention that many of the performers in 2009 supported Obama during the campaign.
In addition, Time at the time reported that "In fact, artists are generally not paid for performing at inaugurations." But they also noted that Toby Keith and 3 Doors Down "are receiving huge paychecks."
"Regardless of what needed to be spent for the inauguration in the end, that $107 million, it went somewhere. I mean, it obviously didn't go to this," she sneered before declaring that "It was not needed for the inauguration! They could have gold plated every person at that inauguration and it still wouldn't have cost $107 million."
"Why do you need to more than double the record amount of money that was raised and spent on the biggest inauguration ever for an inauguration that was a fraction of that size," she demanded to know. But she never presented any facts or figures on the actual costs associated with the event. She only stuck to her baseless speculation.
The cost of Trump's inauguration could be larger than Maddow would ever admit or even care to research.
As reported by The New York Times at the time, "The price of Inauguration Day and the week leading up to it could top $200 million, based on the cost of inaugurations past and estimates by officials planning the week's events." They also noted that the cost of security alone could be as high as $100 million. "About 28,000 personnel from three dozen state, local and federal agencies, including the Secret Service, the F.B.I. and the National Guard, will be on watch this week, and that is not cheap," they wrote.
Such a massive leap in cost driven by security shouldn't be that big of a surprise. The threat of lone wolf terrorists and improved weapons, such as trucks, pose a much different and harder challenge for law enforcement to defend against. That's not to mention the violent leftists rioting a few blocks from the parade route during Trump's inauguration.
But for Maddow, the event was small and meager, which means that shady money being used for dastardly plotting. She even asserted that "overfunded inauguration" was a hotbed of corrupt government deal-making. But her claims were backed by little to no hard evidence, relying on innuendo and speculation. 
Transcript below:
MSNBC
The Rachel Maddow Show
April 20, 2017
9:03:45 PM Eastern 

…

RACHEL MADDOW: On last night's show, we closed out the hour with a question we raised a question about $107 million that appears to be sloshing around right now somewhere inside the Trump administration, with nobody accounting for it. These images here -- these are images from the biggest presidential inauguration we ever had as a country.

This was the first Obama inauguration in 2009. It was immense, biggest ever inauguration, biggest ever event of any kind in the city of Washington, D.C. To pull off that inauguration, the Obama inaugural committee raised more money than had ever been raised before for an inauguration they raised tens of millions of dollars, they raised $53 million just for the inauguration. That broke all previous records for inauguration fundraising. And it broke those records by a lot.

But you know what? It really was a big inauguration. And it did in the end cost about $50 million to put that on. And so, they had to raise about $50 million to put that on.

But let me say again, that was -- that was a really big, really unusually big inauguration. Let's just put that on the -- can we put that up on the left side of the screen? All right, 2009, really big inauguration.

Now, on the right side of your screen is an inauguration that was not nearly as big, and I don't say that to be mean, also sizes and everything. I mean, I'm not trying to make anybody feel bad, I'm not trying to shut down the Park Service, right.

But the Trump inauguration, which is a picture on the right, just as a matter of fact, it was much, much smaller than the one we saw in 2009, and it was of a different character, right? There were no mega concerts. There were no internationally known celebrity performers flying in and having hundreds of thousands of people turned out to see them. I mean, the entertainment for the Trump inauguration was like, you know, middle school bands and baton twirlers, which is cool. There's nothing -- there's nothing wrong with that. A, sizes and everything, and, B, I like baton twirlers.

But the Trump folks collected from donors $107 million to put on this inauguration. The one with the baton twirlers and the high school bands, and nobody at all lining whole big long stretches of the parade route during the inaugural parade.

I mean, if this is what your inauguration looks like, what do you need a hundred million dollars for, $107 mil-lion? What do you need -- why do you need to more than double the record amount of money that was raised and spent on the biggest inauguration ever for an inauguration that was a fraction of that size?

Now, this is not like a good government issue, at least in terms of taxpayer money. This is not taxpayer money and not public money that we're talking about. This is money that the Trump folks took from donors specifically for the inauguration. They took $107 million, and that $107 million that they took in from donors, , regardless of what needed to be spent for the inauguration in the end, that $107 million, it went some-where. I mean, it obviously didn't go to this. Right?

That $107 million was not given by donors to the inauguration. It was not needed for the inauguration. They could have gold plated every person at that inauguration and it still wouldn't have cost $107 million.

…